How to Feel Prettier And Ways to Make Yourself Feel Better – Mom Version
This post may contain affiliate links, which means I'll receive a commission if you purchase through my links, at no extra cost to you. Please read full disclosure for more information.
It's super normal and so natural to not feel like yourself anymore after becoming a mom. And also not embarrassing whatsoever if you caught yourself googling how to feel prettier, ways to make myself feel better, ways to feel more beautiful, or what can I do to feel better about myself.
When you become a mom, all the time you used to spend on bettering yourself or making yourself feel prettier is time chasing after your little ones or just catching up on some z's.
But here's a valuable lesson I learned from being a first-time mom who's gone through not the most lovely birth experience and being a postpartum depression survivor. Neglecting yourself, your needs, and your wants are setting yourself up for failure. Do you know why?
Because you were someone before you became a mom. And that means you should still feed those needs and wants here and there to fuel your soul and self-being to provide the most optimal care for your babies.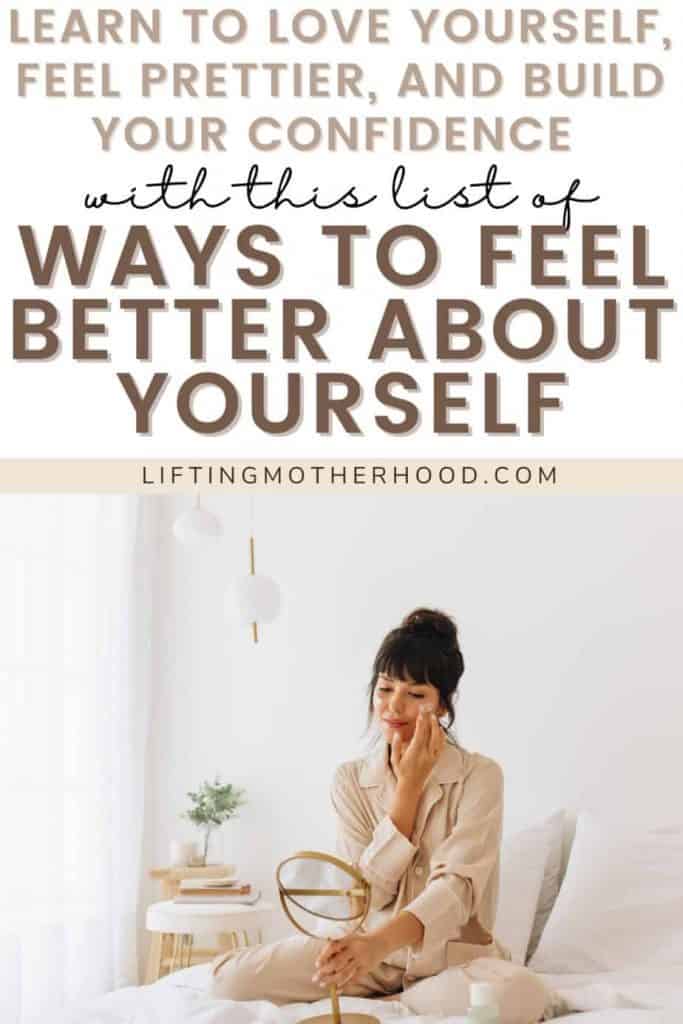 How To Feel Prettier – 25 Ways To Feel More Beautiful Inside And Out
There are so many different ways to feel better both on the inside and outside. And in this blog post, I'll be going over all of the little ways you can practice to make yourself feel better about yourself.
1. Start A Skincare Routine
There's nothing better than clear skin to boost your confidence and self-esteem. I go over my skincare secrets to healthier skin in this post.
Starting a skincare routine can be as simple as purchasing a skin refreshing face wash and incorporating it first thing in the morning and before bed. And also, don't forget to moisturize your face with products that are best for your skin type.
2. Get your hair done
Whether you get a fresh trim or a new hairdo like getting a balayage or new color, getting your hair done can be one of the ways to make you feel prettier.
3. Do Your Makeup
Us moms are pretty limited on time for ourselves and that includes putting on makeup. Maybe you were never much of a makeup wearer. Or you were an avid makeup wearer and stopped after having babies.
But when you are feeling low about yourself and need that boost to help your self-esteem, put on some makeup and accentuate your natural beauty to feel better about yourself.
4. Get Whitening Strips
One of many things I am personally self-conscious about is my teeth. And that's because I used to have perfectly straight, white teeth after I got done with 4 years of wearing metal braces. Then, I stopped using my plastic retainer after it broke and my teeth started shifting really bad.
And when I thought of ways to be less self-conscious about my teeth, I thought about whitening strips. A bright smile makes a world of a difference.
5. Take A Daily Shower
Taking daily showers can be pretty close to impossible for some of us moms depending on what stages of our babies are in. But if you prioritize a nice, hot daily shower, I guarantee you will feel so much better.
6. Exercise
You probably already know this but exercising greatly reduces stress hormones while stimulating the production of endorphins. And if you're not sure what endorphins are, they are neurotransmitters that trigger a positive feeling in the body.
And with regular exercise comes results that you are bound to feel better about yourself. If you're curious about how girls in the gym appear confident and attractive, it's because they are regularly exercising and building self-love and self-confidence.
7. Go For A Run
Seriously, you'll never feel the weirdest combination of euphoric feeling mixed with a little bit of death like you do when you run. And you'll feel so on top of life, strong, and proud of yourself.
8. Do Your Nails
Who doesn't like nice, beautiful clean nails? Whether you do them at home or get them done (self-care tip), this is just one of many ways to feel prettier.
9. Stop Eating Fried Foods
Okay, this is a hard one because fried food is life in food form. But you know how it makes you feel super sluggish and just kind of gross afterward? That's because it really is pretty bad for you. Fried foods give you high blood pressure, cause high cholesterol, and contain high calories which lead to weight gain and low self-esteem.
10. Limit Your Sugar Intake
Remember number 1 on this list on how to feel prettier? Clear skin is every woman's dream to feeling more confident and more beautiful.
According to the American Academy of Dermatology Association, when your blood sugar spikes, it causes inflammation throughout your body, and these spikes also cause your body to make more sebum, an oily substance in your skin. Both inflammation and excess sebum can lead to acne.
Related Posts
Healthy Diet Tips And Game Changing Eating Habits To Lose Weight Long-Term
Self Care Tips For The Moms That Are Stretched Thin
Epic Mom Fails Confessed By A First Time Mom
11. Drink A Ton Of Water
We all know drinking water should be prioritized a lot more than it typically is. And if you're one of those people that have a hard time increasing your water intake, I have quite a few tricks up my sleeve in this blog post here.
12. Get Your Eyebrows Waxed
You and I both know what it feels like to get freshly waxed eyebrows. This is your sign to quit putting it off and schedule your next eyebrow wax.
13. Get Lashes
Life is very different when I have fake lashes on versus when I don't. And when I mean life, I go from feeling like an ogre to a Hollywood star when I put on some fresh wispy bands or get my lash extensions done.
14. Moisturize
Moisturizing your body, your face, your hands, your feet, and your elbows (yes, I said elbows) can seriously make a difference in how you look and feel. Try it out, mama.
15. Buy Clothes That Flatter Your Body
Sometimes, we tend to purchase clothes that are in style rather than what truly accentuates our bodies. Take the time to research style tips for your body type and take yourself shopping for new clothes. For me, I love the look of bell-bottom pants but I am barely 5 feet tall and it just looks ridiculous on me.
16. Write A List Of Things You Love About Yourself
Talk about self-love. To answer how to feel prettier and how to make myself feel better is by loving yourself. Write a list of positive attributes both physically, mentally, and emotionally about yourself. And keep it in a safe place where you can refer back to when you are feeling low.
17. Stop Comparing Yourself With Others
This can be so hard especially in the kind of Instagram-obsessed life we currently live. Where beauty is defined by animated filters and a single form of appearance rather than our diverse and unique beauty.
Sometimes what you need to do is take yourself out of the situation where you begin to think negatively of yourself by removing yourself from their followings, spend less time on social media, and more time taking the steps to love yourself.
18. Dress Up And Go On A Girls Night Out
As a mom, it's hard to ever get time away from our babies. But that doesn't mean it's impossible or that you should continue letting it be hard to be away from your babies. Get a babysitter or ask a family member to watch your babies so you can get dolled up and have fun with your girlfriends for a night.
19. Shave
Spend a night taking a nice bubble bath and end it with a whole-body shave. And don't forget to moisturize when you get out.
20. Dance In Your Underwear
This might sound every level of dumb to you. But I promise your soul will feel so good. Turn up your favorite dance music and just dance off your anxiety, stress, and worries in your underwear.
21. Smile And Laugh More
A pretty girl is a girl who smiles and laughs a lot. There's nothing more contagious than a smile (okay it might be a close tie with a yawn). But watch a funny movie, read a funny book, watch funny Tik Tok videos.
Create reasons to smile and laugh more and feed your soul with happiness and joy.
22. Be Confident
This might be a hard thing to do when you already feel down about yourself. But start building your confidence by knocking some of these ways to feel prettier so that you can have the leverage to start feeling confident again (or for the first time ever).
23. Go On A Date
Whether you go on a date with your husband, partner, or Tinder date (depending on your status), just get yourself out there. Get dressed up and get showered with head turns and compliments.
24. Wear A Little Black Dress
You will feel sexier than ever getting dolled up and wearing a little black dress. Get you one or even a few black dresses to keep in your closet for nights out when you know you're going to be needing them.
25. Be Positive
It's much easier said than done. But it begins with the initiative to want to be positive. And over time you will train yourself to think positive, be positive, and surround yourself with positive people.
Final Thoughts
As I mentioned in the introduction, if you caught yourself ever googling how to feel prettier, ways to make myself feel better, ways to feel more beautiful, or what can I do to feel better about myself, I hope you found this blog post helpful. And truly hope that you see the beauty in yourself and your self-worth!