7 Important Things To Do While Trying To Get Pregnant
This post may contain affiliate links, which means I'll receive a commission if you purchase through my links, at no extra cost to you. Please read full disclosure for more information.
Trying to get pregnant can be a stressful journey. But that doesn't mean you have to sit back and do absolutely nothing to make trying for a baby even more difficult.
In this blog post, I'm going to go over 7 important tips for trying to conceive and fertility superfoods to get pregnant faster.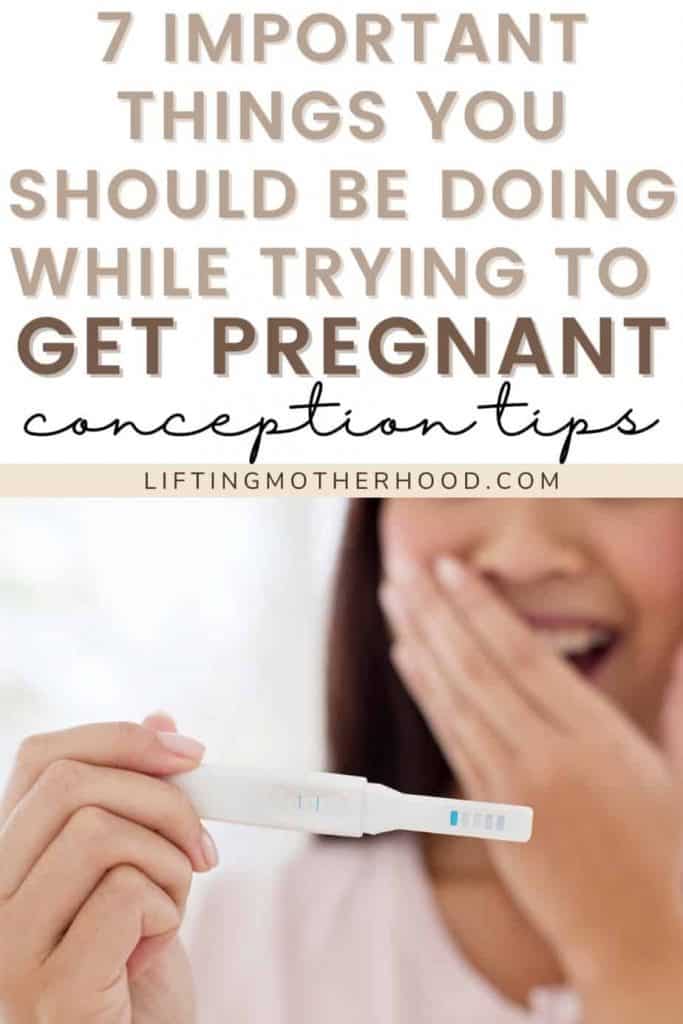 7 Things To Do While Trying To Get Pregnant
1. Take Prenatal Vitamins
You should be taking your prenatal vitamins while you are trying to get pregnant. And here's why.
So much of a baby's development occurs in those first few weeks of pregnancy and prenatal vitamins contain essential nutrients like folic acid which helps prevent birth defects.
It's recommended you begin taking prenatal vitamins at least 1 to 3 months prior to conceiving.
2. Get Active
Studies show that obesity greatly diminishes a women's ability to conceive as well as increases the risk of gestational diabetes and high blood pressure during pregnancy. 
3. Reduce Caffeine
There is various information out there about how much caffeine you should limit yourself to. The safe range is from 200 to 300mg of caffeine per day. And don't forget soda, tea, and energy drinks contain caffeine.
Some studies have shown that consumption of large amounts of caffeine has linked to having a harder time conceiving and a higher risk of miscarriages.
Related Posts
Second Pregnancy Symptoms Leading Up To A BFP And Pregnancy Symptoms By DPO
Affordable And Cute Pregnancy Announcement Ideas Even If It's Not Your First Time
The Best Places To Shop For Petite Maternity Clothes
4. Track Ovulation
You have a better chance of conceiving if you're tracking your ovulation (with a kit like this one). My husband and I tried months after months until I decided to use an ovulation kit. And we fell pregnant that month.
Using ovulation kits is more accurate than a period and ovulation tracking apps. Those apps just simply give an estimate of when you are ovulating with the given period dates.
5. Eat Fertility Superfoods
The top 5 fertility superfoods are liver, avocados, flaxseed, omega-3 enriched eggs, and sardines. Other fertility foods that boost your chances of conception are listed here.
6. Stress Less
Have you ever heard of the phrase, "it'll happen when you least suspect it"? That kind of goes along with stressing less. WebMD reported several recent studies that have found links between the women's levels of day-to-day stress and lowered chances of pregnancy.
Personally, I was working myself up each month, stressing about every negative pregnancy test. And then one day my husband had enough of my negativity and told me to relax and to let it happen. Although he irked me by saying that, I knew that it was what I needed to do.
Then, the following month while keeping myself busy and more "relaxed" and also tracking my ovulation, I got a big fat positive.
7. Reduce Alcohol Intake
Heavy amounts of alcohol can affect a man's fertility by lowering testosterone levels, follicle-stimulating hormones, and other hormones that ultimately reduce their sperm count. And for women, heavy drinking is associated with an increased risk of ovulation disorders.
In Conclusion
If you're trying to get pregnant, I highly recommend looking over these 7 important tips for trying to conceive and adjusting your lifestyle accordingly. It is no doubt a stressful and exhausting journey but also the most rewarding feeling when getting a positive pregnancy test.
Don't forget to feed your body with the fertility foods to get pregnant faster along with taking prenatal vitamins months ahead of time as one of the things to do before getting pregnant for a healthy pregnancy and baby.