Minimalist Hospital Bag Checklist For Mom And Baby With A Free Checklist
This post may contain affiliate links, which means I'll receive a commission if you purchase through my links, at no extra cost to you. Please read full disclosure for more information.
How many times have you searched "hospital bag checklist" or "hospital bag checklist for mom and baby"? And every one of them made your list longer than what you started with. Don't worry because many new moms and even seasoned moms have all been there.
Honestly, I didn't think I had to put much thought into what I was going to pack in my labor and delivery bag. For one, I was planning on a vaginal delivery which meant if all things went well, I'd be discharged from the hospital within a day or two. And secondly, what more would a pregnant woman need to pack but a robe, a baby outfit, and a few postpartum essentials.
But after going through a lot of hospital bag checklists for moms on Pinterest, my bag got fuller and heavier. That's why I wanted to go over what you really need and what you might want to consider bringing but totally don't need to.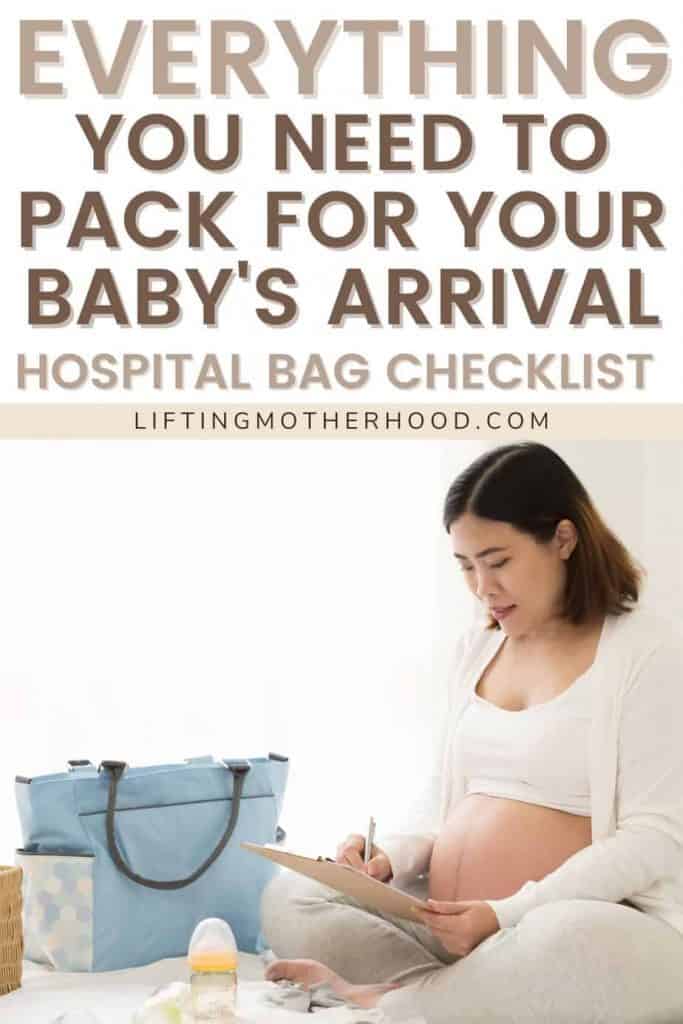 Hospital Bag Checklist For Mom And Baby
Since you might be in a hurry and don't have time to read through this entire blog post, I created this brief overview of the 10 essential items you should totally have on your checklist. Just save it, pin it, or screenshot it so you don't forget.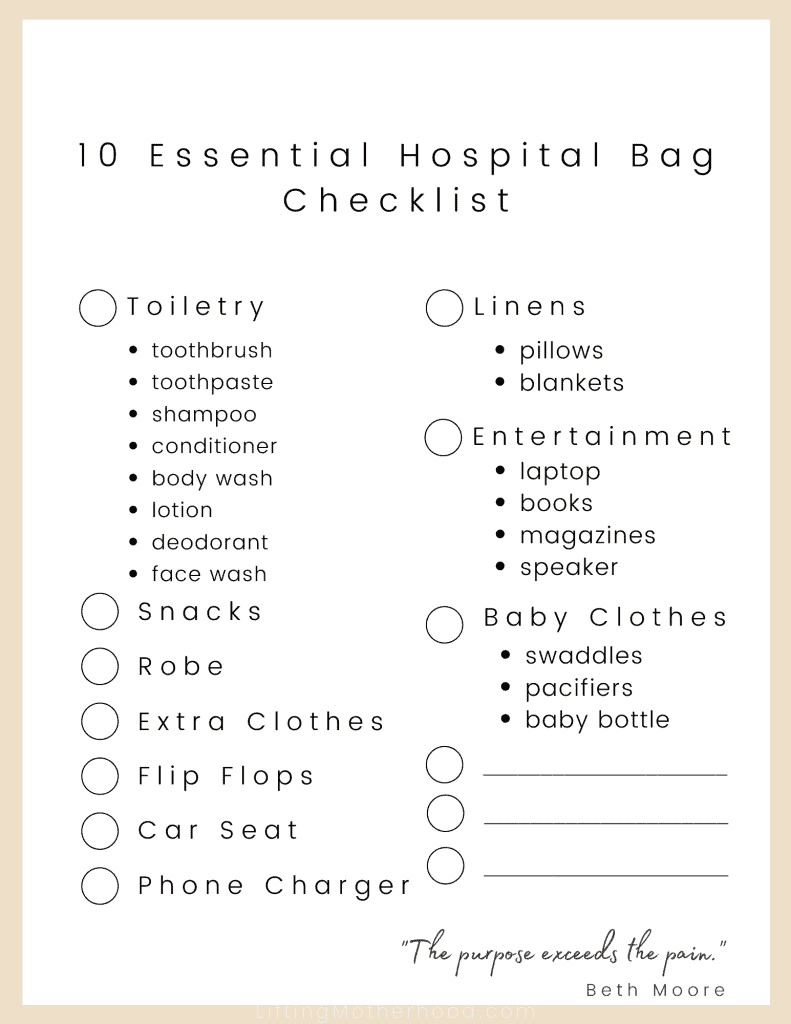 Importance Of A Hospital Bag Checklist
It helps you NOT forget what you need to pack (because pregnancy brain is real). How many times have you been like, "I can't forget to do this" and then completely forget?! Uhm, just about all of us. So a checklist is going to keep you stay organized and ready to go when the time comes.
Have Your Hospital Bag Packed And Ready To Go
I had my hospital bag halfway packed until the last two days before my due date. As my belly was reaching its max size, I found it harder to get off the couch. But one day, I was having some contractions and took it as my cue to pack the rest of my bag. And I'm thankful I had a hospital bag checklist for mom and baby written out so I didn't forget anything!
In the third trimester, there are many unexpected situations that could potentially occur. Like you might go into labor unexpectedly before your due date. Or you might feel super nauseous or even catch a cold toward your due date. So it's better to save yourself that added stress and have your hospital bag packed and ready in your vehicle around 36 weeks.
The list below is my obviously way "over" prepared version of the list I am going over in this post because I started combining all of the other hospital bag checklists I found on Pinterest and Youtube (whoops- rookie mistake). My poor husband took two trips down to the truck with all of our stuff the day we were discharged from the hospital.
My Extensive Hospital Bag Checklist
Camera
Birth plan
Hygiene- toothbrush, toothpaste, shampoo, conditioner, body wash, lotion, deodorant, face wash
Glasses and contact lenses
Lip balm
Phone and charger 
Pillow
Throw blanket 
Postpartum heavy pads
Nipple pads for breast milk leak
Flip flops for showers 
Sleep nursing bra x2
Pack of postpartum underwear
Robe
Pajamas
Extra clothes
Slippers
Hospital Bag Checklist For Baby
Baby car seat (installed and ready to go)
Baby clothes x3 (I read that you should pack a newborn onesie and a 0-3M onesie which I didn't need)
Swaddles
Pacifier
Baby wipes (the hospital provides)
Diaper cream (the hospital provides)
Blanket for baby (the hospital provides)
Baby mittens 
Diapers (the hospital provides)
Baby toys (didn't need to bring this unless it's a photo prop)
Related Posts
The Ultimate Guide To A Minimalist And Essentials Only Baby Registry List
9 Key Newborn Baby Must-Have Items I Wouldn't Have Been Able To Go Without
The Guide To No Stretch Marks And Healthy Skin And Hair Products For Pregnancy
Packing Checklist Variables
I packed for a vaginal delivery. Because well, I honestly did not think I would need a c-section. I should have checked out at least one c-section hospital bag checklist for mom and baby. Because the labor process is unpredictable and it would've only benefited me.
My extensive list had a lot of perineal things so if you have a scheduled c section, I would disregard those items.
10 Essentials You Need To Have On Your Checklist
(Besides your wallet and cellphone)
1. Toiletry Items
toothbrush
toothpaste
shampoo
conditioner
body wash
lotion
deodorant
facewash
I purchased a pack of travel bottles to put my shampoo, conditioner, and body wash in and a hanging toiletry bag for everything else.
2. Blanket and Pillow
I don't know about you but I'm the kind of person that can't sleep well if I'm not in my own bed. With that being said, you might want to consider bringing your coziest throw blanket and your own pillow for your days at the hospital.
Let's be honest. Those hospital pillows suck. They're flat, uncomfortable, and definitely not homey.
3. Snacks
When I saw snacks on some of the packing lists I was like "seriously?". Uh yeah, bring your favorite snacks. It's a must. Don't be like me and NOT bring any snacks.
Since I had my epidural almost immediately after I was admitted and I was already in active labor, they only let me eat ice chips (boo).
4. Phone Charger
You can't forget your phone charger! Your phone is going to be draining batteries from it being blown up. I mean c'mon you're about to bring a whole new human into this world!
And you might be watching your favorite episode of Grey's Anatomy.
5. Robe
I wish I would have just brought a couple of robes and not my week's worth of outfits I packed. A robe is a must-have (for me anyway) because the hospital gowns don't open up in the front. And if you're trying to breastfeed, you're going to want easy access.
6. Flip-flops
I brought flip-flops to wear around and in the bathroom and showers. They don't necessarily have to flip-flops. Maybe some slides or sandals that can get wet. Or if you don't mind being barefoot then you can just take this off the list.
7. Car Seat
This is a requirement. You need to have an appropriate infant car seat to hold your baby in. Or the hospital will not let you take your baby home. Your nurse will make sure you put your newborn in the car seat securely before being discharged.
8. Baby Clothes
You might be a onesie mom or a 3-piece outfit mom. But I am here to tell you that onesies with those built-in mittens are the best things ever.
It's too easy to slip on and off, change diapers, and the best part of all is that you don't have to worry about losing those little mittens!
I packed 2 onesies in newborn size and 1 onesie in 0-3M just in case I was going to have a big baby. I brought her onesies (footies) for pictures. But had her swaddled the majority of the time we were at the hospital.
9. Source of Entertainment
We brought a laptop and watched a show that helped pass time. Other sources of entertainment you could include in your hospital bag checklist would be a book, portable speaker, magazines, puzzles, or a tablet.
10. Extra Clothes
Pack a loose-fitting outfit or even pajamas. And depending on where you live and the month you have your baby, you might need to pack some warmer gear.
The hospital provides pads and postpartum mesh undies if you forget to bring some high-waisted underwear.
One Last Item For Your Partner
Air mattress
Yes, an air mattress. Totally and 10/10 recommend.
The nurses were telling us that they've never seen anyone bring an air mattress and how smart it was. Those fold-out couches are the least bit comfortable.
Final Thoughts
I hope this checklist for mom and baby helps you stick to the basics (or at least try to). A lot of things I packed were provided by the hospital. Items like mesh postpartum undies, postpartum pads, baby diapers, wipes, diaper cream, baby hat, and baby blankets.
If you need another "no fluff" hospital bag checklist, you'll want to check this list out by Carly "Things You Actually Need In Your Hospital Bag (A Realistic Hospital Bag Checklist)".
There's definitely nothing wrong with overpacking to stay on the safe side. Especially if you live far from the hospital. But just remember to get your bag ready around 36 weeks and have it packed in your vehicle!