9 Key Newborn Baby Must-Have Items I Wouldn't Have Been Able To Go Without
This post may contain affiliate links, which means I'll receive a commission if you purchase through my links, at no extra cost to you. Please read full disclosure for more information.
When I reflect back on my baby's newborn stage, there are definitely certain items that I will be forever grateful for having. Those newborn baby must have items that were either gifted to us from one of our baby registries or bought from reading blogs like this one.
And when I tell you that I wouldn't have been able to go without these newborn baby must-have items, I SERIOUSLY probably could not have. Part of this dramatic emphasis on these must have items for newborns is because I had a colicky baby that was nearly impossible (at times) to console.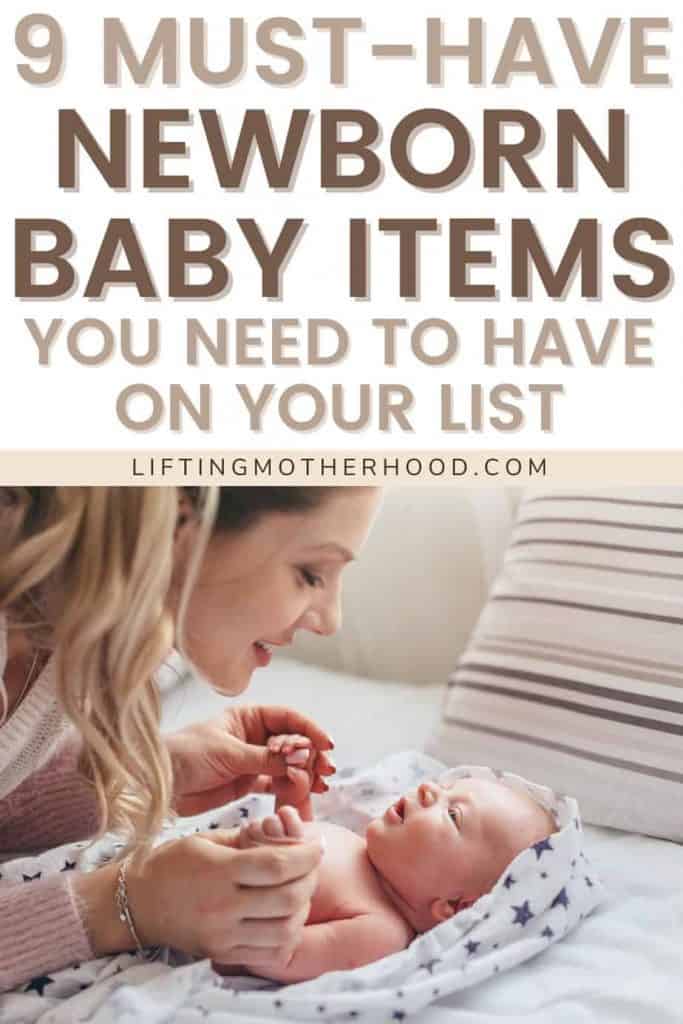 Newborn Baby Must Have Items To Get
1. Nail Cutting Scissors
If you read my baby registry checklist blog post, then you know I've raved about these nail-cutting scissors for babies. And I will continue to rave about them because it's been a lifesaver.
I love how these scissors make cutting baby nails so much easier and without worrying about clipping their skin. Typically, I'll wait until my baby has fallen asleep to cut her nails and toenails and it's been night and day using these nail cutting scissors vs actual nail clippers.
2. Baby Wipe Warmer
Baby wipe warmer might not be on the top of the list for some moms. But they were very helpful in every diaper change. Newborn babies are used to the warmth of being in mama's bellies for so long that it's especially important to keep them nice and warm outside the womb those first few weeks after birth.
And this means giving them a warm bath, swaddling them, putting them in an extra layer of clothing, and also using warm baby wipes to keep them comfortable.
3. White Noise Machine
Another thing newborn babies are used to in mama's wombs is the constant noise around them from the mumbling of people talking outside of the belly to the swishing noises inside the body.
That's why moms always recommend white noise machines. My colicky baby responded very well to our Hatch baby rest sound machine and the different settings like rain, laundry, and water. And it also changes colors and you have the ability to adjust all settings via the Hatch app.
4. Swaddles
Swaddles were definitely top of the list for newborn baby must-have items because it keeps newborn babies' arms from flailing and scaring themselves. And it also keeps them wrapped and warm like they have been in the womb for 9 months.
Another great thing about swaddles is that it's multipurpose. You can use it as a light blanket for summers when your baby grows out of the swaddle phase.
Related Posts
The Ultimate Midwives Brew Experience And Specific Timeline Of Birth
Old Wives Tale Gender Predictions VS What I Actually Got
5 Solid Reasons Why You Don't Need A Changing Pad
5. Snot Sucker
There are quite a few different snot suckers for babies ranging from basic ones to the NoseFrida to some high-speed nose sucker or aspirators.
I've personally never used electronic nose suckers because the first two items worked wonderfully for us. But if you have a hard time getting boogers out of your baby, it might be worth trying out.
6. Frozen Teething Toys
My baby started teething around 3 months and ever since then, we've collected a wide range of freezable teething toys. And it has been heaven-sent.
Freezable teething toys or freezable teetherpop (with added breastmilk) along with baby Tylenol were the only things that soothed my teething baby and allowed her to comfortably go to sleep each night.
7. Baby Tylenol
I know quite a few mom friends that were very hesitant about giving their babies Tylenol or Motrin. And leaned more on holistic remedies. But I was that mom that fed her baby Tylenol just about every time she was teething. And at times I felt ashamed to admit that to other moms but Tylenol is what worked for my baby.
8. Zipper Newborn Pajamas
Don't buy the button pajamas because they will be a pain in your ass especially in the middle of the night. There are some really cute button pajamas and can sometimes be even cuter than the baby zipper pajamas. But you can't beat the convenience of the zippers.
9. Diaper Rash Cream
Newborn babies poop a lot. And that means they're more prone to get diaper rashes. We used diaper rash creams like no other because all the blowouts and constant wiping had my baby's butt raw.
Our personal favorite is the Boudreaux's butt paste but I know another favorite of every mom is the Desitin diaper rash cream.
In Conclusion
Every mom is going to have that one or a few items they recommend. And I hope my list of newborn baby must have items helped you narrow down your baby registry or baby shopping list so that you only purchase the essentials for your newborn!