The Guide To No Stretch Marks And Healthy Skin And Hair Products For Pregnancy
This post may contain affiliate links, which means I'll receive a commission if you purchase through my links, at no extra cost to you. Please read full disclosure for more information.
Products you typically used prior to getting pregnant might not be the safest skin and hair products for pregnancy. So it's important to look at the ingredients or check out the brand's website to make sure it's safe for pregnant women.
Throughout your pregnancy and postpartum, you'll undergo a series of changes involving your hair, skin, and nails. Some women will find their hair, skin, and nails to be the best it's ever been during pregnancy while others won't be as fortunate.
And some women will go through postpartum hair loss at one point during their postpartum phase and others won't. Whichever the case it may be for you, picking the right skin and hair products for pregnancy is important. With the fluctuations of hormones during and after pregnancy, you want to make sure you're replacing the nutrients and vitamins your baby takes.
Fortunately, I was able to continue using the hair growth and skincare products I used before pregnancy while adding in a few pregnancy-specific products. I researched each product and went over them with my provider to make sure it was safe to use during pregnancy. I highly recommend you do the same as all of our pregnancies are not the same.
Healthy Skin and Hair Products For Pregnancy
The products I've listed below are products I have personally used and continue to use. I would never recommend products or brands I don't fully believe in.
1. Prenatal Vitamins
Prenatal vitamins are a MUST! They not only nourish your hair, skin, and nails but they contain folic acid which is important for a baby's brain development especially in those first few months. It helps prevent some of the major birth defects such as anencephaly and spina bifida.
According to Centers for Disease Control and Prevention (CDC), all women of reproductive age should get 400mcg of folic acid each day to help prevent birth defects because about half of U.S. pregnancies are unplanned and major birth defects of the brain and spine occur very early in pregnancy.
When my husband and I were talking about trying for a baby, I purchased a box of prenatal vitamins that I took each day leading up to conception. Then I continued to take it throughout pregnancy and months after (recommended for breastfeeding mamas).
2. Vital Proteins Collagen Powder
Sometime during my second trimester at my lash appointment, my lash tech noticed a lot of shedding. She told me that I should take a break from lash extensions (only caring lash techs will advise this). And she recommended Vital Proteins Collagen powder.
I have not stopped buying tubs of this powder since I bought my initial tub. And looking back at my pregnancy photos, I'm shocked at how much my hair grew in such a short period of time. On top of that, it helped minimize the postpartum hair loss I experienced at 4 months and improved hair growth.
Click the link to get one free sample of anything from Vital Proteins at checkout with a minimum order of $50.
3. Biotin
Most prenatal vitamins have some biotin in them. But I asked my provider if it was okay to take additional biotin and I got the green light.
Biotin has so many health benefits. It boosts the health of your hair, skin, and nails, promotes a healthy pregnancy, reduces blood sugar in diabetic people, and more. Seriously all the reasons to add biotin to your daily routine!
4. Pravana Leave-In-Conditioner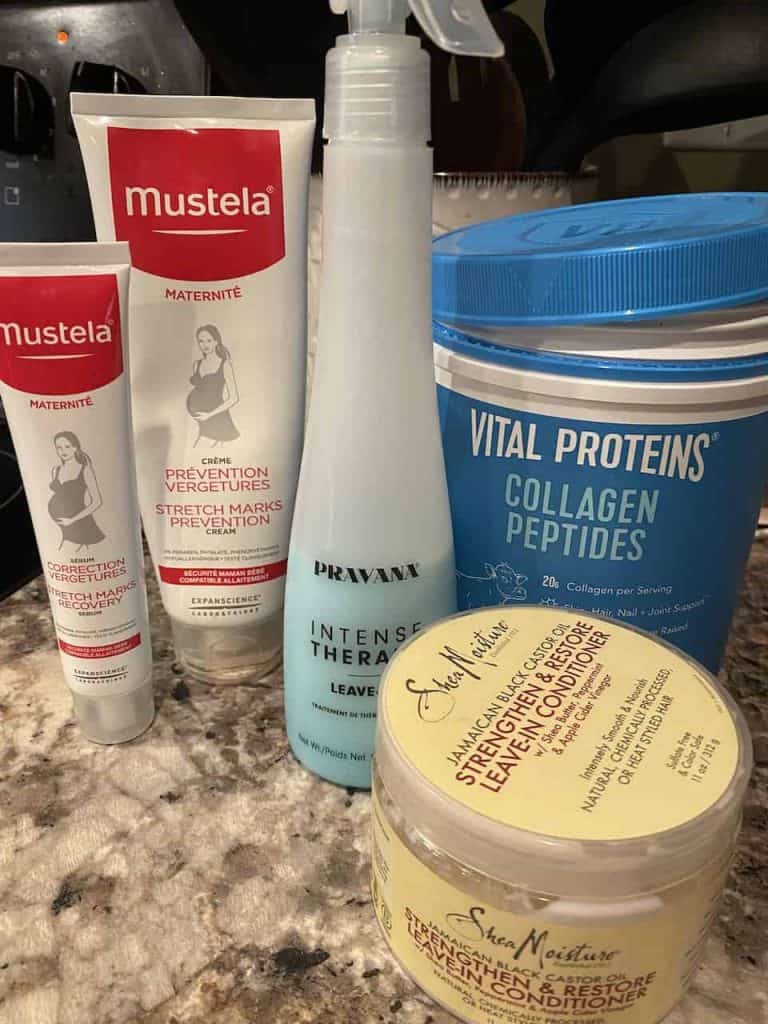 Y'all. I have (no joke) tried like 30 different hair products. I've experimented with expensive hair products, cheap products, and even dumping castor oil all over my hair.
I've slept on a silk pillowcase, used a wide-tooth comb, reduced heat on my hair, and all the other ridiculous tips to magically grow healthy, long hair.
I'll be the one to break it to you. But there's absolutely no "magic" pill, supplement, or hair product. Hair growth takes time, some lifestyle modifications, and patience. Don't stress about it either because that will definitely be counterproductive.
Out of all the products I've tried over the years, the Pravana Leave-in Conditioner from Ulta Beauty and the Shea Moisture (listed below) have worked best for my hair. I started my first bottle of it at the end of my pregnancy because my hair was becoming dry and lifeless. And just like the Vital Proteins collagen powder, I continued to purchase more bottles.
Related Posts
How To Prepare Your Dog For A Baby And Exact Steps That Worked For Us
What Is A Let-Down Reflex During Breastfeeding And Other Breastfeeding Terms To Know
The Ultimate Guide To A Minimalist And Essentials Only Baby Registry List
5. Shea Moisture Leave-In-Conditioner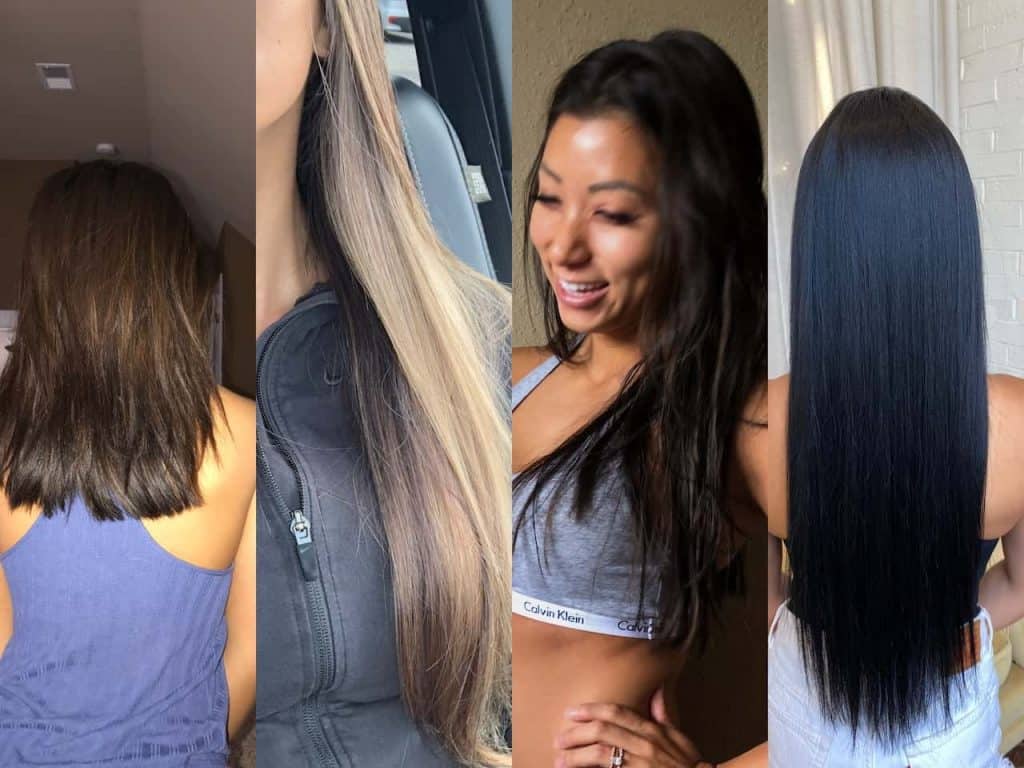 I've been using Shea Moisture leave-in-conditioner for years (but off and on). I got a really short haircut back in 2016 after a really bad perm that left my hair fried.
So I started using this leave-in-conditioner. I got lazy and stopped using it for a year and then started adding this to my routine right before getting pregnant.
It's like a lotion texture and a little goes a long way! I put a small amount on my hand and rub it through my hair like a couple of inches from the root right after I wash my hair. It smells so good too which is a huge plus! You can get your tub at Ulta Beauty.
6. Mustela Stretch Mark Prevention Cream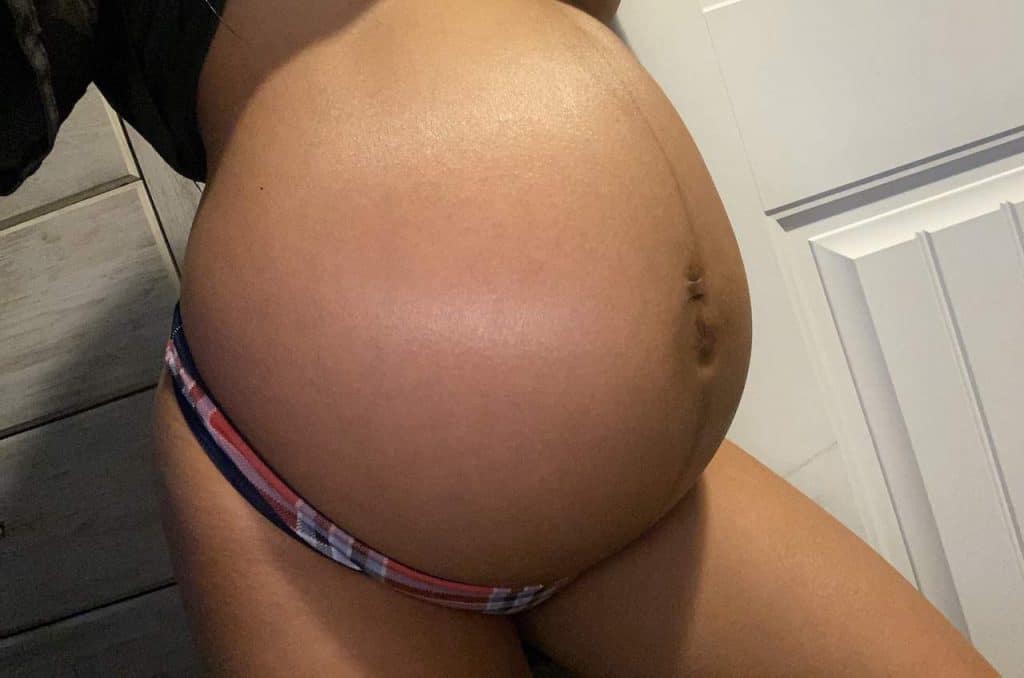 According to the American Academy of Dermatology, 90% of women will get them sometime after their sixth or seventh month of pregnancy. And also according to WebMD, you're more likely to have stretch marks if your mother had them because they are genetic.
Essentially you get stretch marks when your body grows too fast for your skin to catch up. That's why pregnancy is a risk factor for stretch marks. It usually appears around the stomach, breast, and sometimes thighs, arms, and butt. And just another reason it's recommended you gain a healthy amount of weight slowly and not all at once.
Mustela stretch mark prevention cream is one of the best on the market. It's so effective that I used up the whole entire bottle during my first pregnancy. And I didn't get any stretch marks during my pregnancy probably with the help of genetics. But I also religiously rubbed this stretch mark cream all over my skin (belly, inner thighs, and breasts).
7. Mustela Correction Serum
The stretch mark correction serum is more for post-baby. From how amazing the Mustela prevention cream worked for me and several of my friends, I decided to look into their correction cream.
Although I didn't have any stretch marks, I loved how much it moisturized my deflated baby bump along with the Body Shop cream I used with it. And I'd say it's worth getting you a tube.
8. The Body Shop Cream
I have really dry skin wherein the winter obviously gets worse and easily cracks. And I literally tried all of Walmart's intensive moisturizing lotions they had on their shelf and it was either not moisturizing enough or left my skin greasy.
Then I did some research and looked into the Body Shop creams and fell in love! It's pretty pricey but just like the other products I use, a little goes a long way! And the almond milk & honey smells heavenly. You can get yours at Ulta Beauty or amazon!
9. A whole lot of water
If there's anything that's going to work like "magic", it's water. And a whole lot of it. I go more over the importance of water and how to increase your water intake here.
If you want to maximize hair growth, clean up your skin, and feel good, then water is your answer.
10. Nutritious food
This is no brainer. Eat hearty meals. Don't skip meals because your hair and baby needs the nutrients from the foods you eat to grow and develop.
And your skin during pregnancy needs the nutrients for its elasticity. There are no stretch mark creams or skin rejuvenation lotion that compare to the nutrients you can get from the healthy foods you eat.
In Conclusion
You don't have to spend hundreds of dollars on pregnancy beauty and skincare products. But you should do your research when choosing skin and hair products for pregnancy that are going to be safe for pregnancy and for you to continue to use afterwards.
It can be easy to lose confidence during pregnancy and the postpartum phase. But if you create a morning and nightly routine dedicated to self-care, it makes a world of a difference. Take those steps to eat right, drink more water, exercise, and set a skincare routine.