Second Pregnancy Symptoms Leading Up To A BFP And Pregnancy Symptoms By DPO
This post may contain affiliate links, which means I'll receive a commission if you purchase through my links, at no extra cost to you. Please read full disclosure for more information.
I've been itching to be able to type up my pregnancy symptoms leading up to a BFP (big fat pregnancy)! The time has finally come to where I get to share all of the pregnancy symptoms by DPO (days post ovulation).
I gave birth to my first baby on March 16, 2020 via an unexpected c-section (you can read that here). And I exclusively breastfed all the way up until I got my positive pregnancy test. So this proves that you most definitely can get pregnant even when you're breastfeeding although it can make it more difficult to.
In this blog post, I'm going to go over the timeline of events that's related to getting pregnant such as my first period after birth, when I ovulated, my period cycles after giving birth, and all of the pregnancy symptoms leading up to a BFP by DPO.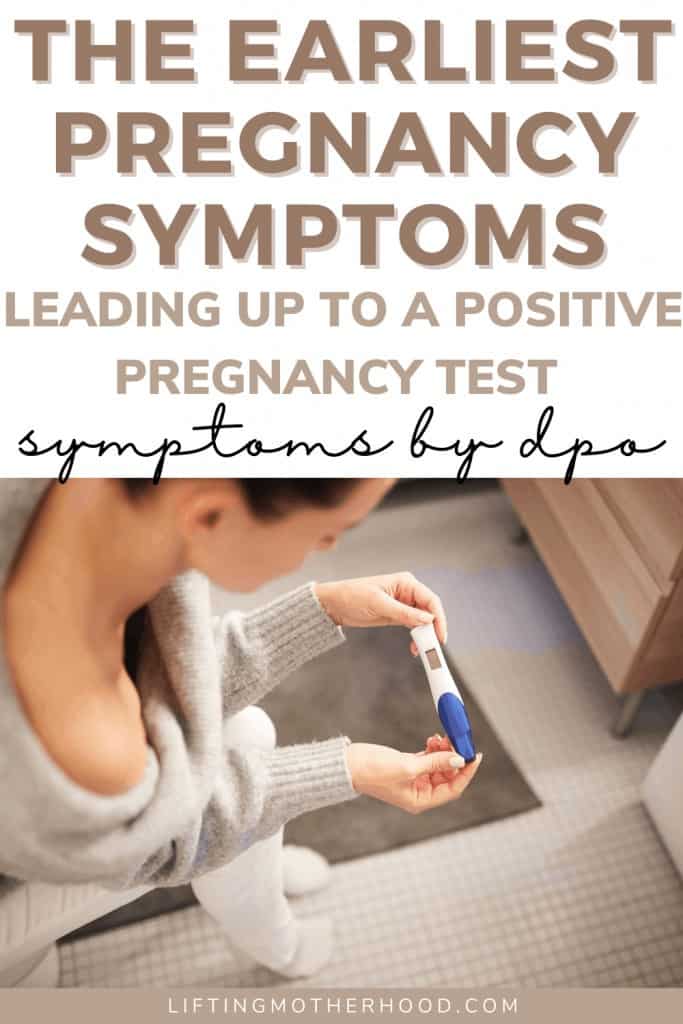 First Period After C-Section Delivery
My first period after my c-section was on January 8th and it lasted until January 11th. And if you're wondering if it looked like a massacre occurred, surprisingly it was actually quite the opposite. You can read more about 4 different women's first period experiences after their c-section birth here.
Period Cycles After C-Section
This might help you to predict how regular or irregular your cycles may be after your c-section delivery. However, every woman's period experiences after birth can vary.
First period – January 8-11
Second period – February 16-20
Third period – March 25-31
Fourth period – April 23-27
Fifth period – May 25-29
Sixth period – June 10-14
(What would have been) seventh period – July 16
Ovulation Day Leading Up To BFP
I knew it was possible but a very slim chance to get pregnant before my very first period after giving birth. So my husband and I tried even before my period resumed. And when I did get my first period in January, we really made the effort to try for a second baby.
But after months went by with negative tests, I decided to give ovulation tests a try. One of my friends had told me that she got pregnant both times she peed on an ovulation stick and that they were accurate and reliable.
The Clear Blue ovulation kit I bought had about 10 ovulation tests and 1 pregnancy test. I peed on a few leading up to my ovulation day and got these two strong lines. And that was the night my husband and I BD (baby danced) that lead to conception and then the pregnancy symptoms leading up to a BFP.

Symptoms Leading Up To A BFP
DPO 1
I had a lot of bloating and started to have diarrhea.
DPO 2
I experienced mild cramps, bloating, and more diarrhea.
DPO 3
This was fourth of July and I was tired, kind of in a blah mood, and had a few drinks that night.
DPO 4
Day 4 post-ovulation, I had cramps and bloating. And started having harder stools.
DPO 5
My cramps were pretty dull with the occasional twinges mainly around my right uterus, started experiencing tender breasts which was a red flag for me. I typically never have sore boobs and the last time I remember having them was when I was pregnant with my daughter. On top of that, I was super tired, bloated, and got easily winded doing the littlest things.
DPO 6
I had the most vivid dream the night before (which is a pretty common pregnancy sign). Throughout the day I had diarrhea again, increased white and creamy, cervical mucus, bloating, sore boobs, and fatigue. My stomach hurt really bad after dinner (didn't eat anything out of the ordinary) and ended up having diarrhea that night.
Related Posts
Can I Eat Sushi While Pregnant And Everything Related To Sushi During Pregnancy
70+ A-Z Charming Baby Boy Names With Middle Names
Old Wives Tale Gender Predictions VS What I Actually Got
DPO 7
Day 7 post-ovulation, I woke up starving and was hungry all day even after every meal. And I took my first pregnancy test with the AccuMed cheapies and got a negative reading. My stomach was very bubbly, had twinges in my uterus, bloated, and had on and off cramping all day.
There was a weird but familiar feeling I had during my first pregnancy where it felt like there was a single bubble trapped in the center of my uterus. Another familiar feeling I had was lightning-like, sharp shooting pains around my lower uterus that happened really quick on and off. And I think this was the day I conceived. I had a lot of white cervical mucus during the day and tapered off by night.
DPO 8
Super early day 8 post-ovulation or super late day 7 post-ovulation (1 am) I had feelings of prickles around my uterus as if someone was poking me with a stick.
Around 11:30 am I decided to take another test but it was negative. And I had a lot of discharge that day that resembled lotion. It was white and lotion-like texture. I also started having headaches around 1:20 pm.
DPO 9
I woke up and immediately took a pregnancy test but turned out negative. It was weird because I could've sworn I saw the faintest line but wasn't sure if my eyes were playing games with me. And I told myself if it's really there, then it'll definitely be a bit darker tomorrow.
Day 9 post-ovulation I had more cramps, sore boobs, started getting a bit queasy and nauseous, tired, bloated and had a really bad craving for McDonald's. This was the day I knew I was pregnant. I literally hate McDonald's. It makes me sick and I puke every time I eat it but for some reason (obviously pregnancy), I couldn't resist my cravings for McDonald's.
My cervical mucus turned egg white-ish and watery. I had some shooting pains in my left boob. But for some odd reason, that night I had a weird feeling come over me like, "maybe I'm not pregnant and I want to be pregnant so bad that I'm making my body create pregnancy symptoms".
DPO 10
Day 10 post-ovulation, was the day I got a VFL (very faint line). And I was seriously overjoyed when I came back to the bathroom to see the second line!
Initially, I peed on the stick, watched the urine make its way through the control line, and immediately set the pregnancy test down on the bathroom counter. And I thought to myself I'm not pregnant. Then a couple of minutes later, I came back and seriously could not believe my eyes at first.
The symptoms I had 10 DPO were cramping, twinges in my uterus, bloating, and fatigue. But I think I was so high on happiness that I didn't notice anything else.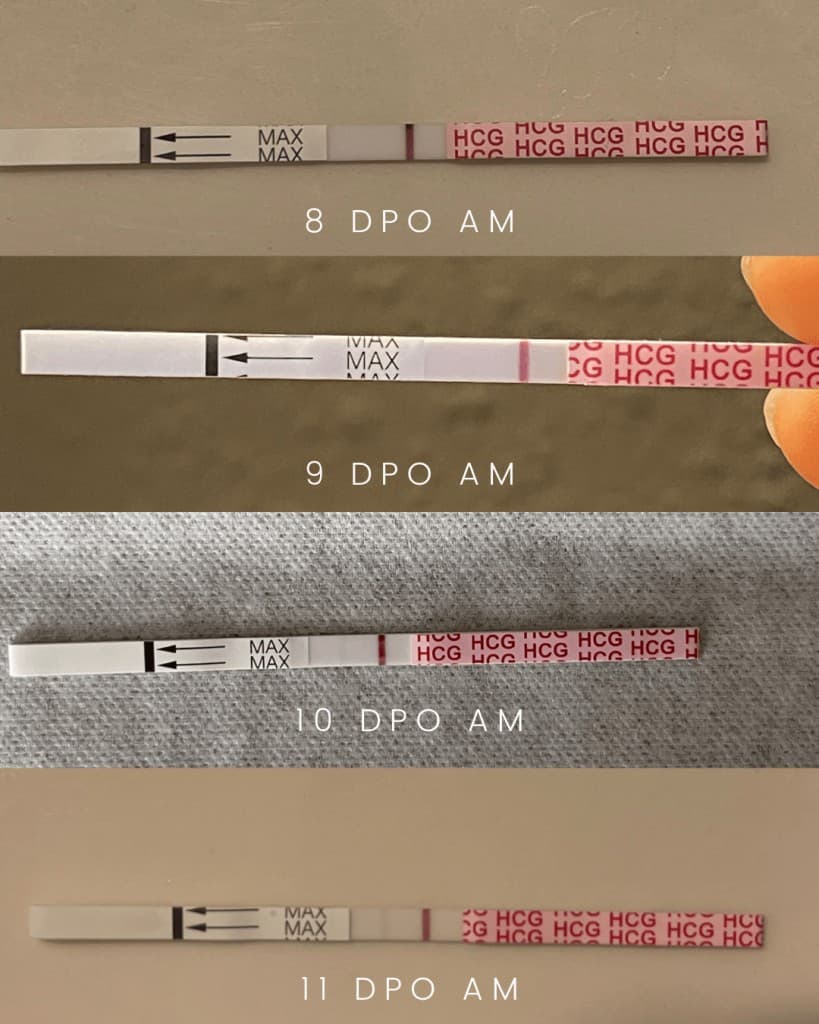 DPO 11
I had a lot of cervical mucus and it felt like I wetted myself a few times during the day. But it was just a gush of discharge. I was bloated and had mild cramps throughout the day with another faint line indicating a positive pregnancy test.
After talking to a few friends, I decided to try a digital pregnancy test. I was nervous that it would be negative because I wasn't sure if the digital pregnancy test would pick up my hcg levels. But surprisingly, the digital test reassured me that I was definitely pregnant.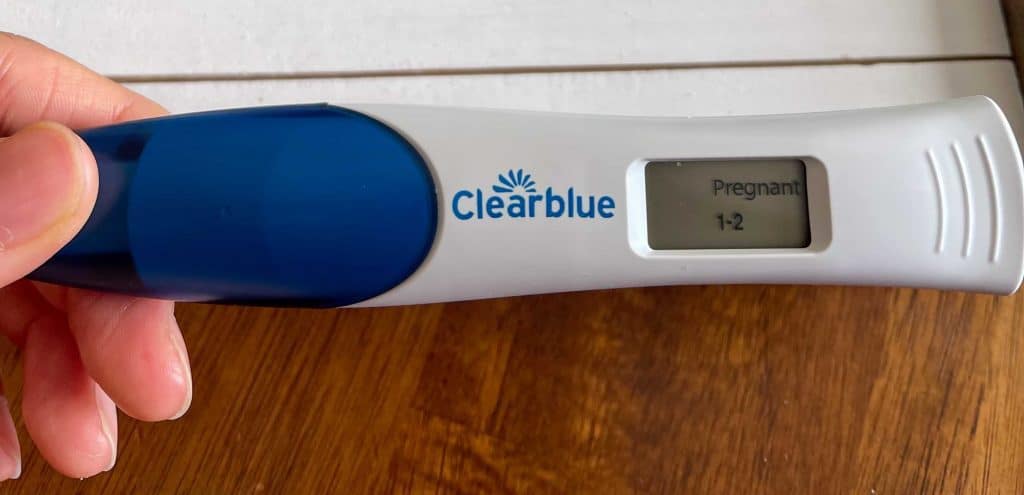 After getting a positive digital reading at my neighbor's house and letting the confirmation soak in, I quickly got a letter board set up to surprise my husband. You can watch this whole blog post in the video below or skip to the end to watch my husband's reaction!
Please like and subscribe to my channel! Thank you for the support♡
DPO 12
Day 12 post-ovulation started my earlier mornings and earlier nights. What I mean by this is that I started naturally waking up an hour before I normally would wake up and also passing out much earlier than usual.
And I had horrible headaches throughout the day while feeling really tired and unfocused. Bloating also has been continuous since ovulation.
DPO 13
Day 13 post-ovulation, I continued to get bad headaches all day. But I didn't want to take any medicine for it. I'm really weird about taking anything other than prenatal vitamins during the first trimester of pregnancy (that's just me).
I also had quite a good bit of discharge throughout the day, bloating, more fatigue, and also waking up earlier and sleeping earlier again.
DPO 14
Headaches got worse during day 14 post-ovulation. I'm going to have to say out of all the pregnancy symptoms leading up to my BFP, I despise getting headaches the most. That's because I feel like it prohibits me from having a productive day and makes me even more tired.
My cervical mucus this day started tapering off, I had a good amount of energy to work out in the morning and started getting very tired throughout the day. And experienced nausea at night.
Check out The Pregnancy Quadruple Marker Test Made Easy
Final Thoughts
Day 15 post-ovulation would have been the day my period would have started. And it's crazy to think how early I got a faint line and a positive digital pregnancy test reading. But this is because everybody is different.
I was obsessively on the What to Expect community forums searching for the earliest other women were getting a positive pregnancy test. Or comparing my symptoms to their symptoms that lead to a BFP. And it ranged SO much.
There were a lot of women who got a faint line as early as 6 DPO and as late as a couple of weeks past when their period was due.
If there's anything I really did differently this month to get pregnant, it's taking the ovulation tests and making sure we BD (baby danced) the day I got two strong lines. The ovulation tests can be a little confusing at first so you might have to try it for a couple of months just in case you miss your ovulation window. And I'd definitely recommend getting cheaper deals on ovulation tests and pregnancy tests like the one below.
I hope my pregnancy symptoms leading up to a BFP were insightful and gave you a bit of peace of mind. Let me know what you thought of this post or Youtube video in the comments below! Baby dust to you mamas!