100+ Unique Baby Girl Names With Middle Names
This post may contain affiliate links, which means I'll receive a commission if you purchase through my links, at no extra cost to you. Please read full disclosure for more information.
For some people, it's easier to agree with baby girl names than baby boy names. While others, it's very much the other way around. I was inspired to create a list of unique and uncommon baby girl names with middle names for those of you that are the latter of the group.
When my husband and I found out that we were having a baby girl, we had a pretty hard time agreeing to a girl name. We couldn't agree to a single first name so we started branching off to the very few gender neutral names out there. It came down to Emory which is suprisingly gender neutral.
According to The Bump, the name Emory means "home strength" and is of English language. It is also a masculine version of spelling to Emery which is of Old German origin. But we both agreed that we liked the spelling of Emory over Emery.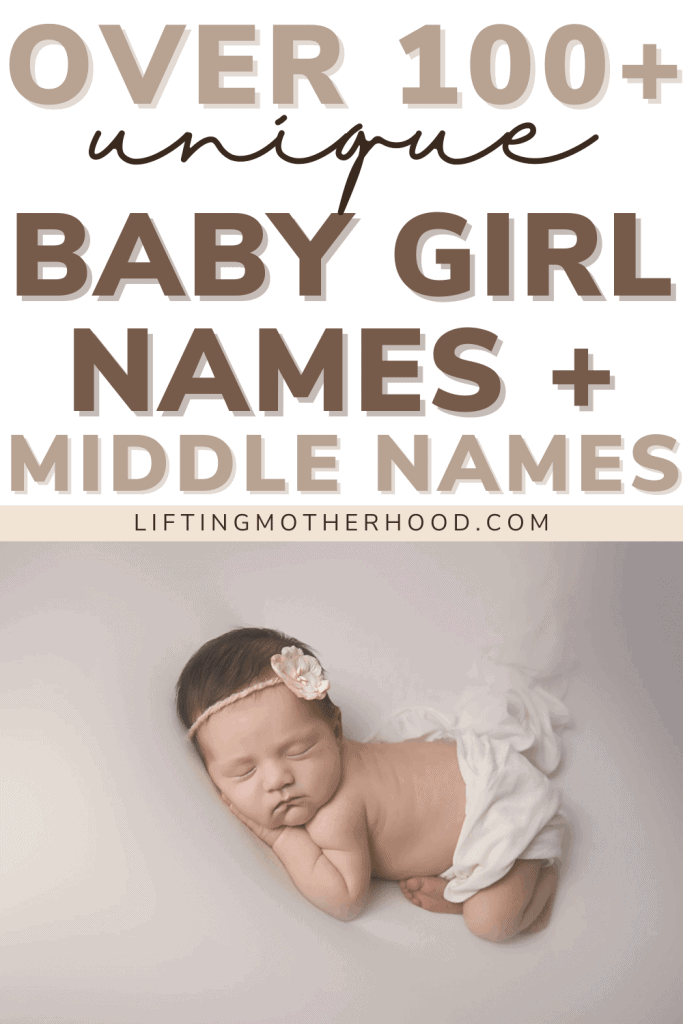 Unique Baby Girl Names With Middle Names
You may either love or hate some of these names. But if you like one of the girl first names but not the middle name, swap it out for a different one! The point in this list of uncommon baby girl names is to give you ideas.
A
Amelia Kay
Amerie Anne
Amina Bay
Andi Blair
Ansley Mae
Aurora Joy
Avery Rae
Ayla Claire
B
Baylor Remy
Beckett Kate
Bellamy Elle
Blair Jane
Blakely Jo
Blythe Liv
C
Calluna Reese
Camdyn Rae
Carmen Paige
Carson Sage
Carsyn Wren
Cecelia Elizabeth
Celeste Rose
Charlie Jane
D, E
Devin Faye
Elodie Claire
Emmaline Rose
Emerson Liv
Emery Kate
Emory Liv
Euna Lynn
Everly Brooke
Evie Raine

F, G
Fallyn Olivia
Finley Grace
Genevie Zo
Genevieve Isla
Gianna Quinn
Gizelle Eve
Gracyen Clare
Grayson Hanna
H
Harley Liv
Hanna Jean
Harlow Gwen
Harlyn Jane
Haven Kate
I
Ilana Blair
Ina Sky
Ivie Faye
Isla Grey
Ivory Elle
J
Jolie Maia
Juliana Veda
Juniper Remi
Juno Marley
K
Kaia Saige
Karmen Emmy
Karsyn Ryan
Kasey Renae
Keilani Nicole
Kennedy Lane
Kensley Lynn
Kimora Kaye
Related Posts
70+ A-Z Charming Baby Boy Names With Middle Names
9 Key Newborn Baby Must-Have Items I Wouldn't Have Been Able To Go Without
The Ultimate Guide To A Minimalist And Essentials Only Baby Registry List
L
Layla Gi
Leia Camille
Leighton Blythe
Lennon Brynn
Lola Eve
Lorelei Quinn
Luna Nola
M
Marleigh Dani
Meadow Leila
Melina Kai
Milani Ari
N
Nala Lou
Nayla Olyvia
Nola Elle
Nova Reign
Novalie Kate
O
Oaklyn Blair
Oliana Shae
Olivya Clare
P
Pia Gemma
Piper Liv
Presley Marie
Q, R
Quincy Mila
Quinn Ellie
Raine Everly
Remy Magnolia
Reyna Leigh
Rhyan Blake
Rylan Ember
Rylee Sloane
S
Sage Reese
Sia Ivy
Sienna Grace
Shiloh Olivia
Skye Emery
Skylar Eva
Sloane Ayla
Sofie Emerson
T
Tallulah Mae
Teagan Rhea
Tinsleigh Rae
Tylee Reign
U, V
Una Bay
Uri Lia
Vara Zo
Veda Selah
Vienna Emerie
Vela Elyse
W
Willow Celia
Winsley Kate
Wren Celine
X, Y, Z
Xyla Mya
Xoe Noa
Yana Vera
Yuna Mira
Zara Ari
Zena Kyla
Zoha Aya
Zola Malani
Final Thoughts
Let me know what you thought of this list of unique baby girl names with middle names. And don't forget to pin these pinnables to come back to later!