Best List Of Gift Ideas For Babies And Toddlers
This post may contain affiliate links, which means I'll receive a commission if you purchase through my links, at no extra cost to you. Please read full disclosure for more information.
Don't fry your brain trying to come up with gift ideas for a baby or toddler for their birthday or special occasion. And let me help you get some of that weight off your shoulders with the best list of gift ideas for babies and toddlers I've compiled just for you.
I honestly did not know how difficult it would be to find not only the best toy for my baby but also the right toy for her developmental stage.
And on top of that, after you think you've narrowed down your options, you realize there are so many different brands and even more choices to choose from.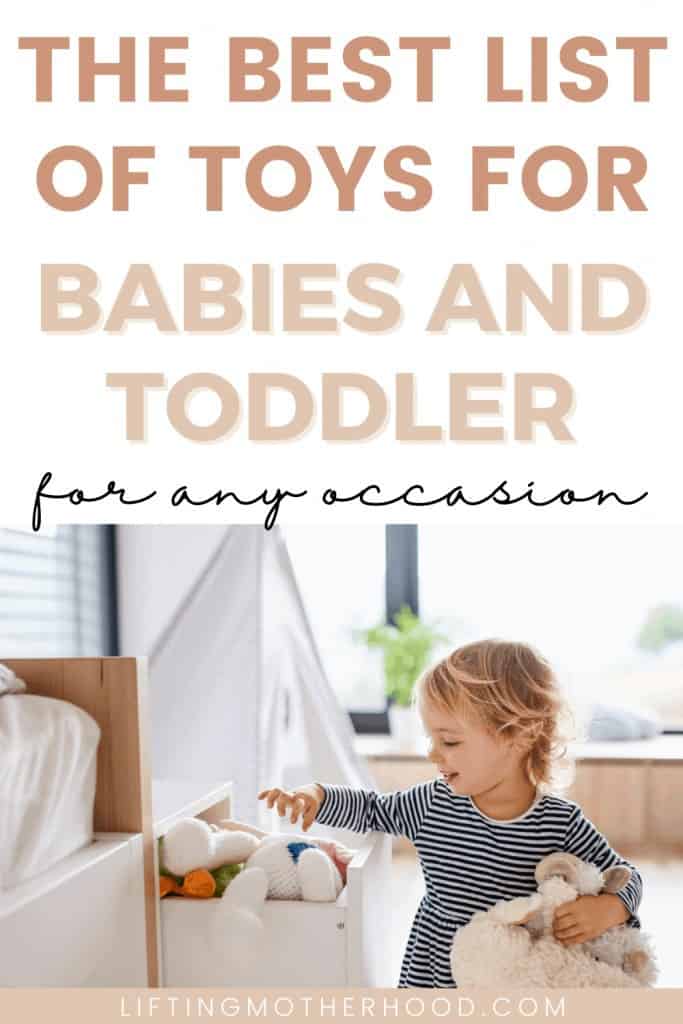 List of Gift Ideas For Babies And Toddlers
The specific products I list below are ones I either personally purchased or chose after doing my research and going through hundreds of reviews.
1. Wooden Activity Cube
There's a ton of different wooden activity cubes all over the internet. And prices will range quite a bit.
Well, let me tell you. I decided to bite the bullet and go for the big boy. This was one of the more expensive wooden activity cubes I found. But the quality 100% backed it up. The cheaper ones consisted of reviews ranging from some parts being hazardous and other concerns about the quality.
And this is easily the most used and played toy we have.
2. Mega Blocks
I was a little skeptical about purchasing Mega Blocks for my baby since she was still less than a year old at the time. But as they say, "time flies when you have a baby". And now that she's a toddler, she absolutely loves her Mega Blocks.
3. Pull Wagon
Fisher-Price Laugh and Learn Pull and Play Learning Wagon is another favorite in our household. It's not only easy for my a baby to pull but it's the perfect 3-in-1 toy. You can pull it, keep it stationary, learn from the interactive sounds, buttons, and shapes, and it comes with extra smaller toys.
4. Activity Mat
Fisher-Price piano activity mat has grown with her since she was 3-months old. You can easily adjust parts of the activity mat to meet all developmental stages. And one of the best parts about this toy is the ability to take off the piano and the hanging toys.
5. Activity Table
Activity tables are the best. They not only keep your baby or toddler occupied, but it also helps them learn.
6. Walker
The only walker my daughter enjoyed being in and helped her walk at just 8-months old was this Winnie the Pooh baby walker. And the best thing about this walker is that the trays come out for space to lay snacks or other toys.
Vtech sit to stand baby walker is better suited for babies and toddlers that are in the process of learning how to walk independently. It's got two different settings for the walker to freely move or slowly move with the baby.
Related Posts
10 Simple Ways To Encourage Your Baby To Walk From A Parent Of An 8-Month-Old Walker
20 Things I Used To Enjoy But Dread After Life With A Baby
Everything You Need To Throw The Sweetest Donut Themed First Birthday Party For Your Baby
7. Stacking Game
I purchased the Lamaze stackable baby toy when my daughter was around 4-months old and this has been yet another great toy that has grown with her.
8. Fat Brain Toys
I'm a huge fan of Fat Brain Toys. I've gotten a handful of toys from the brand and it's not only kept my daughter busy but busy learning.
Shop Fat Brain Toys by age group.
9. Bath Toys
Bath time is way more enjoyable with more toys. There's bath crayons that toddlers can write on the bathtub.
Or other bath toys that squirt water.
10. Baby Doll
I didn't know giving babies a baby doll to play with was a thing until my mother-in-law gifted one for Christmas.
And believe it or not, it's one of my daughter's favorite things to drag around the house. Not to mention, it's a great way to teach them to care for another little baby when you're expecting another baby.
11. Stuffed Animals
Stuffed animals weren't a thing for my baby until she was about 6 months old. But when she started getting into it, she couldn't not walk around with one in her hand.
12. Books
Books make up for a thoughtful gift for any occasion.
13. Outdoor Activities
In a world where technology has taken over, it's nice to see our babies play outside.
Some of my favorite memories are playing with the water hose. Or better yet, a sprinkler play area perfect for our babies and toddlers.
Another great gift is a mini slide for babies and toddlers for the backyard.
14. Kids Tents and Tunnels
I used to beg my mom to take me to a McDonald's that had a playground in it growing up. And now they sell these tents and tunnels for toddlers that could definitely grow with them.
15. Ride On Toy
There's so many different options for ride on toys. My daughter was gifted Skip Hop 3-in-1 Baby Activity Walker & Ride On Scooter toy by her grandpa and we love it because you can take the purple "seat" off and transforms into a scooter. You can also flip it around to where it's a basket.
16. Toddler Sofa
A cute miniature toddler sofa that converts into the perfect nap time area.
17. Personalized Blanket
Personalized gifts are my favorite and it makes for a great keepsake. And toddlers love getting attached to blankets at this age.
18. Toy Instrument
You probably won't hear the end of it once your baby or toddler gets their hands toy instruments. But at least it'll keep them occupied with minimal screen time.
19. Sports Center
We love VTech Smart Shots Sports Center and this toy was a hit. A great toy for laying down an active foundation for babies and toddlers.
20. Interactive Activity Cube
VTech Sort and Discover Activity Cube is one of my daughter's favorite toys that have continuously kept her occupied. It's also educational and has multiple settings. And not to mention, very lightweight.
In Conclusion
Hopefully this list of gift ideas for babies and toddlers gave you some idea for any holiday or special occasion. Don't forget to pin the images to bookmark this post for your next upcoming gift shopping experience!