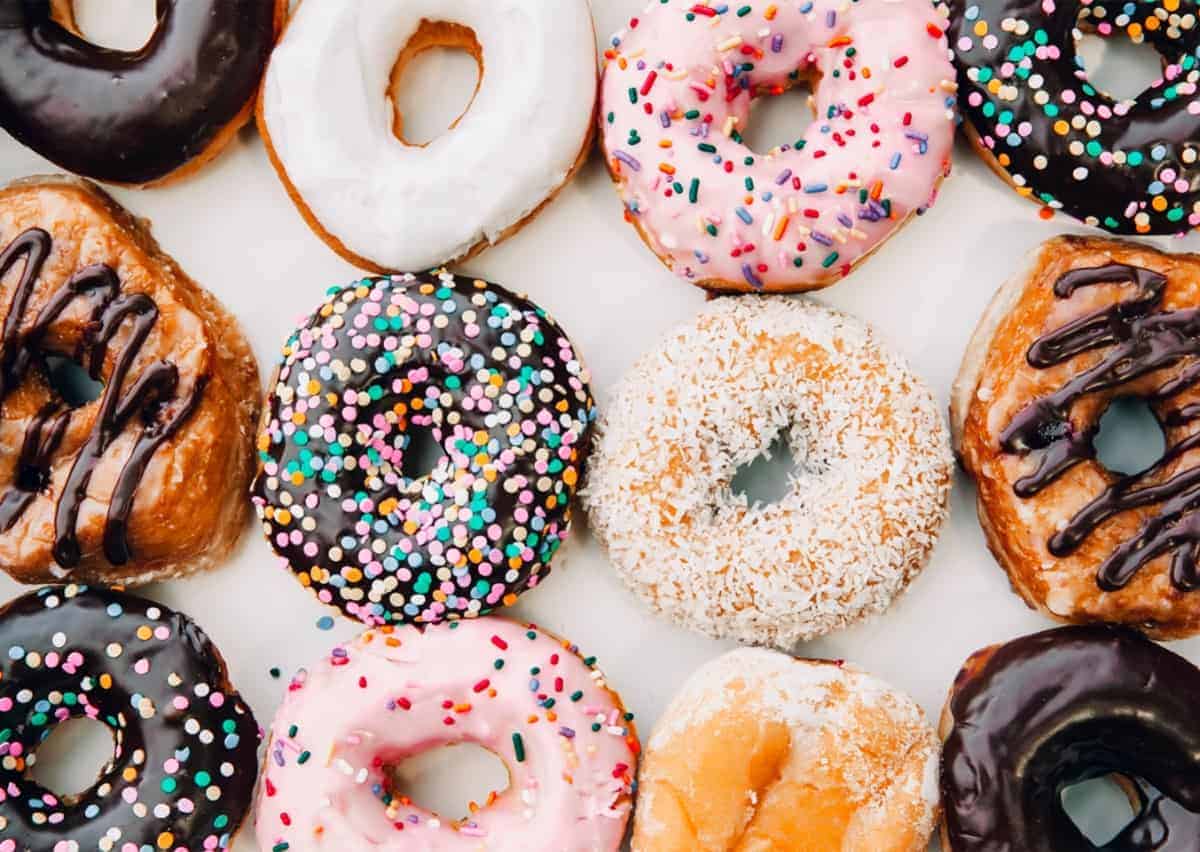 Everything You Need To Throw The Sweetest Donut Themed First Birthday Party For Your Baby
This post may contain affiliate links, which means I'll receive a commission if you purchase through my links, at no extra cost to you. Please read full disclosure for more information.
In the months leading up to my daughter, Emory's first birthday I was looking up first birthday party ideas. And I'm pretty sure I was scrolling through Pinterest when I saw ones like "Wild One", "Sweet One", and other cute princesses, baby shark, and character-themed first birthday ideas.
But the one I was most interested in was the donut themed first birthday theme. There seemed to be several different turning one sayings like " Donut Grow Up" and "Sweet One". I loved the idea of setting up a donut wall pick, putting her in a cute donut-themed outfit, and intertwining solid pink decor with donut themed birthday decor.
It wasn't long until my initial idea transformed into the real deal plan and I was going out to purchase items for her first birthday party months before she turned one. Since I basically spent months planning for my daughter's donut themed first birthday party, I had to put together a blog post on some of the most adorable donut themed birthday party supplies you can find at Target and Amazon. Like how convenient is that?
Donut Grow Up Party
But first, I wanted to share some pictures from Emory's Donut Grow Up first birthday party. We didn't reserve a venue or anything but I loved how homey, fun, and intimate her birthday party was. We held the party at our house and invited our neighbors, friends, and their babies.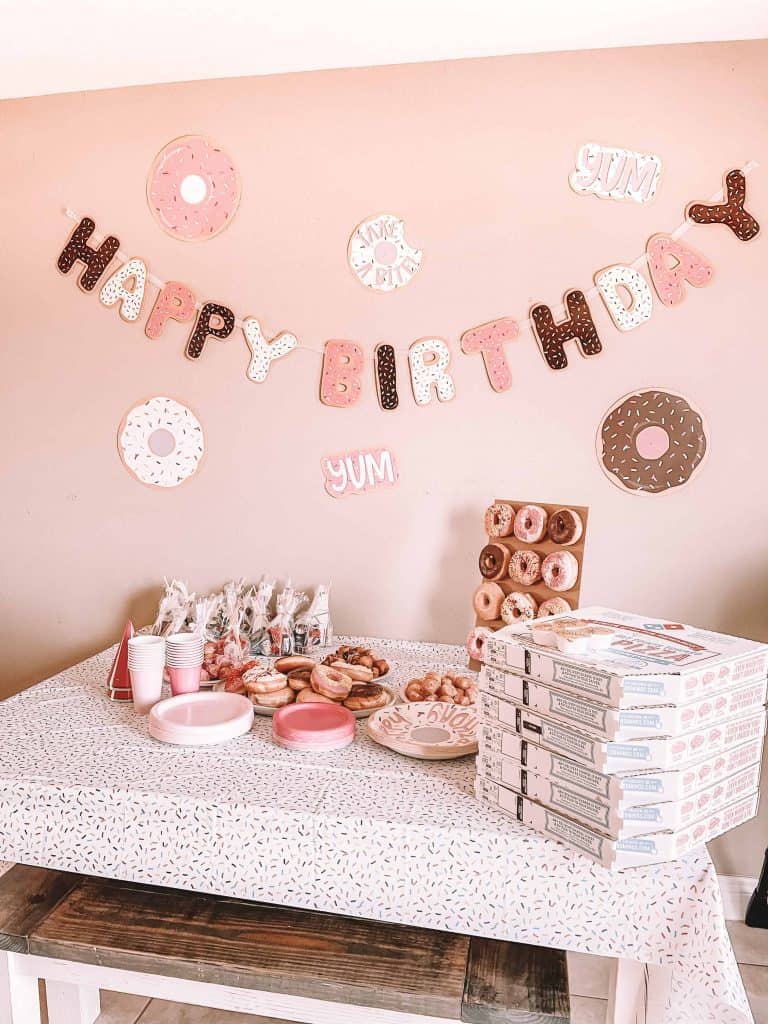 The donuts were an absolute hit. I ordered two dozen donuts and three dozen donut holes and they all got eaten.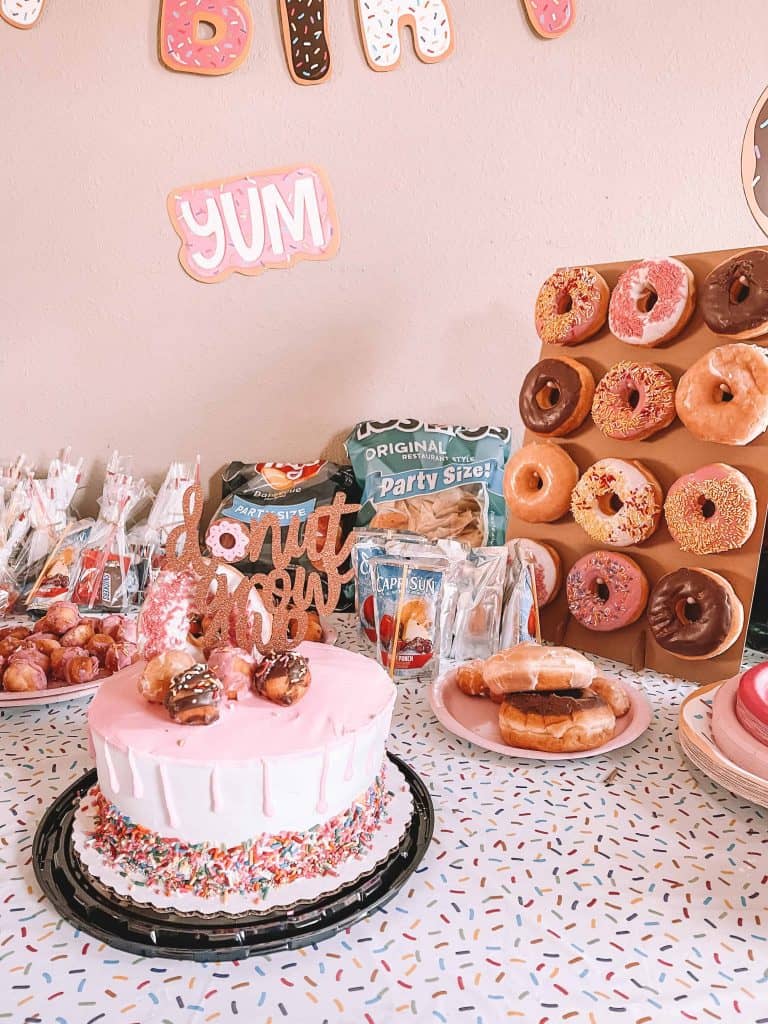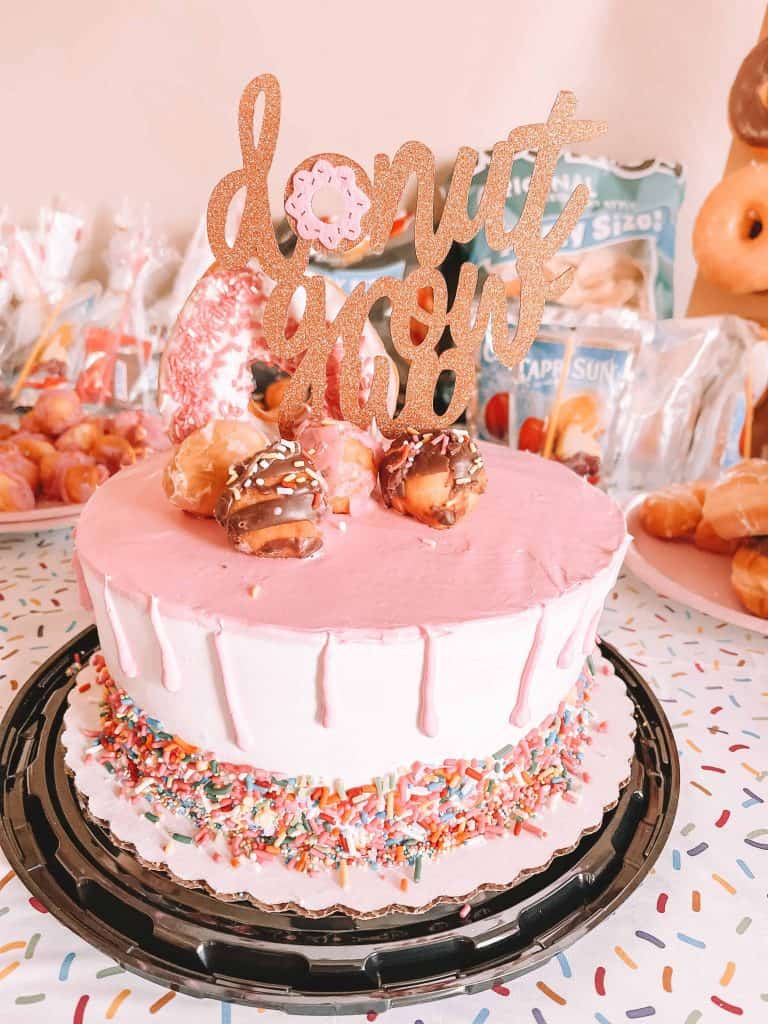 I have a funny story about this cake. So I originally looked on my local Facebook food page and asked if anyone could make me a donut themed birthday cake I found on Pinterest. And a few people gave me their rates. However, I was not about to pay more on a single birthday cake than I did on the rest of her birthday party supplies.
I went to Wal-Mart right down the road and asked how much it would be for a cake like the one I found on Pinterest and my total ended up being $16. They did a beautiful job with the drip effect and an emphasis on pink sprinkles along with rainbow sprinkles. On top of that, I stuck a few donut holes I had ordered and a whole donut on top of this cake and made due. For $16 I think I did a dang good job, don't you think?!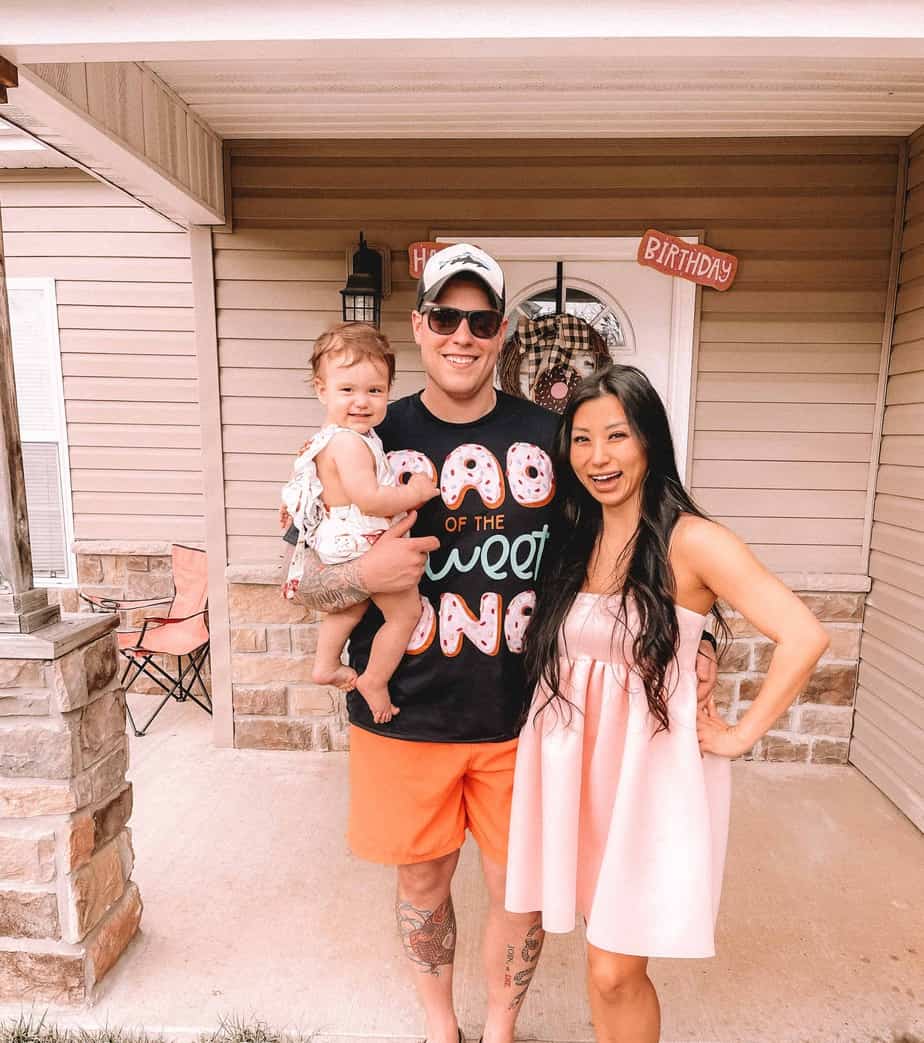 Donut-Themed First Birthday Party Supplies
I divided the donut party supplies you'll need into three categories: food-related, decorations, and others. You'll see what I did as you scroll through. But I also further organized the donut themed birthday supplies by stores, Target and Amazon.
Paper plates
Plastic silverware
Napkins
Plastic cups
Table cover
Donut wall pick and mix
Food and donut trays
Cake topper
Cupcake topper
You can always do a mix and match of donut-themed supplies with solid light pink or bright fuchsia pink items. This way you are saving money especially if you have a lot of guests. And honestly it might look better to do it this way so it's not TOO donut-y (I totally just made that word up).
Target Finds

Donut Party Supplies, Disposable Dinnerware Set (Serves 24, 144 Pieces) – $18.99
Donut Time Plastic Tablecloth – $7.59
"Treat Yourself" Donut Wall Pick And Mix – $14.99
Blue Panda 3 Pack Donuts Birthday Disposable Party Table Covers Pink, 54 x 108 In – $12.99
Blue Panda 48 Pack Holographic Disposable Paper Plates for Donut Birthday Party 9 In – $14.99
Big Dot of Happiness Donut Worry, Let's Party – Dessert Cupcake Toppers – $14.99
Big Dot of Happiness Donut Worry, Let's Party – Doughnut Birthday Party Cake Decorating Kit – $13.99
Donut Wall Party Backdrop – $18.69
16ct Donut Time Birthday Napkins – $5.39
Amazon Finds

Pink Donut Paper Plates and Napkins Party Supplies Serves 25 – $28.99
Donut Birthday Party Supplies, Serves 16, Includes Plates, Cups, Napkins, Cutlery, Banner – $24.99
Ginger Ray Rainbow Kids Party Donut/Doughnut Wall Alternative Birthday Cake Stand Hold 14 – $16.87
Donut Themed Party Supplies Pack -Bundle Includes Plates and Napkins for 16 Guests – $15.95
Fun Express Donut Shop Party Treat Stand (2 Levels for More Treats) Birthday and Party Supplies – $15.89
StarPack Premium Donut Wall Stand – Reusable Donut Holder Board to Display 16 Donuts – $25.00
Donuts One Cake Topper- Gold Glitter, 1st Birthday Cake Topper, Cake Topper 1st Birthday – $7.99
CoscosX DIY Donuts Stands Board Wall Wooden Doughnuts Stands Display Holder Candy Sweet Cart  – $13.98
Donut Theme Party Supplies Pack Serves 16: Dessert Plates, Beverage Napkins, Cups, Table Cover – $25.84
MeiMeiDa Donut Party Supplies Pack Serves 20 – Donut Happy Birthday Banner, Party Dinner Plates – $23.99
Acrylic Donut Stands Clear Bagels Holder Doughnut Dessert Stand Table for Wedding Birthday Party – $12.79
Double Sided Glitter Donut Grow Up Cake Topper Kids Birthday Party Decoration Supplies – $8.99
Related Posts
Self Care Tips For The Moms That Are Stretched Thin
The Cutest And Most Affordable Boho Themed Nursery Decor Finds You Need From Amazon And Target
Decorative Donut-Themed Supplies
Piñata
Balloons
Decorative streamer
Decorative banner
Backdrop
Photo Booth supplies
Target Finds

5ct Donut Time Dizzy Danglers – $3.79
Donut Pinata for Baby Shower, 1st Birthday, Kids Doughnut Themed Party Supplies, Small 12.75 inch – $18.99
Donut Party Supplies, Paper Goodie Bags (36 Pack) – $13.99
24-Pack Donut Party Favor Bags, Pink Paper Bag with Handle for Kids Birthday Party Treats – $18.99
Donut Party Favor Goodie Bags (100 Pack) – $16.99
Blue Panda 30-Piece Donut Hanging Swirl Ceiling 6-inch Kids Party Streamer Decorations Supplies – $9.99
Big Dot of Happiness Donut Worry, Let's Party – Doughnut Party Photo Booth Props Kit – 20 Count – $15.99
Amazon Finds

7x5ft Donut Sweet One girl 1st Birthday Party Backdrops Baby girl – $11.73
Big Donut Foil Balloons Large Mylar Doughnut Balloon Giant for Birthday Party – $8.99
One is Sweet Donut Balloon Party Decorations Supplies Kit – 89Pcs – $33.99
CC HOME Donut Birthday Party Supplies,Donut Photo Booth Props – $9.99
Donut Happy Birthday Banner Donut Birthday Party Decoration for Kids Birthday Baby Shower Donut – $10.99
HUAYI Photography Backdrops Photo Background Newborn Photography Props – $11.00
Fun Express – Donut Party Garland for Birthday – Party Decor – Hanging Decor – Garland – $5.12
Donut Pinata with Strings – pull string activated – Donut Party and Baby Reveal Supplies – $22.84
Donut Balloons Garland Pastel Decoration Kits 100 PCS Sprinkles Confetti Doughnut Backdrop – $19.99
22Pcs Donut Photo Booth Props,Donut Time Party Decorations for Girl Doughnut Birthday Party – $10.99
Donut Party Supplies – Donut Grow Up Balloons Banner Rose Gold, 20 Latex Balloons with 5 – $12.99
APINATA4U White Doughnut Shape Pinata Sugar Doughnut Party Favor – $26.99
7x5ft Donut Sweet One girl 1st Birthday Party Backdrops Baby girl donut Grow Up first birthday – $11.731
Other Donut-Themed First Birthday Essentials
Party favors
Goodie bag
Donut-themed birthday outfit
Donut-themed cake
Donuts and donut holes
Target Finds

Big Dot of Happiness Donut Worry, Let's Party – Doughnut Party Favor Boxes – Set of 12 – $18.99
Hudson Baby Infant and Toddler Girl Cotton Dress and Cardigan 2pc Set, Donuts – $13.99
6ct Glow in The Dark Putty – Spritz™ – $3.00
Blue Panda 12 Pack Donut Kids Party Favor Bags Drawstring Gift Bag for Girls Boys Birthday – $16.99
Blue Panda 48 Packs Musical Blow Outs, Donut Theme Blowers Noisemakers Whistles Party Favors – $12.99
24ct Mini Bubbles – Spritz™ – $4.00
Amazon Finds

24 PCS Donut Candy Bags Sprinkles Goodie Bags Thanks A Hole Bunch Stickers Sweet Doughnut – $16.99
200 PCS Party Favors Toy Assortment for Kids,Carnival Prizes and School Classroom – $22.99
Donut Birthday Party Favor Gift Bags for Kids, Baby Shower (5.2 x 8.7 In, 36 Pack) – $11.99
50 PCS Donut Candy Bags Thanks A Hole Bunch Stickers Donut Grow Up Party Decoration – $14.99
Toddler Baby Girls Summer Skirt Ice Cream Print Sleeveless Strap Backless Dress – $13.99
Newborn Toddler Baby Girl 1PC/2PCS Onesies Flutter Sleeve Floral Romper Jumpsuit Outfit – $7.99
2Pcs Baby Girls Dress One 1st Birthday Tutu Dresses Sleeveless Doughnut Lace Skirt Headband – $16.99
Eunikroko Baby Girls Toddler Sleeveless Romper Jumpsuit Donut Cake Smash Outfit with Ruffles – $14.99
Donut Party Treat Bag Favors Bags, 50pcs Treat Candy Bags Donut Sweet Plastic Goodie Bags – $8.99
Newborn Baby Girls One Birthday Romper Colorful Doughnut Bodysuit Jumpsuit – $5.99
Donut Forget
Don't forget to pin any of the images above and below to your Pinterest to save for later. I hope you throw the best donut-themed first birthday party for your little one!