20 Unique Gender Reveal Ideas
This post may contain affiliate links, which means I'll receive a commission if you purchase through my links, at no extra cost to you. Please read full disclosure for more information.
Gender revealing parties can be a whole lot of fun. Not just for the expecting parents but also for the friends and family. I had so many gender reveal ideas that I wanted to do before I narrowed down to 2 for my second and third baby.
I was way too impatient with my first baby to have a gender reveal but I still did a mini reveal for my husband. It was intimate and memorable only because it was a fail haha.
My First Attempt At A Gender Reveal
I took the Sneak Peek test (at-home gender test) at 8 weeks pregnant and got an e-mail saying I was having a girl. Long story short, my husband got home and I blew up what was supposed to be a multi-color balloon that looked black when it wasn't blown up.
The balloon ended up being a blatantly pink which I'm sure my husband was like wait does this mean we're having a girl. I tried feeding pink glitter into the balloon and it was getting stuck on the walls of the balloon. But I still proceeded to shove as much glitter as I could.
He popped the balloon to see the tiniest amounts of pink glitter on leftover piece of balloon haha! And that's how he found out we were having our baby girl.
For our second baby, my husband deadlifted at our gender reveal. You can watch the video below or on my YouTube channel.
And for our third baby, I really wanted paint poured on me. That was a huge mess by the way and I feel like I saw blue paint for the longest time afterwards.
My husband and I were both supposed to have paint poured on us but he ruined the surprise by seeing the gender on our hospital portal. And my friend accidentally grabbed the kid size large white tees instead of adult sizes. So I was the only one that was able to fit it haha.
20 Gender Reveal Ideas
There's so many various gender reveal ideas out there. Big or small. And if you live far from close friends and family, you can always consider revealing your baby's gender on a Facebook Live, creating a TikTok video, or Instagram reel.
Cake or Cupcake
Have a cake or cupcake made with a neutral colored exterior or half pink and half blue. Then when you go to cut it, it's the color of your baby's gender.
Smoke Bomb
The cool thing about a smoke bomb gender reveal is that y'all can release the bomb together or the gender keepers can release the smoke bomb!
It's one of the more popular gender reveal ideas and it's popular for a reason. It makes for super cute photos and videos.
You can easily order gender reveal powder cannons on amazon!
Gender Reveal Piñata
Piñatas aren't only meant for birthday parties for kids. How fun is this idea! If you have other children, you could even set it up to where they're the ones revealing their new sibling's gender.
There's several different ones on Etsy like the gender reveal piñata pictured.
Photoshoot Surprise
You don't always have to have a fancy schmancy gender reveal party. It can just be an intimate moment with you and your partner but also at a photoshoot so that your reactions can be photographed.
Balloon Box Gender Reveal
If you're not much of a DIY kinda gal, you can always order a premade box on amazon.
Or on the other hand, if you are a DIY kinda gal, there are so many DIY gender reveal box tutorials online. And you can even buy stickers that say brother or sister for your box.
Deadlift
We decided on a deadlift gender reveal for our second baby and it was so exciting. I've also seen deadlifting gender reveals on YouTube before where both the parents were in sync when the powder exploded pink or blue.
My best friend was the gender keeper and she ordered the powder from Etsy. And the one she bought came with tape to attach to the weights!
Related Posts
Important Reasons Why You Should Consider Having A Gender Reveal Party
Detailed Target Baby Registry List Must-Haves
Baseball Reveal
Have you ever wondered how people got the baseball to explode in pink or blue powder during a gender reveal party? Or is it just me?
I'm convinced I grew up under a rock. But they actually make baseballs made out of acrylic shell filled with vibrant powder for gender reveals!
Fortune Cookies
Whatever you can think of, Etsy probably has it. Fortune cookie gender reveal? Etsy's got it.
Silly String Duel
AJ from Aspen Jay did a silly string gender reveal for their fifth baby and it was the cutest thing because everyone was involved! These are sweet memories that her boys are going to always remember.
Balloon Dart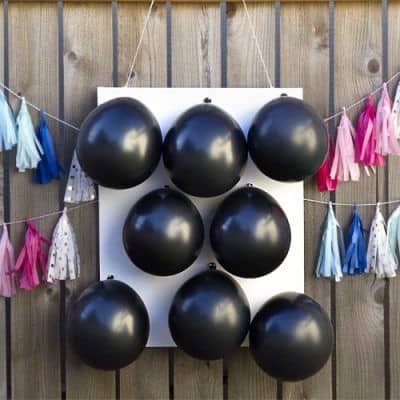 My best friend announced her third baby's gender with a balloon dart reveal and it was exhilarating! This is one of the simplest DIY gender reveal ideas.
All you need is a white styrofoam, black balloons, paint, and darts!
Confetti Cannons
Confetti cannon gender reveals are another popular one because you can easily find them on amazon. And this confetti cannon is also biodegradable.
Sibling Gift Bag Balloon Reveal
How simple and adorable is this gender reveal idea! This would be a very affordable reveal as well because you could find tissue papers, large gift bags, and balloons at your local Dollar Tree.
Paint Gun
All you need for this simple gender reveal idea is a few water guns, water, and paint!
Handprint Gender Reveal
This reveal idea is so versatile. You could take your own photos with a self-timer or hire a professional photographer to take photos. All you need is a white tee, pink or blue paint, and a way to take photos to document!
You can do it one or two ways. Do it the intimate way and buy the paint, dip your hands in paint, and place your hands over your bump.
Or whoever the gender keeper is can buy the paint, blind fold mom and dad, and have one of you dip your hands in paint to put over the mom's bump.
If you are expecting baby number 2, you can also announce your baby's gender with your first child dipping his or her hands in paint and placing it on your bump!
Pie In The Face
Lorene from Remodelaholic shared a few tips for having a pie in the face gender reveal.
She said to invest in some safety glasses and fill the pie tin or crust with as much very colorful whip cream as you can covering it with a thin layer of plain whip cream.
Gender Reveal Extinguisher
Smoke bombs, confetti cannons, but gender reveal extinguishers?! I had no idea such thing even existed.
It's actually one of my favorite gender reveal ideas because it's unique and a show stopper. You can find gender reveal extinguishers on both Etsy and amazon.
Egg Roulette
Egg roulette is an eggciting way to reveal the gender of your baby! You and the dad will take turns breaking the egg on each of your foreheads.
All of the colored eggs would be hard boiled except for one. And whichever colored egg (pink or blue) that is raw is the gender.
Shooting Gender Reveal
I've seen several shooting reveals with targets that blow up with either pink or blue powder. Or buy some colored powder with tannerite for an explosion.
Scratch Off Cards
Another simple and affordable gender reveal idea is to buy a gender reveal scratch off card! You can buy one or multiple for a fun way to tell your friends and family what y'all are having.
Soccer Ball Gender Reveal
Similar to the baseball reveal, they make soccer balls that are either prefilled or empty for you to put the powder in for an explosive gender reveal.
In Conclusion
I hope you find these gender reveal ideas helpful. Whether or not you decide to throw a gender reveal party, surprising the dad or both of y'all surprising everyone else with one of these gender reveal ideas would be a memorable time!
Don't forget to check out my other post Important Reasons Why You Should Consider Having A Gender Reveal Party.