Cute And Funny Pregnancy Announcement Ideas To Surprise Your Other Half
This post may contain affiliate links, which means I'll receive a commission if you purchase through my links, at no extra cost to you. Please read full disclosure for more information.
Coming up with pregnancy announcement ideas for your husband (or wife) can be a pretty difficult task. For some women, it might be difficult because there's just an endless amount of options to pick from. While for others, it's hard to even come up with a single pregnancy announcement idea.
You could easily just slap that positive pregnancy test in his hand and move on. But what's the joy in that?
Coming up with something clever as a pregnancy announcement to your husband or wife shouldn't be rocket science. That's why I compiled 23 variety of straightforward, cute, and funny pregnancy announcement ideas you can surprise your other half with.
23 Pregnancy Announcement Ideas
I've included 3 pregnancy announcement ideas I personally used to surprise my husband! Don't forget to come back and let me know which one you used.
1. Coffee Mug Surprise
There's so many different coffee mugs to announce your pregnancy. Or one of those really cool magical color changing mugs.
Is your husband about to be a first-time dad? This one would be a great one for the dog dad turn first-time human dad.
2. Bun In The Oven
You don't need much preparation for this one but maybe an hour to gather all of the supplies and bake. After the timer goes off, ask your husband to open the oven and hopefully, they get the pun. If not, you'll just have to walk them through it. The "bun" is the baby which is in the "oven" or your womb.
3. Cookies Or Cake
You don't even have to bake bread. You can even bake a cookie, cake, or pie and write a message with icing.
Cut out the cookies into baby related shapes to make it more creative. Or stick a topper on the cake to tell him the message!
4. Big Sister Or Brother Shirt
Whether the big sister or big brother is a human or a pet, this makes for a cute pregnancy announcement idea. Get a tee made, bandana for the pet, or get creative and buy a plain shirt from Walmart and fabric glue and write your message.
5. Pregnant Sign
Here is an idea that's cheap, simple, and gets the point across.
This is one I used as a pregnancy announcement to my husband. We got the news from the Army that we were moving to Georgia and I told him to hold up the sign for a picture to tell friends and family. But little did he know it was a baby news surprise!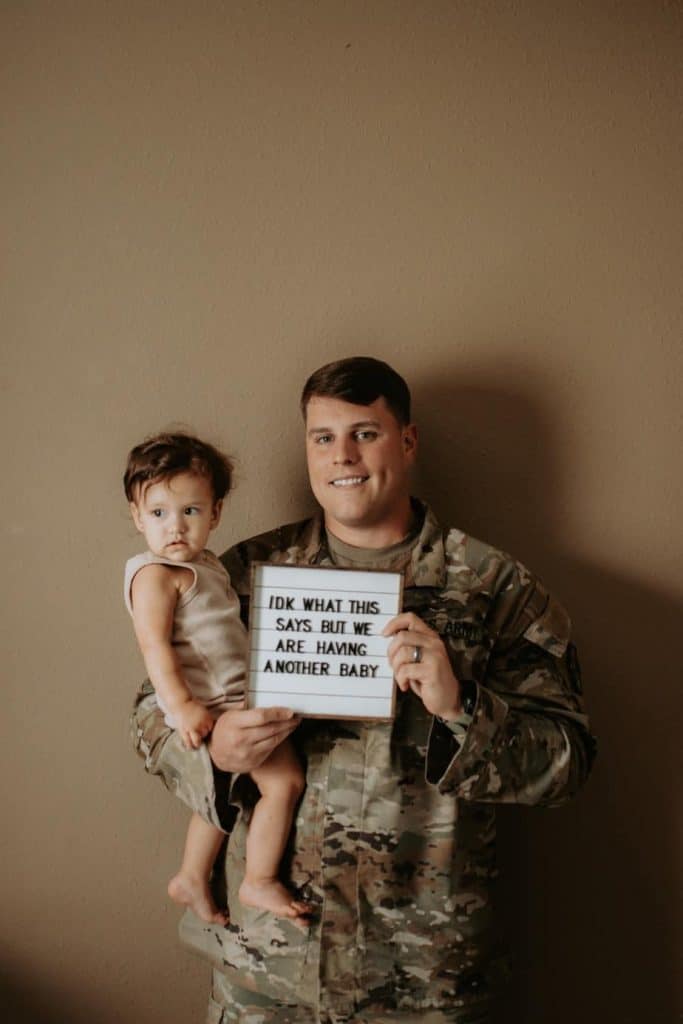 6. Positive Pregnancy Test On Dashboard
Something even cheaper and quicker than the pregnancy announcement ideas above is to leave a little surprise in the car.
Simply leave your positive pregnancy test somewhere on your husband's car dashboard, seat, or on their side of the bathroom sink. And don't forget to record their reaction.
7. Baby Item
A quick trip to your local Wal-Mart is all you need. Or if you suspect you're pregnant, order a thought out baby item on amazon prime and have it at your door in 2 days.
Out of all the other pregnancy announcement ideas- this is probably one of the most cost-effective because you know it'll get used by you or your baby later.
8. Belly Announcement
Grab a marker and write a funny or cute note on your belly. Like, "coming soon…", "loading…", or "baby 'insert last name'.
9. Secret Message Photoshoot
Set up a photoshoot with your local photographer and write your message on a board. And have the photographer capture his reaction when he turns around to read your surprise pregnancy announcement.
10. Seed In Hand
Have your husband put his hand out with his eyes closed. And place a seed in his hand and wait a moment for him to put two and two together.
Related Posts
The Ultimate Guide To A Minimalist And Essentials Only Baby Registry List
9 Key Newborn Baby Must-Have Items I Wouldn't Have Been Able To Go Without
Old Wives Tale Gender Predictions VS What I Actually Got
11. We're Pregnant! Book
Surprise him with a book so he can get to reading and learn about what's going on in your body during each trimester.
12. Play A Game
And have your husband guess that you're pregnant.
13. Pregnancy Announcement Shirt
What a funny way to nonchalantly walk around with a pregnancy announcement shirt until your husband realizes what your shirt actually says.
14. Buy Or Make Him A Shirt
There's a lot of soon to be dad shirts and even dad again tees to choose from. Or shirts that say "the man behind the bump".
15. Pull Out Old Baby Stuff
If this won't be your first child- you can even go this route by pulling out old baby clothes you saved and setting them to the side. Or even using one article of baby clothing as a surprise pregnancy announcement idea in combination with any of these other ideas.
16. Write A Letter
A sweet, heartfelt letter is always a beautiful way to express your love to your husband. But in this case, announce your pregnancy.
17. Pregnancy Lottery Scratch Off Ticket
I never would have thought to do a pregnancy lottery scratch off ticket but that actually sounds like a great way especially if your significant other plays the lottery.
18. Personalized Onesie
I got a baby onesie to surprise my husband with our pregnancy news. There's so many cute ones to choose from!
19. Printable Cards
A lot of these pregnancy announcement ideas are perfect for last minute situations. And what's more perfect than a cute printable card you can literally download and print at home?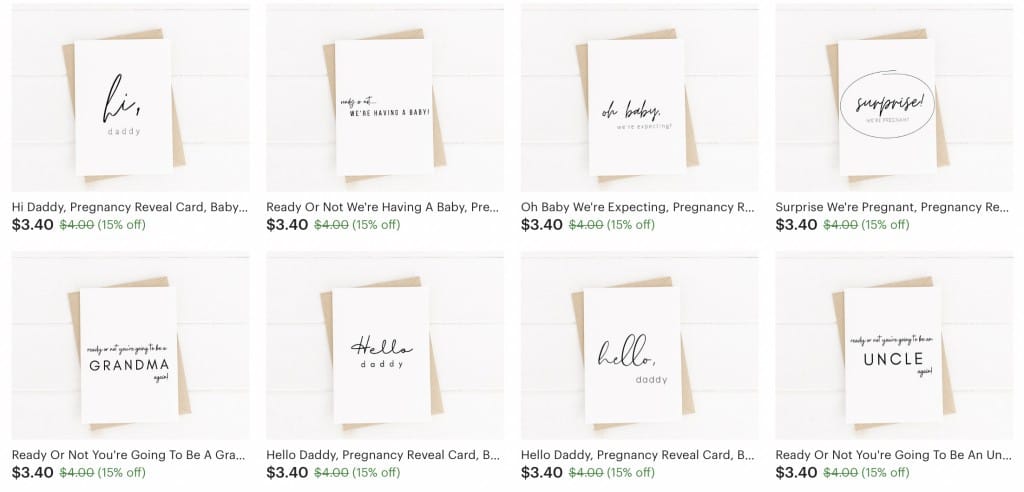 Shop my etsy store Emory Skye Design (or click here) and use code SHOP15 for a discount.
20. Pregnancy Announcement Gift Box
I always loved the thought of a little box full of goodies as a pregnancy announcement idea because of the anticipation of opening a mysterious box. I ordered one with baby booties in them with a baby onesie and my husband had no idea what was inside the box.
21. Funny Pregnancy Announcement Sign
We used this one in particular to announce our third pregnancy to our friends and family. But who said you couldn't use it as an announcement to your husband.
22. Balloons
I left this balloon outside of our garage and texted my husband to come outside because I had a "Father's Day" gift for him haha. You can watch his reaction here!
My First Pregnancy Announcement To My Husband
I had read so many forums online about how it took a long time for women to get pregnant after getting the Nexplannon birth control implant taken out (read more about my personal experience with Nexplannon implant here). But I still wanted to be prepared and I ordered a baby onesie and a box with baby booties.
When I took my pregnancy test first thing in the morning and it read "pregnant" I was in shock. I didn't think I would get pregnant just a few months after getting the birth control rod out of my arm.
My mind was all over the place so I couldn't think straight and although I had the pregnancy announcement items, I hadn't planned out exactly how I wanted to deliver the message.
Luckily, my husband stepped out of the house to run some errands but he wasn't going to be gone for very long. So I had to think fast. What I did was wrap the onesie in tissue paper and placed the box on top of the toilet seat knowing he was going to go straight to the bathroom when he got home.
I figured that would be the quickest way to surprise him before my facial expression or body language would give it away because I could barely hold in the good news. Watch how I surprised him here.
Fast forward 3 years and 3 pregnancy announcements later, I can say that even my very own list I created for you have helped me!
Happy pregnancy and hope this list helped you narrow down your pregnancy announcement ideas! Don't forget to come back and let me know which one you used.