An Inexperienced Mom Blogger's 12 Month Blogging Journey And Income Report
This post may contain affiliate links, which means I'll receive a commission if you purchase through my links, at no extra cost to you. Please read full disclosure for more information.
How in the world am I already on my 12 month blogging journey and income report? Time truly does fly when you're having a good time. Before I decided to start a blog, I had the intentions and goals to make this blogging thing a long-term journey.
But as you know, it's so much easier said than done. Life can get in the way of your personal plans for yourself (blogging for me). However, I didn't allow anything to get in the way of my blogging journey goals (although I was close a few times) and that exact mindset is what helped me get to where I am right now.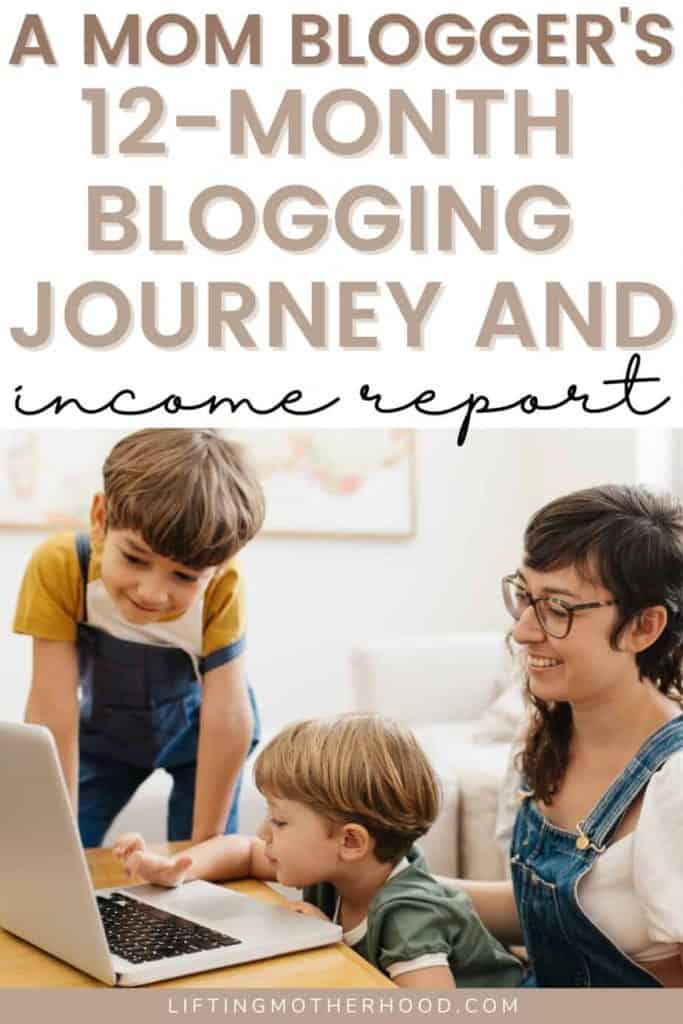 Few Reasons Why I Chose To Be A Mom Blogger
I go further into detail in my 11-month blogging journey blog post, but I'll briefly go over some of the reasons that got me started on becoming a mom blogger.
I had just graduated from an accelerated nursing program where I received my second bachelor of science in nursing. Right after I graduated, I had our first baby and got hired as a graduate nurse at a hospital 25 minutes away from home.
After working 13-hour shifts, commuting, and taking care of a new baby with my husband also gone to an army school in a different state, I was struggling mentally and physically. I started looking into side hustles and that's when I came across blogging.
I read numerous amount of blog posts from other moms who quit their 9-5 job or even nursing careers to become full-time bloggers making money and be able to stay at home while raising their kids. That's what sparked my interest.
I wasn't completely sold that I could make money online and neither was my husband. But it was super cheap to start a blog and I wanted to give it a shot (you can also start a blog with my special code here). And when I made my first few dollars online, that's when I knew it was possible to make an income online.
Early Blogging Journey
I knew success from blogging wasn't going to happen overnight (although some blog posts made it seem that way). But I also knew that if I could work on blogging for as long as I was a stay-at-home mom, then just maybe something great would come out of it and I would be able to stay at home to raise our little ones while contributing financially.
And after I made my first few cents blogging, I knew it was possible to make money online. And that's all it took for me to stay motivated, working diligently day and night, every chance I had to learn the ins and outs of blogging to make a grand total of $1,808.63 by 12 months of blogging.
This is honestly nothing compared to the flashy blog posts I read at the beginning. But it is enough for me to continue my blogging journey and helping new and seasoned moms anywhere I can while sharing my personal blogging experience and income reports with you.
Along with one day hopefully making a comfortable full-time income off Lifting Motherhood, I started this blogging journey in hopes to raise awareness of postpartum depression and reach as many women as I can on ways to live a healthier lifestyle while incorporating safe and simple, yet effective ways to lose weight.
12 Month Blogging Journey Stats
My pageviews from 11 months of blogging to 12 months of blogging increased by 115.84%! Continue reading for all the details.
Total 12 Month Pageviews
Okay, are you ready for this number? This was one of my blogging milestone goals and it took me 12 months to get here but that's better than nothing. In 12 months of blogging, I reached 100,462 pageviews.

When I woke up on the morning of my blogging anniversary, I was anxious to pull up my Google Analytics to see how I did overall in my full first year of blogging. And I was shocked when I saw my numbers.
Previous Month (July)
Total Pageviews – 17,105

Month 12 (August)
Total Pageviews – 36,919

I'm honestly still shocked that I could go from 17k pageviews to almost 37k. But this only gives me more motivation to continue my blogging journey and see where it takes me.
Related Posts
My 9 Month Blogging Journey Stats And Income Report
10 Month Blogging Stats And Mom Blog Google Analytics
11 Months of Blogging And Mom Blogger's Monthly Income Report
12 Month Blogging Income Report
Okay for the juicy part of my 12 month blogging journey and probably the only reason why you're reading this blog post. Let's get down to the numbers and see how much money I made this month.
1. Affiliates
Affiliate Total – $105.72
2. Own Products
As you already know, I sell digital products on my Etsy store and I continue to bring a monthly income without even touching my store. I haven't made as many sales as I'd like this past month but that probably has a lot to do with a lack of new products.
3. Ads
I got accepted into Ezoic's ad program in June and have been consistently making money. My daily revenue went up a decent amount and then it dropped some due to changing over themes. So I'm hoping to get that figured out with Ezoic so I can start earning more again.
Total Income – $222.05
This is definitely not my best month in income. But I also took a lot more days off this month from the blog and everything else than any other months. My mom flew in from Korea for a whole month, my husband was on vacation from work, which meant there was a lot of time spent with family while my blog was still generating income (yay for passive income!).
Subscribers
Total Subscribers – 228
If you read my 11-month blogging stats then you probably saw that I barely had 100 subscribers. I was struggling to get anyone to sign up for my e-mails. And although 228 isn't where I want to be at, it's progress and I'm so happy that I even got that many people wanting to connect with me,
Expenses
Last month, I went through several changes like switching web hosts and themes (Divi Elegant Themes to Kadence). And guess what I did this month? Switched themes again. But I'm hoping that this one is here to stay because it is a nightmare switching themes and I'm not trying to go through that again.
Social Following
My social media followings are slowly increasing and hoping that this trend continues. If you haven't already, follow me and say hi!
12 Month Blogging Journey Reflection
What I'm Proud of
I'm always proud of myself for pushing forward and through times where I had zero motivation or inspiration to write new content. At the very beginning of my blogging journey, one of my friends had asked me how bloggers continue to come up with new content. And at the time, I had what seemed like gazillion of ideas.
But this month, I lacked motivation and the creativity I normally have. And maybe that's partially due to my mom visiting, my husband being home, and just being overall being taken out of my normal routine.
However, I still pushed through and although I'm still a bit behind on content, I know that and continue to move forward rather than let myself drown. It can be super easy to get overwhelmed and want to give up but I've come way too far to let all of this go to waste.
Another thing I'm proud of this month is for actually blogging for a whole year. Being consistent can be a difficult task for any human being. But I persevered and made it this far!
What I Could've Done Better
I can go on about what I could've done better during my 12 month blogging journey. But here's just a few:
I missed a few days of pinning due to laziness and should have just gotten it done (now I think Pinterest is mad at me)
Instead of finding ways to spark my fire for blogging, I decided to take a break for a little bit (could be a good or bad thing)
I could've pumped out more blog posts but my brain was seriously dead
There are definitely pages that need to be worked on on the website but I haven't gotten to it due to all of the other stuff that needs to get done
Needless to say, this month was not my best month for income or productivity. But it somehow became the best month for pageviews. This just shows you have room to rest as long as you've put in hard work at the beginning and forefront.
Goals For Next Month's Blogging Stats
I plan to exceed 100 blog posts and start taking Youtube much more seriously. I've been attempting to create new content for Youtube once a week but that is the bare minimum and I'd like to start growing on that avenue.
Instead of writing 3 blog posts a week, I'll probably take it down a notch and start going back to my old posts to revamp. I have 39042890284093289 number of goals for Lifting Motherhood, but as you know it's tough creating time to do everything you want in a single day with a little one and a husband to feed (haha).
I used to be able to work on new blog content for hours a day and night at my dining room table. But my soon-to-be 18-month old baby learned to climb up on our dining room bench and take over my table and laptop. Therefore, I only have a short period at night to buckle down and write new content (for the time being until I figure out what I can do).
Okay, rant over. I hope you enjoyed my awesomely boring 12 month blogging journey stats and income report! Please let me know if there's something I didn't cover that you'd like to see more of in the comments below.
Check Out 12 Things I Learned In My 12 Months Of Blogging