12 Things I Learned In My 12 Months Of Blogging
This post may contain affiliate links, which means I'll receive a commission if you purchase through my links, at no extra cost to you. Please read full disclosure for more information.
There's so much you'll learn in your first 12 months of blogging that you'll feel like you've been blogging for years.
Seriously, when you become a blogger, you aren't just a writer or a content creator. You become the chief editor, social media manager, photographer, marketer, website designer, website developer, IT guy, and the list goes on.
When I first started blogging, I heard and saw that the first 6 months of blogging is the hardest. That's because those first 6 months of blogging is when you're in the building stage. And trying to figure it all out. So naturally, people become discouraged and ultimately end up quitting.
Well, after you've made it to the 6 month blogging mark, then you have your next milestone of 12 months. And around the 6 to 12 months of blogging is when you'll most likely see growth in organic search and even begin to see money trickling in (if you're not a unicorn who made thousands of dollars in the first six months of blogging).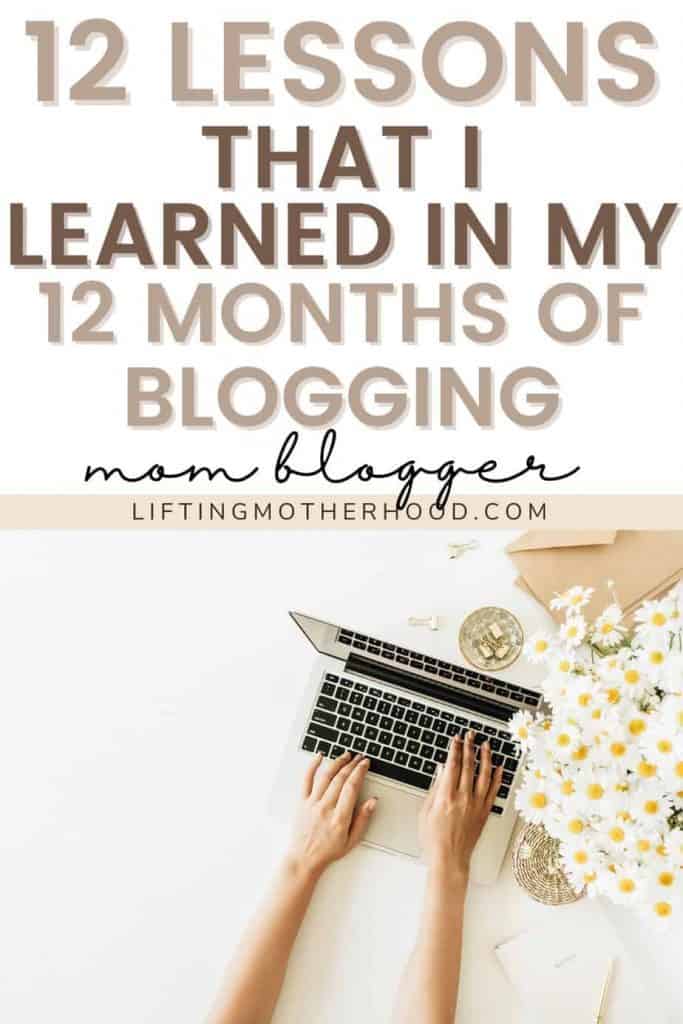 12 Lessons Learned In 12 Months of Blogging
There are so many times I've learned something to later learn that what I thought I had learned wasn't the right "practice". Or I learned something and knew that I should have stuck with it, but later changed it because I liked the design aspect (themes!) and had to figure out a solution.
Either way, there are probably 100 plus lessons I've learned in my first year of blogging but here are the top 12 things I've learned in my first year.
1. Your blogging journey is unique
Stop comparing yourself to other bloggers. For one, starting a blog in 2020 is way different from when people started a blog in 2010 or 2015 or even 2018!
Algorithms have changed, Pinterest has most definitely changed and has almost made it more difficult for new bloggers to get noticed. And not to be a negative Nancy here but the blogging world has become extremely saturated.
However, THERE IS STILL ROOM FOR YOU AND ME in this spacious cyberworld. So continue blogging away and never stop learning or growing.
2. Slow growth is still progress
It's too easy to compare yourself with other blogger's progress. And wonder where you went wrong or what magic thing they did to get 9999999 subscribers in their first 9 months of blogging.
While you're over here with 25 subscribers and 785 pageviews a month. But let me tell you, slow growth is still progress.
You cannot let this discourage you or you will not make it to your goals any faster. Instead, use it as fuel to get you pumped to create more content, send out weekly e-mails, and get the ball rolling!
3. It's not always uphill and that's okay
I actually just experienced this. If you read my 12 month blogging journey then you'll know I got over 36,000 pageviews in my 12th month of blogging.
Well, my 13th month of blogging is not going as well and I'll go more into detail in my next income report. Naturally, I got discouraged and was like what in the world am I doing wrong. Am I going downhill from now on?!
But here's the thing. There are certain times of the year where blogging traffic fluctuates, Pinterest algorithm changes (for the millionth time), or even a combination of both.
And the best thing to do during those hard times is to continue what you've been doing which is pump out more blog posts, push out those pins, and keep moving forward.
4. You'll get burnt out
Ugh. I hate when I get burnt out. And quite frankly, I was that giddy little new blogger on the block that would say I'd never get burnt out because I just loveeeeeeeeeee (with 100000x more e's) blogging.
Guess what? I got burnt out. Not once, not twice, not three times, but almost once a month.
You need to find things that help you get your creative mojo back. If that means you need to sit on Pinterest for the whole day and jot down new content or binge-watch trash TV and take several naps a day, do it.
Don't let your "burn out" be what ends your blogging career.
5. There's always something you don't know
This stresses me out. Do you know why?
Because it can get very overwhelming reading one thing telling you that one way is the right way to success in blogging. Then you'll read another thing telling you not to do that one thing you just read and do a whole different thing to be a successful blogger.
Or everything will be going smoothly and then something awful happens to your WordPress. Then, that one problem leads to 5 more different problems.
Regardless, my point is that there will always be new things to learn and overcome. And I'm sure I will continue to experience this well past my 12 months of blogging.
6. Facebook groups will be your saving grace
This kind of coincides with the previous lesson. Facebook groups will save your ass.
You need to get yourself in blogging groups and I'm not talking about engagement groups. I'm talking about groups that help you with any technical issues or other blogging questions you may have.
There are so many generous, seasoned, successful bloggers waiting to help you and guide you in the right direction.
If it weren't for these Facebook groups, I would not be where I am today.
Related Posts
My Very First Income Report And Everything I Learned In My First 8 Months Of Blogging – $582.81
11 Months of Blogging And Mom Blogger's Monthly Income Report
An Inexperienced Mom Blogger's 12 Month Blogging Journey And Income Report
7. You need to invest in your blog
Yes starting a blog is cheap. But just like any other startup business, you need to invest in it.
You need the legal documents to make sure you are covered in that department. You'll need an app like Canva to create Pinterest pins and many other things like freebies for e-mail opt-ins. And an e-mail service where you send weekly e-mails to your subscribers.
You'll also want to invest in SEO courses, Pinterest courses, and security or website audits to make sure you're doing all of the right things and that your website is running properly on the backend.
8. Not everyone will like you or your blog
I'm going to go ahead and include friends and family as well. Initially, your friends and family will be excited for you. Then as time goes on, they will become less and less amused.
And don't take it personally. As your blog grows, you'll gain your own community of loyal readers and followers that truly look forward to hearing from you.
Even then, you are bound to get the occasional thumbs down on your Youtube videos, rude comments left on your blog posts, or even plenty more unsubscribers! But that's okay too.
You've got to let it go and not allow yourself to waste your energy on things that do not matter.
9. Set yourself up for the future
The first year of blogging I believe is just a whole bunch of running around in circles trying to figure yourself out, your website, your presence in the online community, and ultimately finding your groove.
But whatever you do, make sure you're implementing best SEO practices, start applying to affiliate programs like Amazon Associates, RewardStyle, FlexOffers, and ShareASale to get paid. You may not make much more than a few cents but the money will start rolling in as you begin getting more traffic.
10. You will have to go back to your old posts more times than you'd like
Remember when I said you'll never stop learning? As you continue to learn new things, you'll continue to go back to your old blog posts to revamp, optimize, and change things up to maximize their potential to earn and get seen by more people.
Or you might be like me and change your brand colors a few times, then have to go back and change out the pins with new pins with the new brand colors because of your OCD.
11. Stop worrying about perfection and move on
It's so hard to want to click the "publish" button after you've taken hours writing a blog post. Because you may not like how something looks or sounds, or the topic just isn't exactly what you wanted.
Whatever the reason may be, you just need to publish it. And you can always go back and change things here and there.
I had a very hard time at the beginning of my blogging journey trying to figure out my voice and wondering if I sounded too "this" and "that". Just be yourself, write for your readers (and for Google of course), and let it be.
12. You have to put in the work, the time, and the effort
As you already know, blogging is not a get-rich scheme. You can't expect to write 50 blog posts, never go back and optimize, never learn new things, never advertise your blog posts (especially at the beginning), and expect to magically grow overnight.
Yes, very successful bloggers who took years of hard work to get to where they are can essentially work 5 to 10 hours a week and still make more than we could imagine.
However, if you're reading this blog post on the 12 things I've learned in my 12 months of blogging, then you're probably still in the building phase of blogging.
And building means, putting in late-night hours or early morning hours to get new content out each week, creating pins, brainstorming new ways to earn a passive income, and spending the time to sit and learn about SEO and other ways to grow your blog.
First Year of Blogging Wrap
I think we can all agree that blogging is not easy work. It's time-consuming, takes a lot of work and patience, and can sometimes feel very tedious.
But all at the same time, we can agree that blogging can be extremely rewarding and a lot of times fun. You've got to have some sort of passion for writing, helping others, or making money to even get started in this blogging world and make it to the 12 months of blogging mark.
I hope my 12 lessons learned in the 12 months of blogging resonated with you and you continue to stay motivated to push through all of the blogging obstacles!