10 Home Gym Essential Equipment For Every Mom On A Budget
This post may contain affiliate links, which means I'll receive a commission if you purchase through my links, at no extra cost to you. Please read full disclosure for more information.
My husband and I dreamed of having a home gym prior to even tying the knot. We were both huge fitness fanatics. Imagine #fitcouples #fitcouplegoals on your Instagram feed and that was us (not so much now because of #parentlife). We lived and breathed working out.
So in February 2019, we made a few purchases to start building that home gym we've been talking about for years. We have nowhere near the amount of equipment for our dream home gym but it's more than basic.
We started with getting a few mats, a squat rack, a barbell, two workout benches, and bumper plates. Then we realized we needed more mats. And I wanted mirrors, an EZ curl bar, and more dumbbells. So it got expensive pretty quickly. But we haven't bought anything more than a yoga ball and a couple of resistance bands to hook up to the squat machine since then.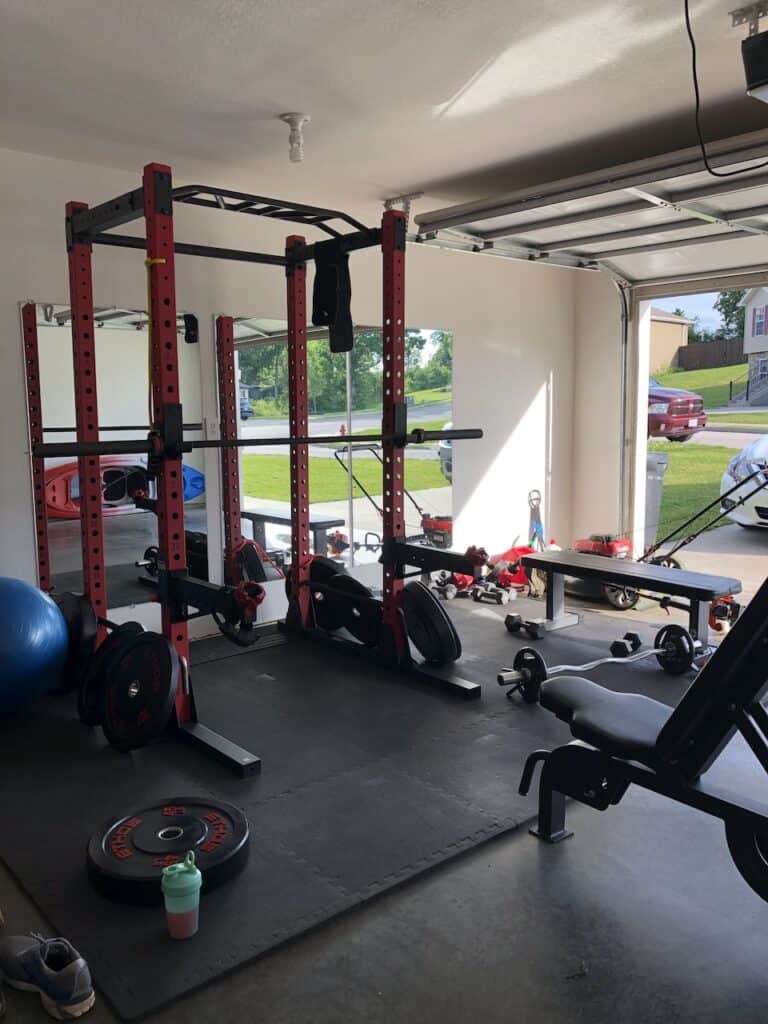 Our home gym felt so complete. It was one of the best feelings ever being able to walk right out to my garage to work out. It saved me so much time while going to nursing school that was an hour and a half away from home and being pregnant on top of that.
After getting most of our home gym essential equipment that we thought we could need, I realized the core essentials that were needed to have an ultimate home gym experience. Honestly, we didn't need a barbell, squat rack, treadmill, and a bunch of bumper plates. But the 10 home gym essentials I go over in this blog post are the bare essentials I needed to have a killer workout.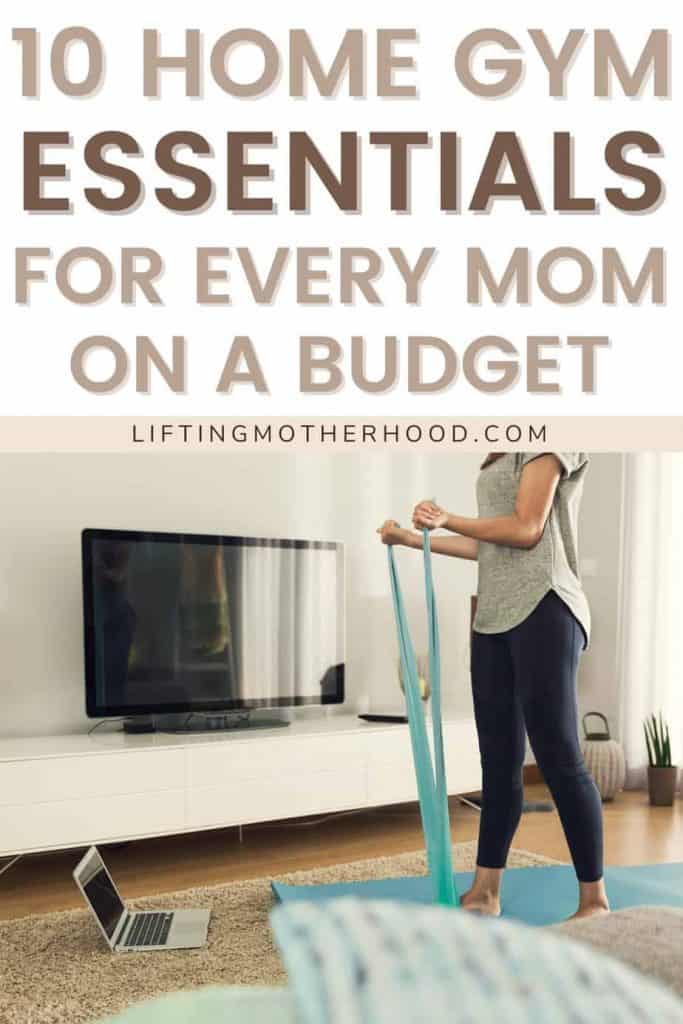 What're the benefits of a home gym?
It's super convenient. I can't even tell you how many days I lacked the motivation to work out especially during an accelerated nursing program AND being pregnant. I couldn't picture myself driving to the gym, let alone get ready, and even think about working out. And those days you'd catch me in my house shirt and pajama shorts.
You not only save time but you also save gas money! Some people drive good ways to go to the gym. Where I live, everything's pretty close by. But I still had to drive 15 minutes to the gym. And 15 minutes is a lot on top of what I was already driving each week. I think I drove around 700 miles a week for my nursing program.
You know the "gym" is going to be empty. Nothing bugs me more when I go to the gym and every piece of equipment, bench, or space is taken. On top of that, I felt uncomfortable working out when the gym was packed. Well, now you don't have to worry about that because you have the whole gym to yourself.
Your home gym is going to be as clean as you make it. You get to disinfect everything after you use it and you know it's been done and done well. However, at the gym, you don't know how well the staff cleaned their equipment and who used the equipment.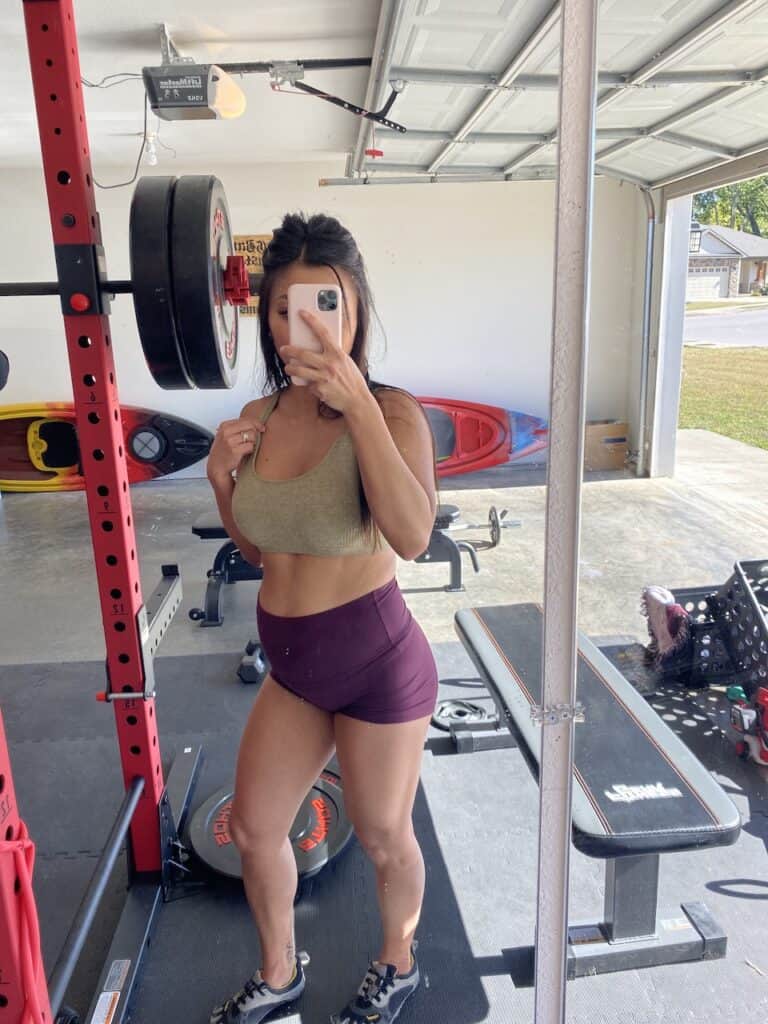 How much was your home gym?
I don't have the exact number because that'll mean I have to dig into the receipts. But it was around $2000. That's obviously not "shopping on a budget". But it's also not "breaking the bank".
So that's why I came up with the idea that I should put together a home gym essential list! Some of these items might not be essential to you but I added them to the list because I felt that I could have gone with just these core home gym equipment And if you can cross any of these items off, then you just get to spend less!
10 Home Gym Essentials
1. Mat
I highly recommend you don't cheap out on mats. Because you'll be performing a lot of exercises on these mats. Your bench will be on it so you don't want it sliding, destroying the mats, and be inconvenient to clean.
This mat is a great one with lots of recommendations. Also, we didn't buy enough mats the first time around so we had to order more. If you don't want to go through the hassle we did, then definitely measure the space you're wanting as your home gym.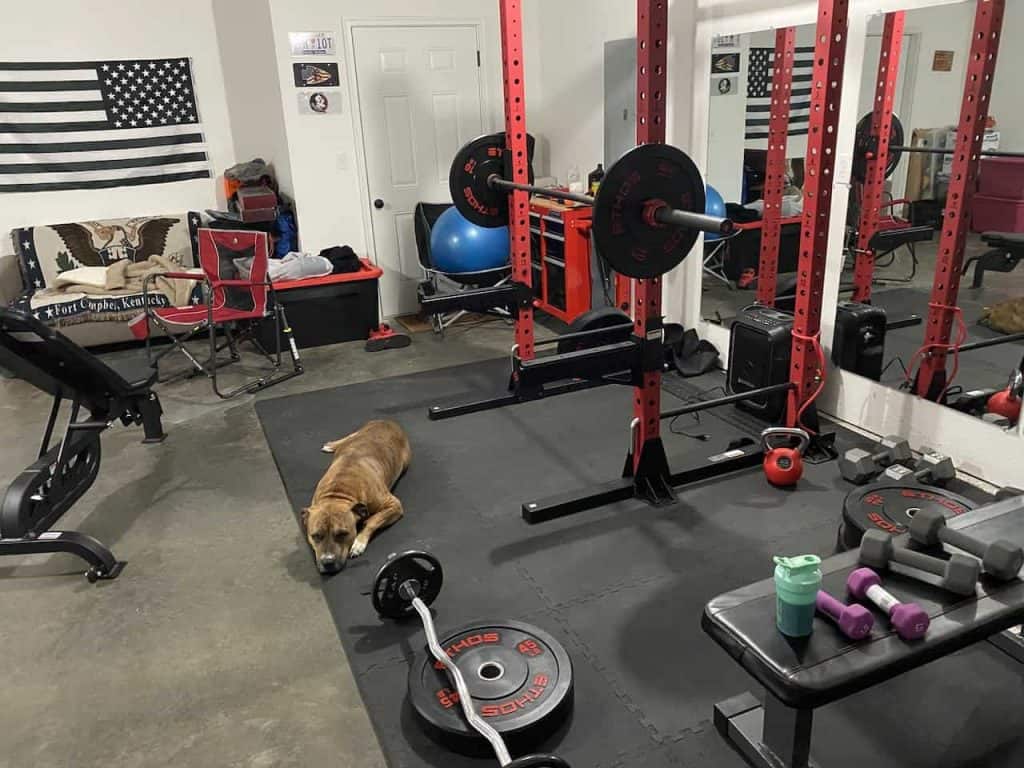 2. Dumbbells
These dumbbells are my favorite. I've always been more of a free weight type of gal meaning I rarely liked using machines at the gym. So essentially having a home gym was perfect for my workout style.
Typically dumbbells are about $1 per pound. So the heavier you go, the more expensive it'll be. I recommend getting at least two sets of dumbbells. For me, I use my 10lb, 12lb, and 15lb dumbbells the most. My husband thinks it's pointless to have the 12lb ones but some days those extra couple of pounds feel so much heavier.
And quality > quantity when you're working out (I'm talking about those sets and reps). There are also dumbbells ranging from 1lb all the way to ones that are adjustable to over 100lbs. Like the one below.
3. Bands
Bands is a MUST-HAVE for your home gym! The bands you want are the ones that have 3 different types of resistance. This means that one is going to be relatively looser, the middle one is going to be semi-hard, and the last one is going to be the hardest resistance out of the three.
There are other resistance bands that are long and hook up to your squat rack or wherever you can hook it up to. Then you can connect pieces like an ankle strap to perform kick-backs for glute activation.
4. Bench
Who said a workout bench had cost an arm and a leg? There are some good ones for under $100! One of ours was about $80. But it doesn't have the ability to incline or decline.
A bench is awesome especially the adjustable benches because you can do so many different exercises on it. For example, incline, decline chest presses, bicep curls, incline split squats, abs. The list goes on.
Related Posts
5 Exercises To Tighten And Build Your Glutes And Hamstrings
Your Ultimate Ab Journey To 9 Effective Ab Exercises
A Meal Plan Example For Weight Loss During And After Postpartum To Give You A Jumpstart
5. Mirror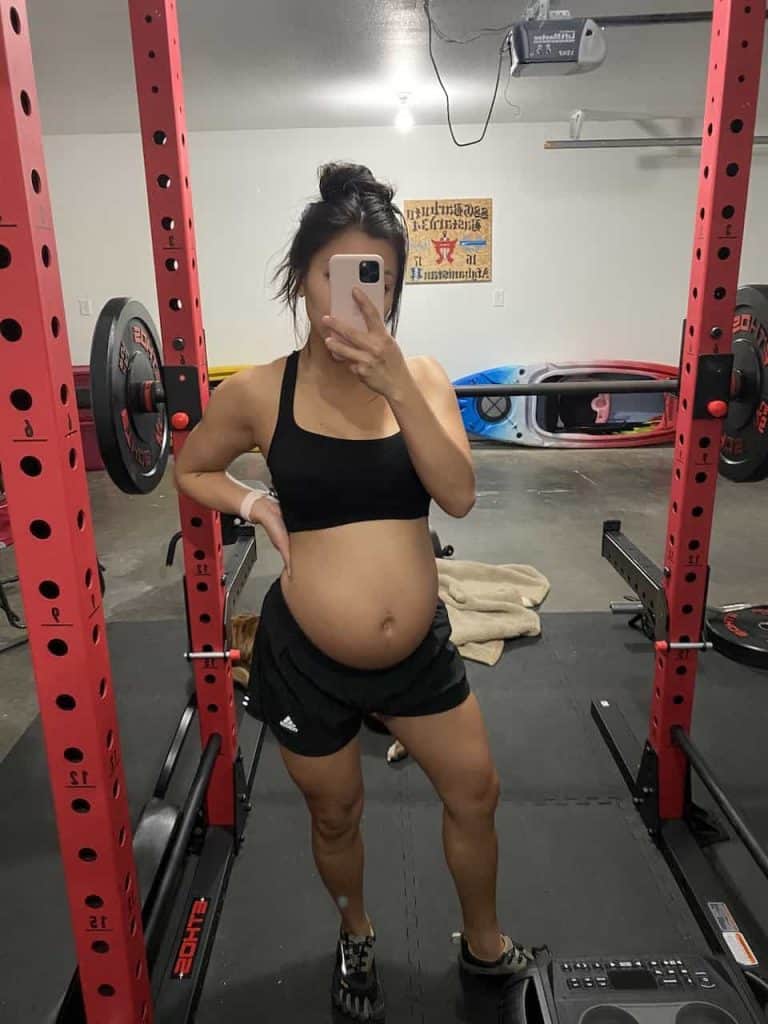 Hahahaha. Okay, so I asked my husband what he thought were some essentials to a home gym. And he asked me what I had on the list so far. Well, I started naming some off and I said "mirror". And he goes "that's not essential…".
For us women, a mirror is DEFINITELY essential. I don't know about you but I like to see my range of motion in the mirror and see if my back is aligned, how my form looks, and what I look like. You can't forget about progress pictures either. Mirrors don't have to cost a lot either.
6. Music
If I can't get myself motivated to work out, then music can. You don't even need a speaker for your home gym. Just have access to music on your phone and turn up the volume. Or put some headphones in!
We have two different speakers. One of them is the JBL speaker which we take with us when we go kayaking and other outdoor activities. The other one is big, the ECOXGEAR, and we use this for our home gym.
7. Yoga ball
One of my favorite ab exercises utilizes a yoga ball. I love how versatile the yoga ball is. Because I used it during my pregnancy to bounce on, did so many ab exercises with it, and it keeps the kids busy too.
8. Jump rope
If you want to optimize your workouts by sweating more in a short period of time, then the jump rope is your answer. Read more about how I used a jump rope to burn fat instead of running.
When I became a mom, I realized how much time I don't have. The day sometimes just isn't long enough to get a list of chores done, have time for yourself, let alone have the energy to. So I started putting together workouts for myself that I could do within a 30-minute timespan. And I incorporated jump roping into my workout routine in-between my sets to burn as many calories in the given time.
9. Kettlebell
A kettlebell is not most people's essential home gym equipment. But it has been for me. Some of my favorite exercises include kettlebell swings, kettlebell squats, and kettlebell stiff legs. There are so many reasons to get a kettlebell that dumbbells alone cannot do.
10. Motivation
What's the point in having a home gym if you're not going to be motivated? Find your motivation. One of my friends has her pre-pregnancy outfits hanging by her treadmill to motivate her. I used to have my fitspiration as my screensaver.
Or there'll literally be days where I'll watch workout videos to get me pumped up to workout. And even go on Pinterest to search for motivational quotes.
It's so hard to find motivation after a long day. So if that's the case, try and work out in the mornings. Switch it up and see where you can fit a workout in during your most motivated time of the day.
I used to LOVE working out at night, then started loving workouts in the mornings. And now I'm a whenever-I-have-time-and-energy type of gal.
Final Thoughts
If you haven't already, don't forget to subscribe to get a free 5-day workout program along with a fitness log to keep you accountable.
I hope this blog post on 10 essential home gym equipment for moms on a budget was just what you needed to put together your very own home gym! Thanks for reading!