How To Prepare Your Dog For A Baby And Exact Steps That Worked For Us
This post may contain affiliate links, which means I'll receive a commission if you purchase through my links, at no extra cost to you. Please read full disclosure for more information.
All throughout my pregnancy, I searched for tips and personal experiences on how to prepare your dog for a baby. It's not only a big transition for yourself but also for your pet(s). I had 3 dogs to prepare for a new baby and all I could think about was providing my dogs with whatever they needed to have a smooth transition with our newest addition.
There were some alarming statistics that really pushed me to set a plan on preparing our dogs for our baby. Like every year in the United States, there are roughly 4.5 million reported dog bites and about 800,000 of these require hospitalization. About 30,000 of them require reconstructive surgery.
Although I have 3 big dogs, I wasn't all that worried about the possibility of dog bites. However, we shouldn't dismiss any potential problems that could arise. It's always best to prepare for the worst. And to begin implementing a plan immediately before the baby's arrival.
All three of my dogs seemed pretty curious about my progressively growing baby bump. And when the third trimester came around, there was no doubt that they sensed an upcoming change. I was nesting, washing, organizing, putting together last-minute things for the baby and the nursery. So I was basically moving around (or more so wobbling around) trying to prepare for my baby's arrival and I'm sure my dogs felt something was up.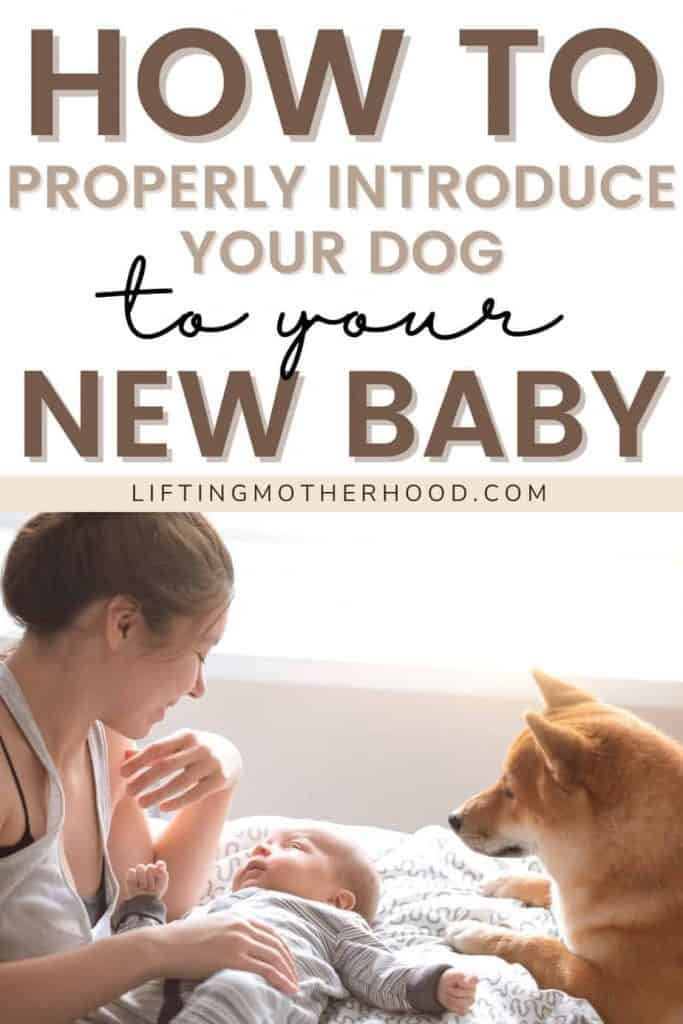 7 Steps To Prepare Your Dog For A Baby
It's important to always stay consistent when you implement any or all of the following steps I go over to prepare your dog for your new baby. It'll be confusing to your pets if you allow them to do something that you initially did not want them to do and vice versa.
1. Bring your baby's scent home.
By bringing your newborn baby's scent home like on one of their blankets or clothing item, it allows your dogs to smell something new and unfamiliar that prior to introducing them to your baby when you bring them home. It's an important first step to preparing your dog for this big transition.
Once your dog meets your new baby, then they'll correlate the once unfamiliar scent as a familiar scent to their new human sibling.
2. Let your dog smell the baby (one at a time).
Or if you just have one dog (pet), take a seat and let your dog sniff your baby. I found that taking a seat where I'm not standing over my dogs with my baby helped ease any anxiety that they had. And it was easier for us to let them in one at a time to introduce them to their new sibling.
3. Create time to snuggle with your dog.
Whether you're comfortable having your dog snuggle up with you while your baby sleeps or making time to play with your dog while your newborn baby is in the bassinet, the attention and affection you give your dog the first few weeks of bringing your baby home are very important.
It lets them know that they haven't been replaced. And this is an especially important point to get across so that they don't become jealous and resentful of the baby.
Related Posts
What To Do After Your Baby Fell Off The Bed And How To Bed Share Safely
Everything About Your Colic Concerns And How To Help With Colic In Babies From A Mom Of A Colicky Baby
Epic Mom Fails Confessed By A First Time Mom
4. Talk and pet your dog while holding your baby.
Basically, interact with your dog(s) while taking care of your baby. It may sound difficult to do but it gets easier when you practice this habit earlier on.
Some examples of this that I would do is sitting down in the backyard with my daughter, while my husband would play fetch with the dogs. And then we'd switch and take turns. We knew that it was especially important to create time to exercise and play with our dogs during this big change.
Other ways to show love to your dogs while taking care of your newborn baby is by carrying them in a wrap or carrier and have your dog(s) do a few tricks for treats.
5. Be consistent.
The quicker you set your standards and create a nurturing foundation for your dog(s) and baby, the easier it's going to get. I mentioned this earlier too. Staying consistent is seriously so important during the early stages.
If you don't want your dog licking the baby, let that be known right off the bat and stick with it. Each parent and dog owner is going to have their own individual preference. But whatever your preference is, make sure you don't go back and forth confusing your dog.
6. Exercise your dogs.
Have you heard the saying, "a tired dog is a happy dog"? Or "a tired dog is a good dog"? This is a true statement, y'all. Dogs are better behaved when they've expended all of their energy and are less likely to get into anything they shouldn't be.
You might be wondering, 'how can I exercise my dog with a newborn baby?'. Put your baby nice and close to your chest in a wrap and walk your dog. I love this leash because I'm able to free up both hands while multitasking.
Or hire a dog walker. Another way to incorporate exercising your dog is by asking a family or friend to help watch your newborn baby so you can take your dog out to the park.
7. Separate your dog's food from the baby.
When your baby starts crawling or rolling around, make sure your dog's toys, treats, and food are away from the baby. The last thing you need is a mixture of a hungry or sometimes even playful dog with a curious baby.
Don't Stress
You know your dogs better than anyone else. Keep in mind that bringing your newborn baby home is a big transition for your pets as well. There have definitely been times where I noticed one or all 3 of my dogs were acting up or showing jealousy such as chewing up my baby's toys or socks.
But this showed us that we needed to take a step back and reevaluate the situation. And go back to one of the steps I went over in this blog post to see what was lacking.
I hope these steps to prepare your dog for a baby were insightful and your dog's transition with a new baby in the house goes smoothly. Remember to be consistent and give those fur babies lots of love during those early months!