What Is The Midwives Brew And Can You Use Midwives Brew To Induce Labor
This post may contain affiliate links, which means I'll receive a commission if you purchase through my links, at no extra cost to you. Please read full disclosure for more information.
You might've heard women drinking the Midwives Brew to induce labor but had no clue what it even was or what it was made of. In this blog post, I'm going to briefly go over some of the important key components of the Midwives Brew drink. And the ingredients and key components that induce labor naturally.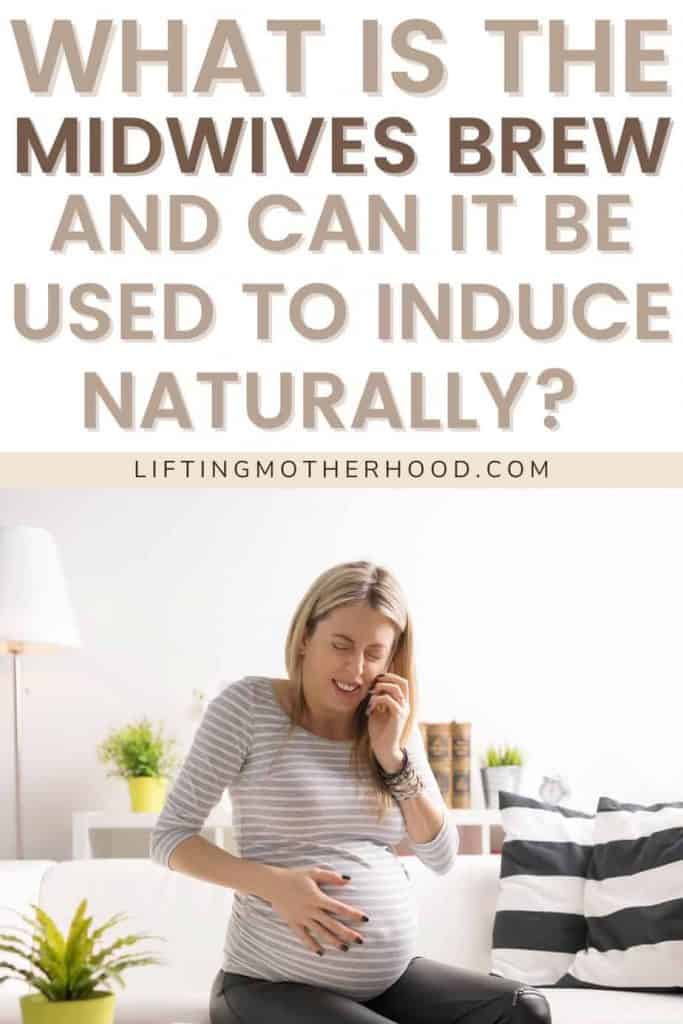 What is Midwives Brew?
As you already suspected, the Midwives Brew is a drink with a combination of ingredients that is supposed to spark or induce labor. And you need to be at full term (40 weeks of pregnancy) for it to work.

However, it's always the recommended and best practice to ask and speak with your OBGYN about the Midwives Brew prior to trying to induce yourself. This could potentially harm your baby especially if you are a high-risk pregnancy.
The key ingredient in the Midwives Brew that helps induce labor is castor oil. This is commonly used as a laxative and can cause uterine muscles to contract. Which ultimately induces labor. It can cause irregular and painful contractions so be aware.
The Midwives Brew recipe includes:
10oz of Apricot juice
2tbs almond butter
2tbs castor oil
The Midwives Brew key ingredients are almond butter and castor oil. Castor oil as I already stated helps the uterus contract by promoting the uterine muscles to spasm. And the almond butter helps smooth out the uterine spasms caused by the castor oil.
It's recommended to take on an empty stomach. And be sure to blend the drink very well so there aren't any chunks!
Can you use Midwives Brew to induce labor?
Yes. The midwives Brew can induce labor but it does not have a 100% success rate. However, when it does work, you could possibly go into labor as early as a few hours to 24 hours.
I personally tried the Midwives Brew that sparked contractions within a few hours. And I was 40 weeks pregnant and super desperate to get my baby out of me. Here's my personal Midwives Brew experience and birth story.
What are Midwives Brew side effects?
The Midwives Brew can potentially have multiple side effects. The ingredients in the Midwives Brew like castor oil can cause irregular and painful contractions, diarrhea, nausea, and vomiting.
This key ingredient can put your baby in distress which can cause them to poop in the womb. When a baby passes meconium (first poop), it can be very dangerous because they can breathe in or swallow it which is obviously toxic.
The other key ingredient, almond butter is what helps make the Midwives Brew drink "safer". It works as a cushion to castor oil since it causes diarrhea, nausea, and vomiting which ultimately leads to dehydration. The almond butter helps the castor oil stick instead of going straight through your body.
Other side effects could be related to allergies if you are allergic to nuts (almond butter) and apricot.
Related Posts
The Ultimate Midwives Brew Experience And Specific Timeline Of Birth
Every Question You Might Have About Group B Strep During Pregnancy Answered By A GBS Positive Mom
The Ultimate Guide To A Minimalist And Essentials Only Baby Registry List
What is the Midwives Brew success rate?
According to Healthline Parenthood, an older study showed that of the 103 women (who were at least 40 weeks pregnant) that were given castor oil, 60 percent were in active labor within 24 hours.
That is a pretty decent percentage of women that used the Midwives Brew to induce labor. And out of those 60 percent of women who were in active labor, 80 percent of those women gave birth vaginally.
Midwives Brew To Induce Labor Review
You can find a good amount of Midwives Brew experiences and reviews on YouTube. But I honestly could not find a bunch when looking on Google. There are a lot of women that did find success in using the Midwives Brew to induce labor. And then you'll find a handful that is against it, didn't work for them, or just plain out don't recommend that form of natural induction.
I highly recommend you read about my Midwives Brew experience. I talk about the timeline from the moment I prepared my Midwives Brew to the moment my baby was born. Personally, I wouldn't say I'm totally against the Midwives Brew to induce labor because it is a natural induction. But, I wouldn't do it again for the next birth because it did cause some painful contractions that radiated to my sacrum, and ultimately felt like I would have been better off without the Midwives Brew.
There are tons of safer ways to induce labor naturally including safer teas to help prep you for labor.
Whatever you choose to do, please consult with your OBGYN or midwife prior to making the drink! Let me know what you thought about this blog post in the comments! Thanks for reading.