Hair Loss After Pregnancy – My Favorite Products
This post may contain affiliate links, which means I'll receive a commission if you purchase through my links, at no extra cost to you. Please read full disclosure for more information.
So many moms freak out about hair loss after pregnancy (including myself). And that's because of two reasons.
For one, it kind of creeps up on you when you thought you were in the clear. And two, chunks of hair can fall out leaving unwanted thinning and baldness (especially at the temples).
Ultimately, it's thanks to the hormonal changes that naturally occur after having a baby for our significant hair loss.
According to the American Academy of Dermatology Association, many new moms see noticeable hair loss a few months after having a baby which is considered normal and not true hair loss.
And although hair thinning and loss of hair suck really bad, it's only temporary. You'll most likely start seeing normal, fullness to your head of hair by your baby's first birthday.
Keep reading for tips that worked for me to treat hair loss during postpartum.
Lifestyle Changes For Hair Loss After Pregnancy
You can do a few things naturally to minimize hair loss after pregnancy and promote hair growth immediately. I'm nowhere near promising postpartum hair regrowth overnight, but that doesn't mean you can't lessen post pregnancy hair loss.
1. Hydrate, Hydrate, and Hydrate Even More
Along with healthy eating and dieting, you need to drink water to prevent hair loss.
Did you know that a single strand of hair comprises 25% water? And you need water to support the vitamins you take for hair growth?
The smartest thing to do to ensure you're drinking enough water throughout the day is to get a water bottle like this one.
Your hair is like plants. It needs water to grow.
2. Try Not to Stress Out
Extreme stress is one of the leading causes of thinning hair and female pattern hair loss.
In a recent study by Dr. Ya-Chieh Hsu of Harvard University, tests were done to find the underlying mechanisms that link stress and hair loss.
Results that appeared in Nature, on March 4, 2021 revealed that stress hormones were not directly regulating hair follicle stem cells. 
Long story short, the team of scientists studied mice and removing the adrenal glands which produce key stress hormones, led to rapid hair regrowth cycles.
Stress also pushes your hair into the telogen phase (resting phase of the hair growth cycle).
The three phases of the hair growth cycle is the anagen, hair growing phase, the catagen, a regressing phase, and the telogen, which is the resting phase.
3. Get Adequate Sleep
Your body recovers during sleep and this is also when your body produces a natural hormone called melatonin.
Melatonin has been shown to increase hair growth!
And if you have a hard time sleeping like me, get some melatonin gummies to help ease your mind for bed.
Sleep will only promote a healthy hair cycle and ultimately help regrow your hair.
Related Posts
How To Stop Postpartum Hair Loss And Promote New Hair Growth From A Once Balding Mama
Everything About The Second C Section Incision Recovery And C Section Birth Experience
10 Crucial Steps To Start Getting Rid Of Your C Section Shelf Now
4. Tie Hair in a Loose Bun or Ponytail
One of the best physical things you can do to prevent further hair loss after pregnancy is to wear your hair in a loose bun or ponytail.
Ditch the high and tight bun and ponytail. And wear it low.
You'll notice the hair around your temples and hairline getting sparse the more you wear your hair up because it's causing physical stress to your hair follicles.
Avoid hair breakage using harsh hair ties too and rubber bands. These are my all time favorite hair ties and prevent creases to your hair if you change your mind and want to wear it down.
My Favorite Postpartum Hair Loss Remedies
Okay mama, you made it to the real reason why you clicked on this blog post about hair loss after pregnancy.
Your results will be limited just by doing the following lifestyle changes I mentioned above. That's where supplements and vitamins for postpartum hair loss come into play.
Keeping my hair long, full, and healthy is one of my life priorities and that's because it's my security blanket.
That said, I have tried just about every hair growth product and vitamins for postpartum hair loss under the sun.
But the two postpartum hair loss treatments that I personally noticed the greatest results from were Oh Hey Mama Hair Repair serum and Vital Proteins collagen powder.
I pour two scoops of Vital Proteins collagen powder into my coffee every morning and take my prenatal vitamins. 
As for the Oh Hey Mama Hair Repair serum, I massage a drop to each corner of my temples the night before I'm due to wash my hair and wash it out in the morning.
Oh Hey Mama Hair Review
When I first heard about Oh Hey Mama Hair, I was so skeptical like I am with any new products I try.
And I was even more skeptical about these supplements and vitamins for postpartum hair loss that influencers and new moms raved about after experiencing significant postpartum hair loss because I wasn't sure how true they were.
After finding very limited Oh Hey Mama Hair Repair serum reviews other than the ones on their website, I got my hands on a 30-day supply of Restorative Hair Serum. And never looked back.
The number one thing that caught my eye was a 30-day money back guarantee. This meant they were THAT confident that it would stimulate hair growth and prevent more hair loss.
Another amazing thing I love about Oh Hey Mama Hair products is their hair serum is made of all natural ingredients. And it smells so good!
I loved that I didn't have to take any pills but rather massage my scalp with a topical hair growth serum.
They carry other essential hair care products along with their Restorative Hair Serum. These include a nourishing scalp wash, scalp massager, and rapid replenish conditioner.
I got the hair serum, scalp wash, and massage brush bundle and it seriously helped my hair grow back tremendously. I no longer had to be embarrassed and insecure about losing hair and patches of hair missing.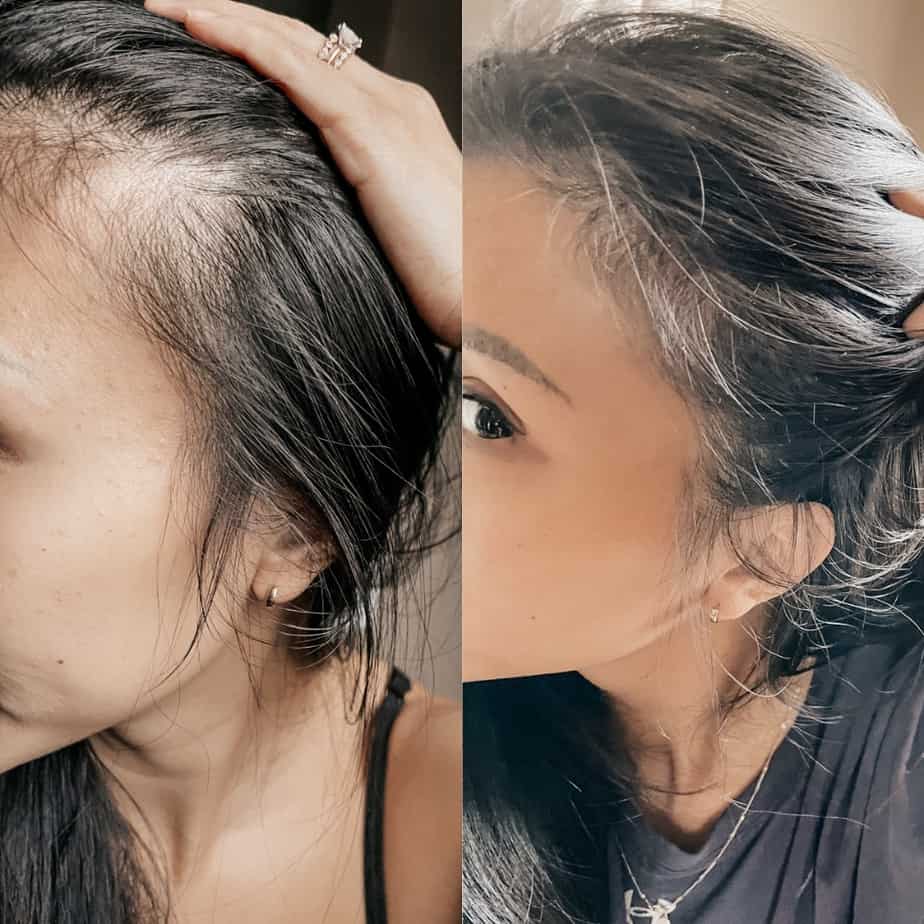 I'm a huge visual person, so I documented my postpartum hair growth journey using the  Oh Hey Mama Hair Restorative serum. 
Other Vitamins For Postpartum Hair Loss
I took my prenatal vitamins along with the restorative hair serum and collagen powder. 
But I know the Sugar Bear hair vitamins were a massive hit for a while. This was mainly also due to a surge of social media influencers advertising it.
Last Thoughts
Hair loss after pregnancy really sucks and sucks even more because it occurs while you're trying to get back to your pre-pregnancy weight.
So it's like a double whammy just bringing your confidence down. However, I hope some of the postpartum hair regrowth tips I covered in this blog post help minimize your excessive hair loss after pregnancy.
Don't forget to check out my other postpartum blog posts! And thanks for reading.