The Minimalist Diaper Bag Essentials For Baby With Free Checklist
This post may contain affiliate links, which means I'll receive a commission if you purchase through my links, at no extra cost to you. Please read full disclosure for more information.
There's nothing worse than forgetting something in your diaper bag. Okay, maybe forgetting the whole thing would be worse (which I've done and have a great tip to share with you).
That's why I had to create these diaper bag essentials for a baby list and a free checklist to help you remember what to have packed at all times.
I've never been a forgetful person until I got pregnant. And it's gotten worse since. The pregnancy brain had officially evolved into mom brain. I'm sure some of y'all can relate.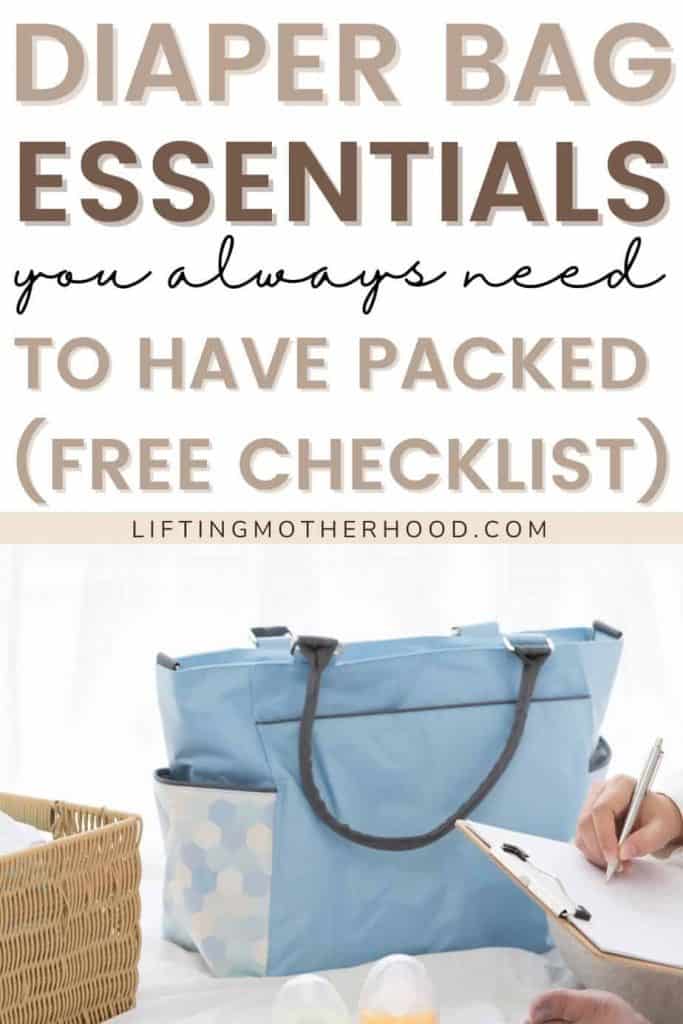 Preparation Is Key
One of the key things I've learned as a first-time mom is to always (or at least try to) be prepared. This doesn't just apply to the diaper bag. It applies to all aspects such as meals, plans, sleep schedule, replacing wipes, buying more diapers, and more.
It's not always easy to stay and be prepared. But it does get easier the more you implement the habit of preparing.
Diaper Bag Essentials For Babies
This list is excluding your wallet, keys, phone, and other personal essentials you may have.
1. Diapers
Don't ever assume you have diapers in your diaper bag. Because I've done that, opened my bag, and there weren't any diapers in the bag.
You'll catch yourself needing them the most on the day you forget to pack diapers in your diaper bag.
So how many diapers should you really pack? I typically pack around 4 diapers because my bag is fairly small and I'm typically out of the house for like 3 hours max.
2. Extra clothes
Pack an extra onesie or two because you never know when you're going to have a blowout in public.
Blowouts aren't the only thing to worry about. There's spit up, food, drool, and who knows, you and your baby might get rained on.
3. Bottles
If you exclusively breastfeed, you might not need to pack a bottle. But if your little one is at the age where they're drinking some water or juice, then you could always pack a sippy cup.
And for the mamas that bottle-feed, don't forget your insulated bag for baby's bottles.
4. Burp Cloth
I always have at least one burp cloth packed. It's not necessarily just for burping. I found myself using it more as a mini towel to clean up spills, spit-up, or any other mess.
I've even used burp cloths as a coverup to breastfeed (when I was feeling uncomfortable in the middle of an aisle at the store).
5. Snacks
Once my daughter started solids, I begin to pack snacks in my diaper bag. Some of my favorite snacks to bring are veggie straws, vanilla wafers, and animal crackers.
I'd also pack some snacks for yourself so you don't get hangry.
Related Posts
The Truth About Being A First Time Mother
20 Ways To Be More Productive As A Stay At Home Mom
How To Sleep Train Your Impossible Baby During Naps Even When It Feels Like It's Too Late
6. Baby Toys
You gotta keep some babies like mine very occupied. After the first few grocery shopping trips with my baby, I've learned to always have toys packed in my diaper bag. It's also smart to leave a few in the car (just in case).
7. Blanket
Whether the weather is hot or cold- bringing along a blanket or a swaddle is recommended. The stores might be blasting the air conditioner. Or you might need it out of nowhere.
8. Pacifiers
Some babies can be easily consoled with a pacifier and others use pacifiers more for their entertainment. Whichever your baby uses a pacifier for, it won't hurt to add it to your diaper bag essentials list.
9. Hand Sanitizer
A hand sanitizer is a must for me. I have one in my diaper bag and my car at all times.
10. Diaper Cream
I stopped using diaper creams as much as I did when my baby was a newborn. But in case of a diaper rash and I forget to bring along the butt paste, I have it in my diaper bag.
11. Baby Wipes
Baby wipes is a must when it comes to diaper bag essentials to clean up poopy butts, dirty hands and mouth, and other.
12. First Aid Kit
You don't have to bring the whole kit. But just pack what you think is necessary.
Other Diaper Bag Essentials
I bring my Bluetooth earphones and a portable phone charger everywhere I go. Click here for the pdf version of the diaper bag essentials checklist.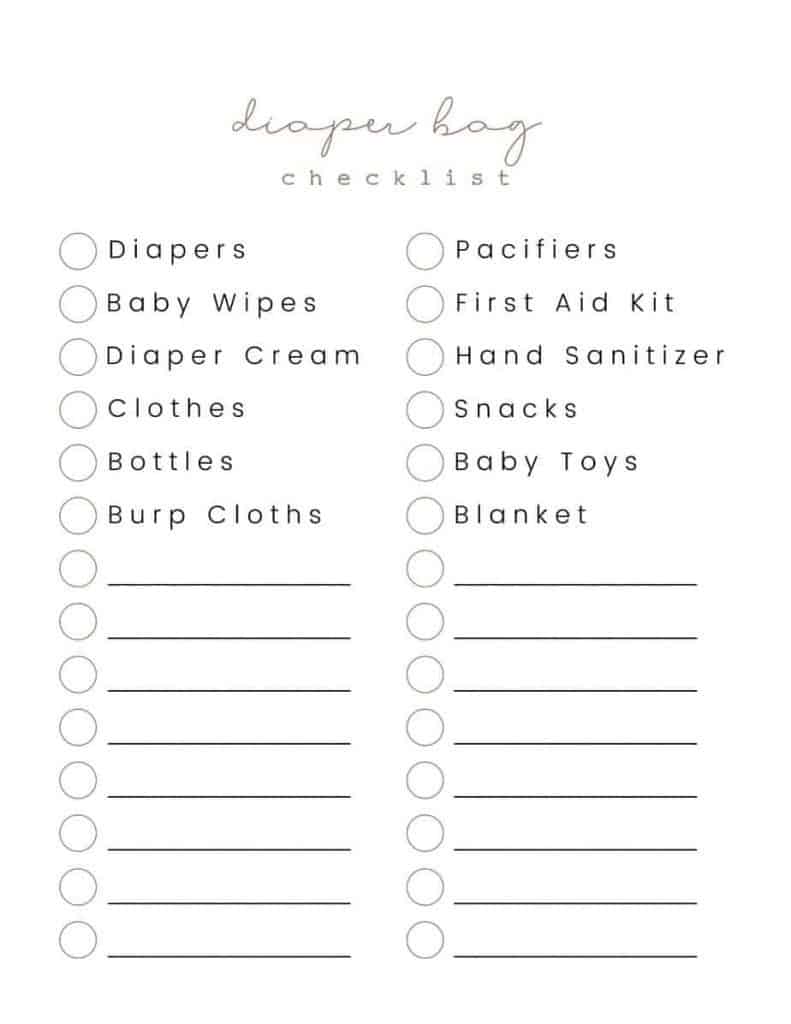 Get access over 20+ other freebies (like the free checklist above) by signing up for my newsletter!
Stay Prepared With A Diaper Caddy
Getting this diaper caddy and always having it filled has (lack of a better word) saved my ass. After forgetting my diaper bag the first time, I knew I needed a backup.
Final Thoughts
The best way to stay prepared is by making sure you have everything in your diaper bag checklist before leaving your home.
Or fill up your diaper bag with your essentials the night before. This way you're prepared when you unexpectedly wake up later than planned, your baby is having a rough morning, or you're just rushing to get out.