The Most Flavorful Pad Thai Recipe You're Bound To Love
This post may contain affiliate links, which means I'll receive a commission if you purchase through my links, at no extra cost to you. Please read full disclosure for more information.
Pad Thai is one of my favorite meals to cook which is why I had to put together my own personal pad that recipe. Ever since I decided to give it a shot at cooking it, my Pad Thai dish has evolved over the year. The first time I ever made it, I overcooked my noodles. And frankly, there's such thing as overcooking noodles. The next few times I cooked Pad Thai, I either overdid the soy sauce, added too much sugar, didn't put enough vegetables, or didn't have enough sauce.
Each and every time I prepared my Pad Thai dish, I got better and better. And this is why I HAVE to share this recipe with y'all.
Personalize This Pad Thai Recipe
Like there's going to be vegetables and protein I have in this recipe that you might not like. I don't know why but I've never liked peanuts in my Pad Thai. When I ordered Pad Thai from restaurants, I didn't mind eating it. But when I started cooking it at home, I decided not to add that. Don't get me wrong, I LOVE peanuts and peanut butter. Just not in my Pad Thai!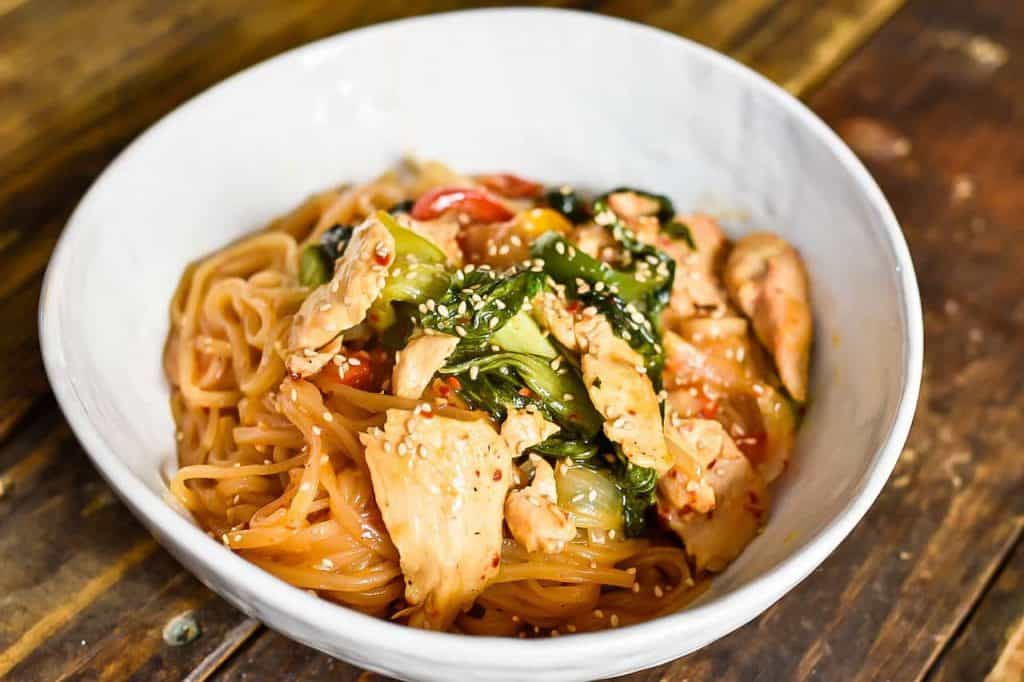 Since I'm finally starting to post my recipes, I decided to take my camera out to capture a fancy photo of my Pad Thai dish. Doesn't it look mouthwatering?!
Pad Thai Recipe Ingredients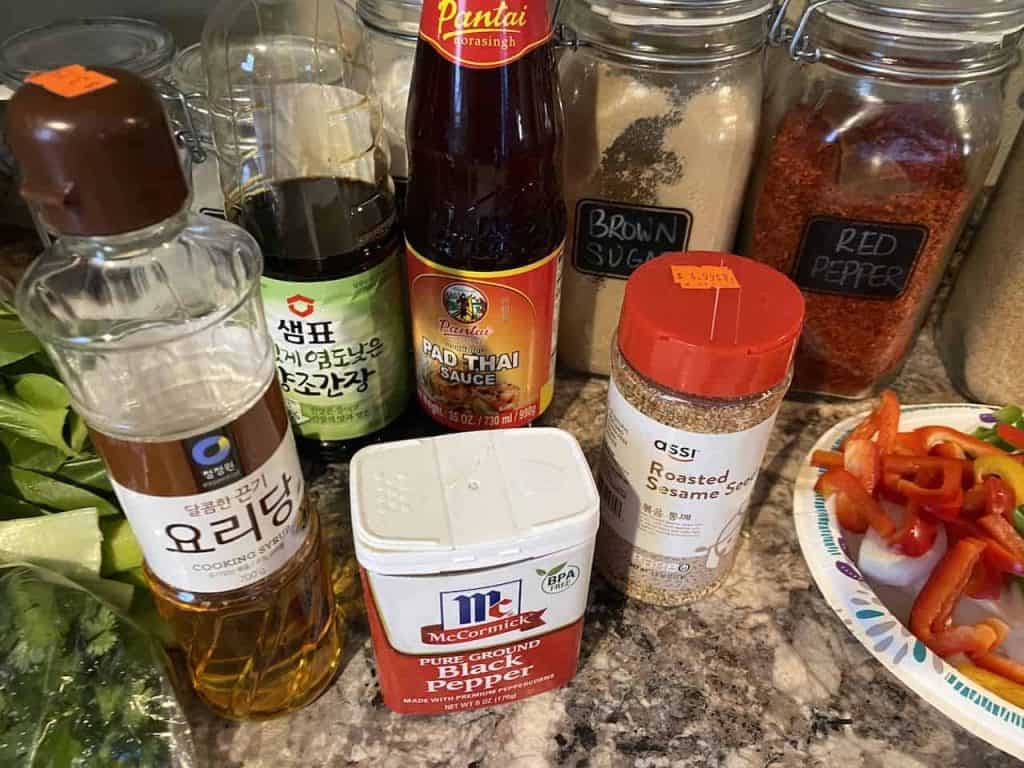 You can replace the cooking syrup shown above with brown sugar or regular granulated sugar. I love adding a bit of sugar to my dish to give it depth. Sugar is obviously not good for you. But when you're cooking something as scrumptious as this Pad Thai dish, you've got to make an excuse to use sugar.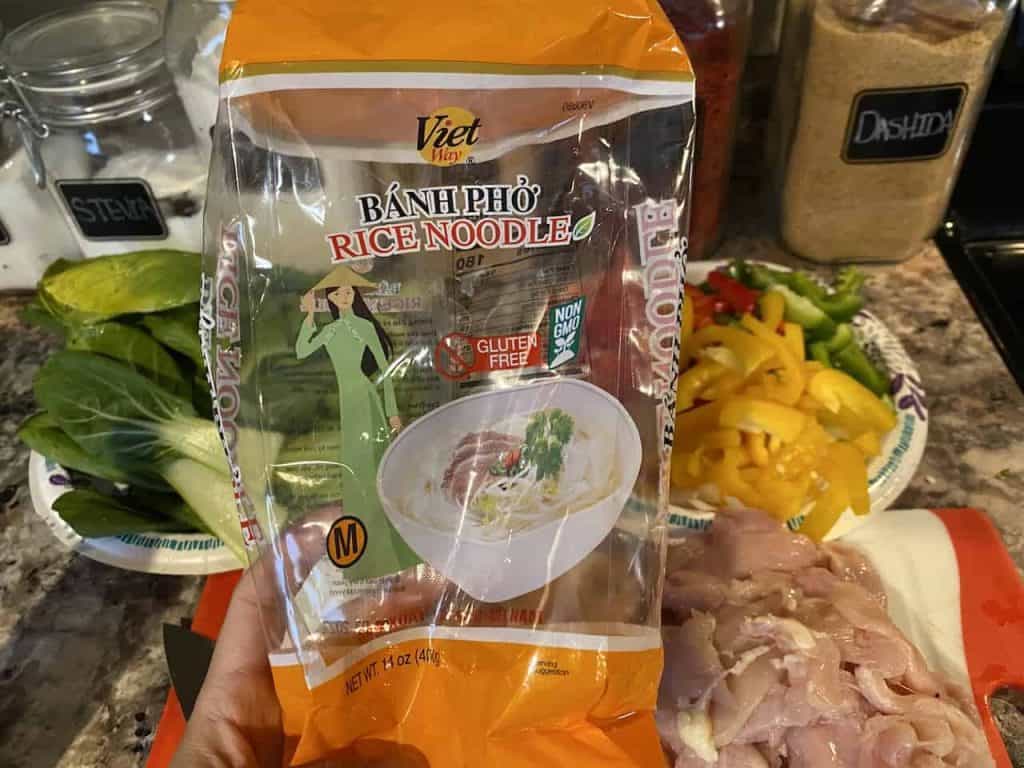 I accidentally put the noodles in the boiling pot before I realized I should've taken the picture with the raw noodles in its container. So my apologies on that one! Hopefully, I get a little better each time I post a new recipe.
These are NOT exact measurements but it's roughly around what I used. Feel free to play around with the ingredients and take out or put in things of your liking.
Rice noodles
1 tbsp dashida or other beef stock powder (you could omit it all together)
2 tbsp fresh garlic
3 tsp black pepper
1/4 cup soy sauce
1 cup pad Thai sauce
2 tsp minced ginger
2 tbsp corn syrup or brown sugar/ granulated white sugar
Salt
Olive oil
Sesame seeds
3 chicken breasts (can be substituted with boiled eggs, beef, pork)
Bok choy
Yellow onions
Red bell pepper
Yellow bell pepper
Green bell pepper
Cilantro
Step-By-Step Instructions
1.Prepare your vegetables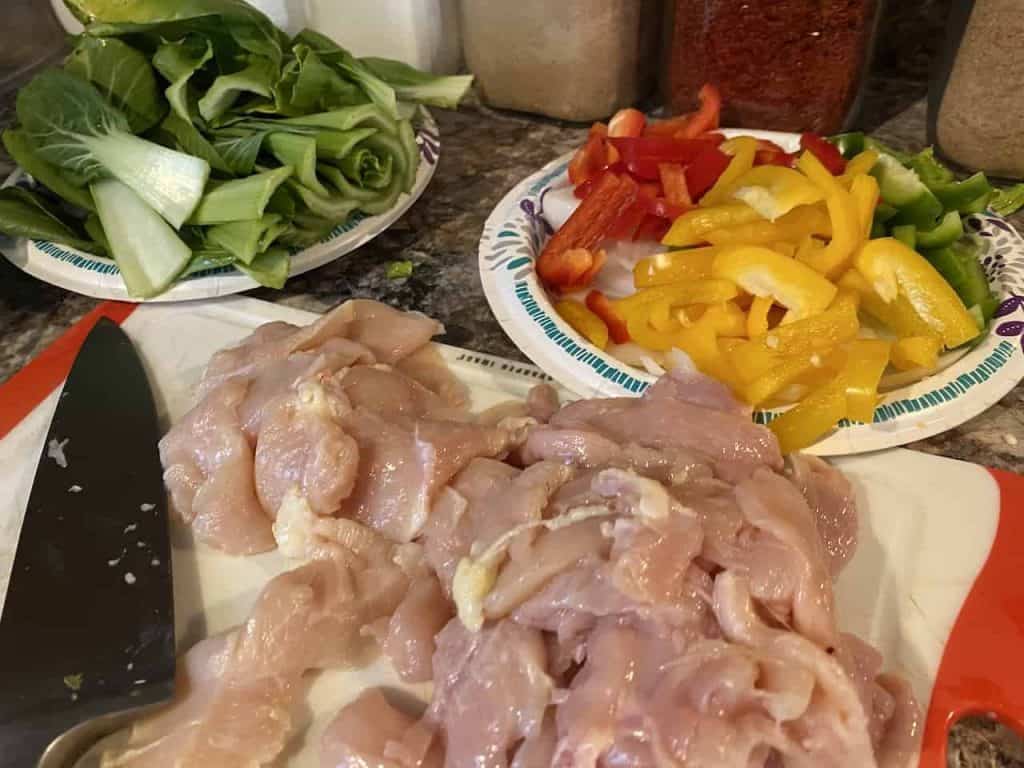 I find it easier when everything I need is already chopped up and ready to go. When I have my vegetables and protein prepped, it prevents me from making mistakes like overcooking the noodles or backtracking.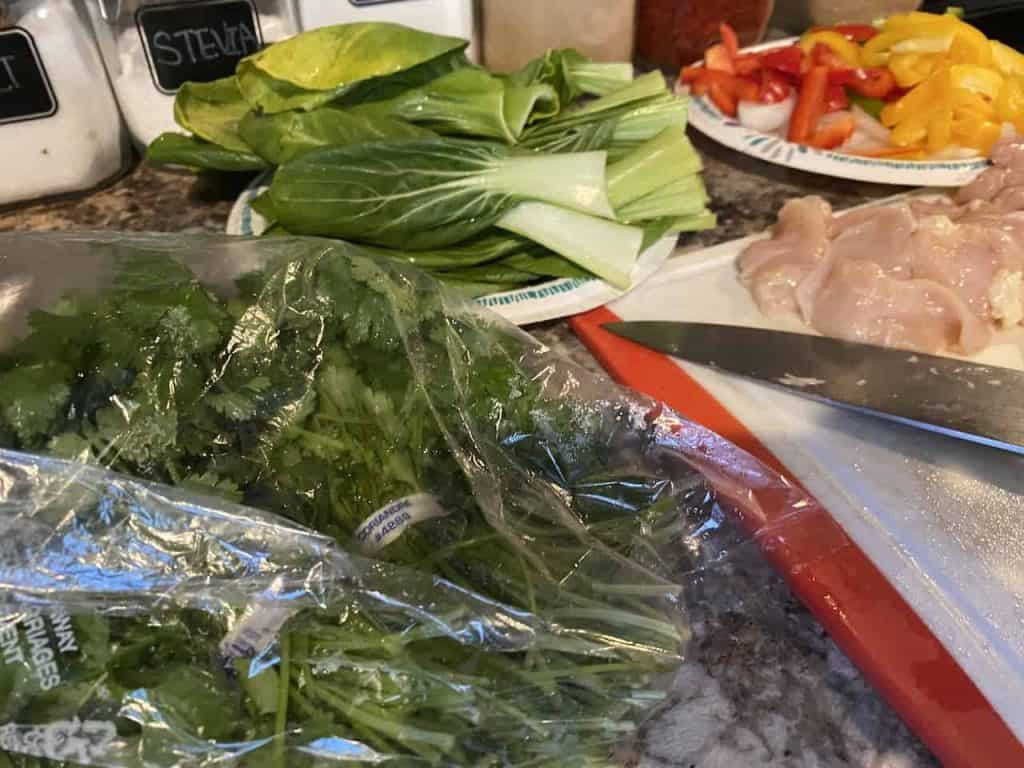 2.Cut your chicken
I avoided cooking chicken breast for a long time. I'm not a picky eater whatsoever. However, I am particular about how chewy or done my protein is. I also have a certain way I like to cut my meats. When I first started marinating chicken, I use to cut them into cubes. Your typical slicing them into strips and then cutting them again the other way. Well over the years, my cutting skills have evolved.
I figured a video would be the best way to show you how I prepare my chicken breasts. Ever since I cut my chicken this way, I started eating more chicken breasts! I still prefer thighs over breasts but that's just me.
Grab your chicken breast, slice half of it through the center so you have two halves, and slice pieces at an angle where each chicken pieces are nice and thin.
3.Boil water on high and put the noodles in the pot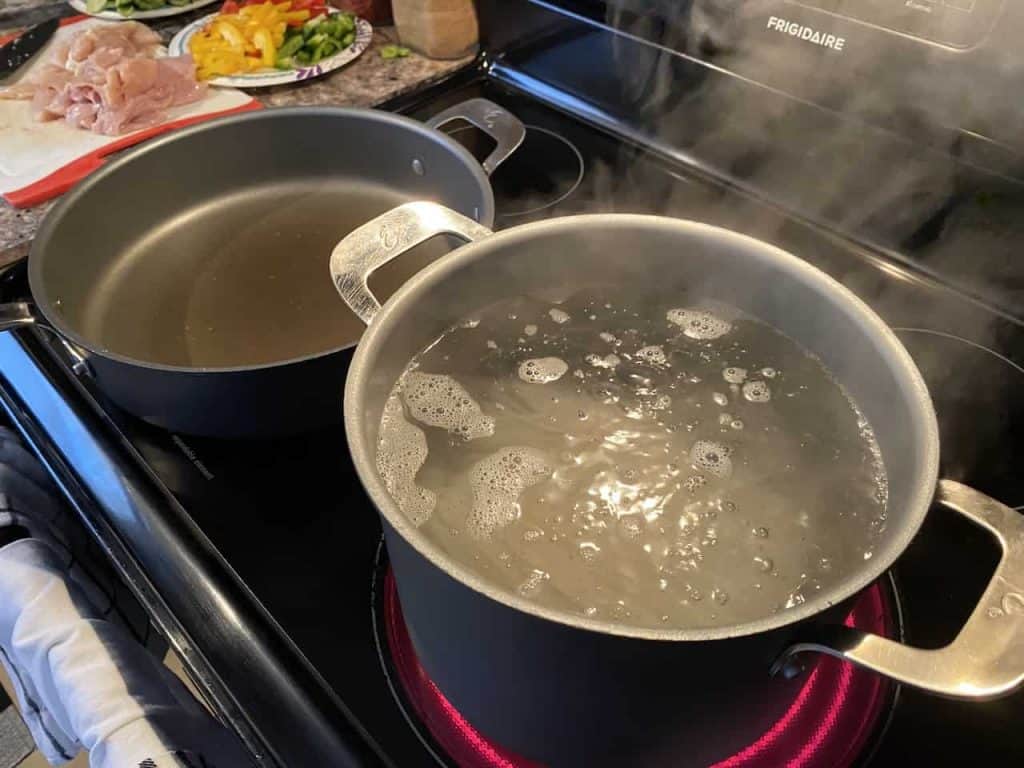 Wait until the water is actually boiling and bubbling. Don't put the noodles in until it does. Add the noodles in, add a little bit of olive oil in the pot, and sprinkle some salt. Stand by and let it cook for several minutes.
When you notice the noodles are looking softer, taste it and see if it it's still crunchy. You'll know when it's done when the noodles are soft and slightly chewy. When it's soggy is when you know you overcooked it!
Once they're done, strain them under cold water, and set them aside.
4.Heat a large pan with olive oil. Then place the chicken in the pan once it's heated.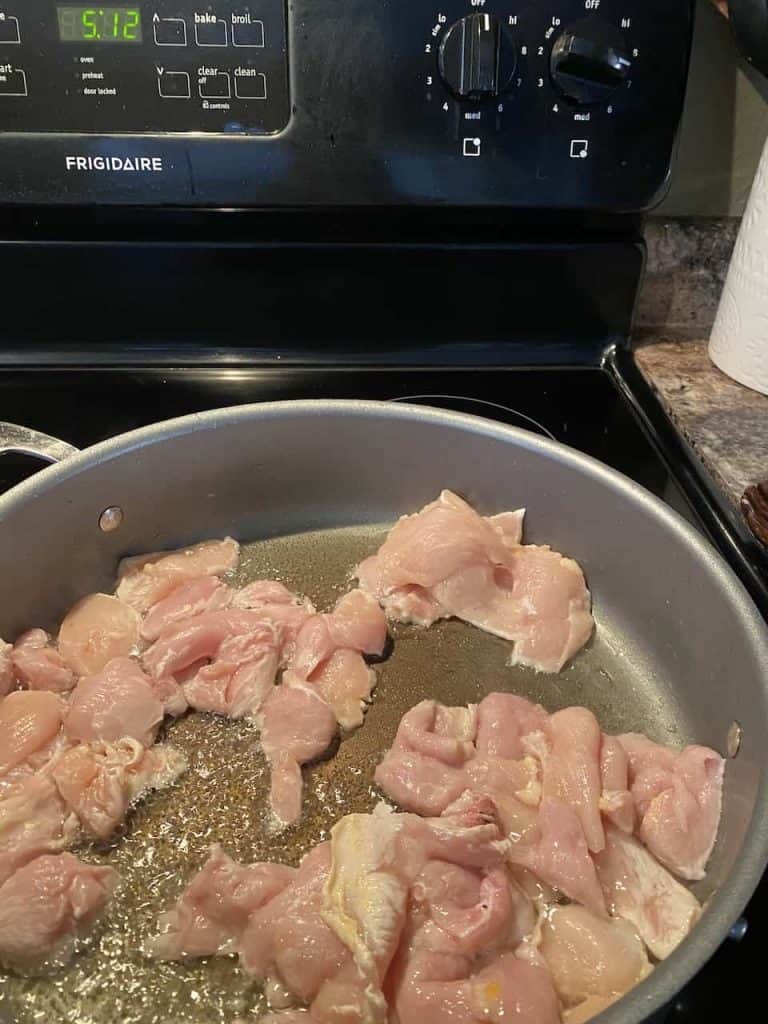 Put the stove on medium high. Wait until the pan is hot. When you put the chicken in the pan, it should sizzle!
Related Posts
Easy Delicious Japanese Stir Fry Yaki Udon Noodles
Mouthwatering Easy Korean Chicken Teriyaki Recipe
5.Add garlic and ginger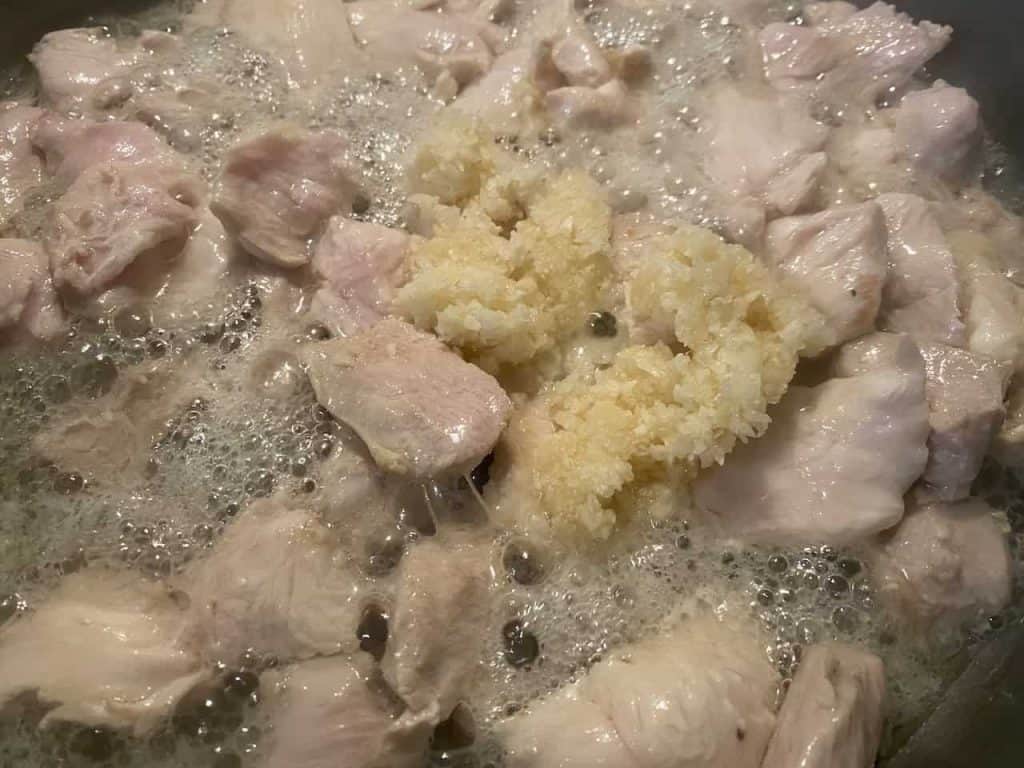 Add some black pepper and stir.
6.Add vegetables minus the bok chop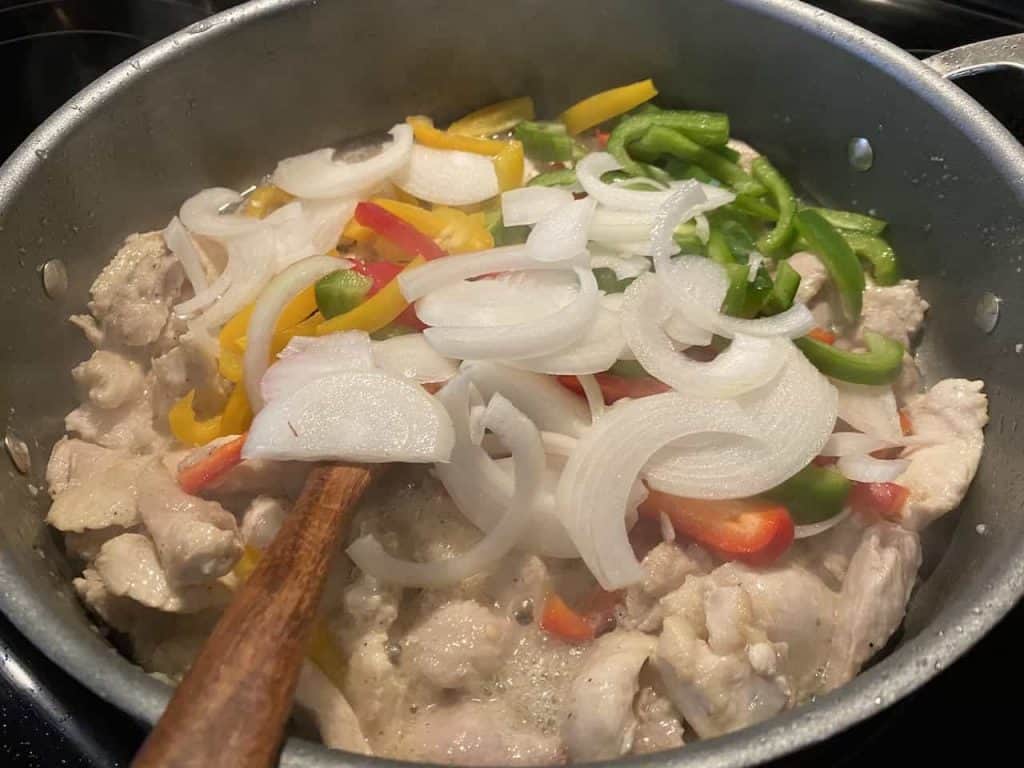 Stir on high. You want the chicken to be nice and cooked. I usually cook my chicken until it's a little browned before I add my noodles.
7.Add bok choy
Wait until the bok choy gets small. I made sure to rinse and chop the ends of the bok choy bundle when I prepped the peppers and onions. They tend to have dirt on them so you want to make sure and cleanse them well!
8.Add noodles and the rest of the ingredients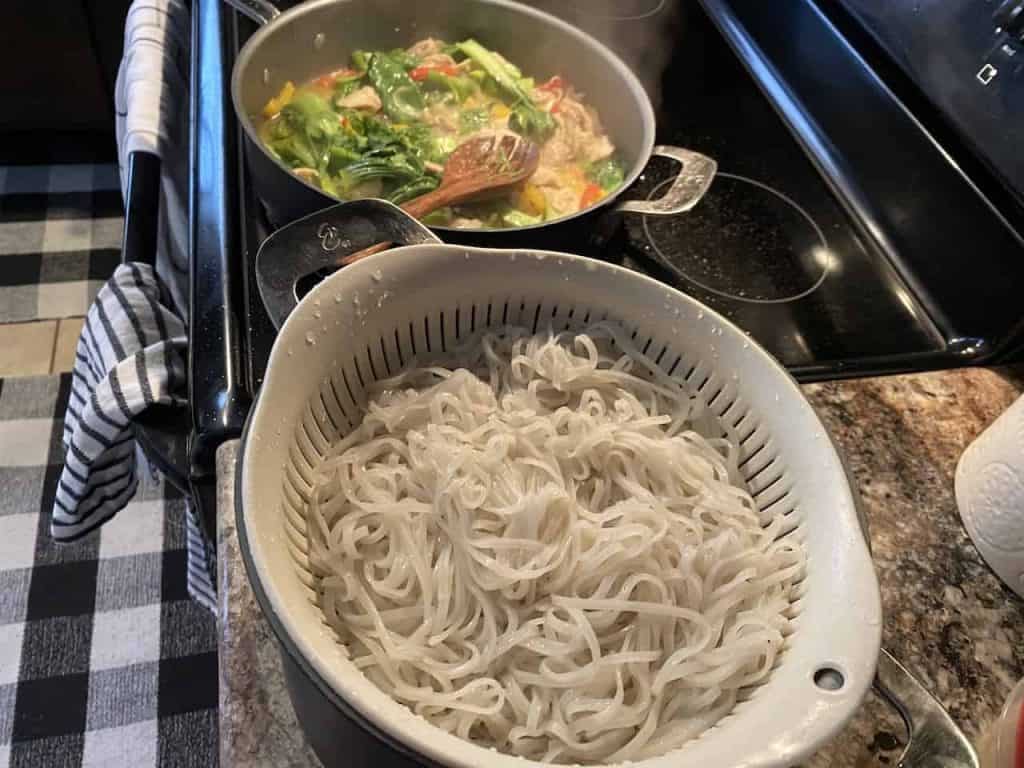 Be sure to rinse them under cold water once more because they'll be sticky. You want them to be nice and moist to add it to the pan. Let it strain some. Then add it to the pan.
Stir all the ingredients on medium-high to high heat. Taste and see if you need to modify by adding more of the Pad Thai sauce, sugar, black pepper, etc. And ENJOY!
After you recreated this Pad Thai recipe, let me know how it turns out! Did you modify the ingredients? How did the dish come out for you?
Pin the image below to bookmark this post!